-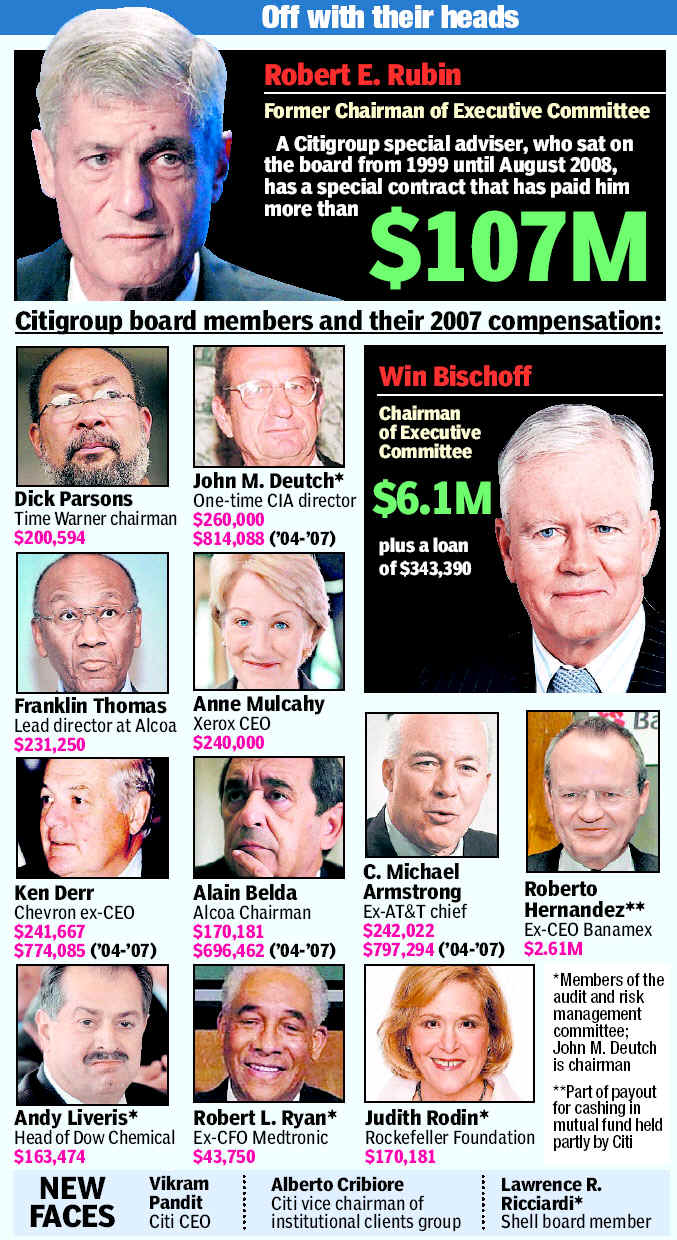 Source:
http://www.nypost.com/seven/11252008/postopinion/editorials/bounce_these_bozo_bankers_140652.htm

Insider Selling by Robert Rubin at CitiGroup


22-Jan-08
RUBIN ROBERT E
Officer
9,010
Direct
Disposition (Non Open Market) at $24.20 per share.
$218,042
22-Jan-07
RUBIN ROBERT E
Officer
77,500
Direct
Sale at $55.05 - $55.05 per share.
$4,266,0002

19-Jun-06
RUBIN ROBERT E
Officer
196,624
Direct
Disposition (Non Open Market) at $48.36 - $48.36 per share.
$9,509,0002
--------------------------------
Total 274,124 shares sold




Rubin was not the only insider selling large numbers of
shares of Citgroup in 2007, more than a year before the stock
fell under $4 and had to be rescued by a second $20 billion
taxpayer bailiout.

MASSIVE INSIDER SELLING AT CITIGROUP
19-Jan-07
RHODES WILLIAM R
Officer
56,000
Direct
Disposition (Non Open Market) at $0 per share.
N/A

22-Jan-07
KADEN LEWIS B
Officer
11,200
Direct
Disposition (Non Open Market) at $54.55 per share.
$610,960
22-Jan-07
BISCHOFF WINFRIED F W SIR
Officer
17,708
Direct
Disposition (Non Open Market) at $54.55 - $54.55 per share.
$966,0002
22-Jan-07
VOLK STEPHEN R
Officer
16,348
Direct
Disposition (Non Open Market) at $54.55 per share.
$891,783
Jan-07
MEDINA-MORA MANUEL
Officer
10,523
Direct
Disposition (Non Open Market) at $54.55 per share.
$574,029
22-Jan-07
FREIBERG STEVEN J
Officer
21,162
Direct
Disposition (Non Open Market) at $54.55 - $54.55 per share.
$1,154,0002
22-Jan-07
BANGA AJAY
Officer
18,374
Direct
Disposition (Non Open Market) at $54.55 - $54.55 per share.
$1,002,0002
22-Jan-07
GERSPACH JOHN C
Officer
4,535
Direct
Disposition (Non Open Market) at $54.55 - $54.55 per share.
$247,0002
22-Jan-07
KRAWCHECK SALLIE
Officer
50,339
Direct
Disposition (Non Open Market) at $54.55 per share.
$2,745,992
22-Jan-07
HELFER MICHAEL S
Officer
19,590
Direct
Disposition (Non Open Market) at $54.55 per share.
$1,068,634
22-Jan-07
BUSHNELL DAVID C
Officer
25,293
Direct
Disposition (Non Open Market) at $54.55 - $54.55 per share.
$1,380,0002
22-Jan-07
PRINCE CHARLES
Officer
81,088
Direct
Disposition (Non Open Market) at $54.55 - $54.55 per share.
$4,423,0002
22-Jan-07
RUBIN ROBERT E
Officer
77,500
Direct
Sale at $55.05 per share.
$4,266,375
22-Jan-07
DRUSKIN ROBERT
Officer
43,640
Direct
Disposition (Non Open Market) at $54.55 - $54.55 per share.
$2,381,0002
22-Jan-07
RHODES WILLIAM R
Officer
24,712
Direct
Disposition (Non Open Market) at $54.55 - $54.55 per share.
$1,348,0002
22-Jan-07
BISCHOFF WINFRIED F W SIR
Officer
17,708
Direct
Disposition (Non Open Market) at $54.55 - $54.55 per share.
$966,0002
22-Jan-07
VOLK STEPHEN R
Officer
16,348
Direct
Disposition (Non Open Market) at $54.55 per share.
$891,783
22-Jan-07
KADEN LEWIS B
Officer
11,200
Direct
Disposition (Non Open Market) at $54.55 per share.
$610,960
17-Apr-07
PRINCE CHARLES
Officer
13,419
Direct
Disposition (Non Open Market) at $52.93 - $52.93 per share.
$710,0002
17-Apr-07
GERSPACH JOHN C
Officer
19,128
Direct
Disposition (Non Open Market) at $52.93 - $52.93 per share.
$1,012,000
18-Apr-07
DRUSKIN ROBERT
Officer
10,000
Direct
Sale at $53.07 - $53.07 per share.
$531,0002
17-May-07
PRINCE CHARLES
Officer
13,395
Direct
Disposition (Non Open Market) at $54.91 - $54.91 per share.
$736,0002
16-May-07
RHODES WILLIAM R
Officer
20,000
Direct
Disposition (Non Open Market) at $0 per share.
N/A
25-May-07
BANGA AJAY
Officer
26,079
Direct
Disposition (Non Open Market) at $54.93 per share.
$1,432,519
3-Jul-07
DRUSKIN ROBERT
Officer
23,885
Direct
Disposition (Non Open Market) at $52.84 - $52.84 per share.
$1,262,0002
20-Jul-07
FREIBERG STEVEN J
Officer
11,591
Direct
Disposition (Non Open Market) at $51.13 per share.
$592,647

7

MAHERAS THOMAS G
Officer
23,964
Direct
Disposition (Non Open Market) at $52.84 - $52.84 per share.
$1,266,000
13-Jul-07
RHODES WILLIAM R
Officer
47,928
Direct
Disposition (Non Open Market) at $52.84 per share.
$2,532,
13-Jul-07
PRINCE CHARLES
Officer
38,342
Direct
Disposition (Non Open Market) at $52.84 - $52.84 per share.
$2,026,00
17-Jul-07
KLEIN MICHAEL STUART
Officer
19,282
Direct
Disposition (Non Open Market) at $52.19 per share.
$1,006,327
23-Jul-07
BUSHNELL DAVID C
Officer
11,809
Direct
Disposition (Non Open Market) at $50.73 - $50.73 per share.
$599,0002
(Source - http://finance.yahoo.com/q/it?s=c )

TigerSoft Unique Measures of Internal Strength
on its 2007-2008 Charts of Citygroup Were Shouting "SELL".

TigerSoft's unique tools made it very clear to anyone looking at a
Citigroup chart in 2007 that insiders were dumping the stock. And when
insiders do this, big troubles follow. The clear message is always the same
when our Accumulation Index, Closing Power, ITRS and Day Traders'
Tool indicators look as bearish as they did from early 2007 to the present,
in 2008. The mesage is that bankruptcy looms as a real possibility.

If you are using TigerSoft, this is what you have to watch for to
find a stock that could go to zero, either to avoid to sell short. We note in
blue the readings that are only available to TigerSoft. The bearish signs
to look for are:

1) TigerSoft's unique Accumulation Index turns from positive (blue) to negative
(red) and stays there for months at a time, often going below -.25.
2) TigerSoft's unique Closing Power indicator goes into a steady decline
for six months and makes a new low ahead of price making a new low.
3) TigerSoft's unique ITRS (Relative Strength) indicator goes below 0
and stays there for six months.
4. TigerSoft's unique Day Traders' Tool goes into a steady decline
for six months and makes a new low ahead of price making a new low.

See 165 Page Book "Killer Short Sale Techniques in Any Stock Market Environment"

When the TigerSoft indicators become this bearish, you will also see
classic head and shoulders tops and a very weak On-Balance-Volume Line,
where its rate of descent is much more rapid than the early price decline.
This is because the stock is often being held up articially.

These are the signs of insider distribution and hasty insider dumping. Word
of their selling has gotten out and a growing number of institutions are selling
their huge positons. TigerSoft's key indicator, the Accumulation Index,
was invented by me, William Schmidt in 1981. Over the years, attempts have
been made to copy it and pass it off as someone else's by intellectual property
thieves. Mark this. Checking this. They deserve notoriety, not celebrity status.
But there they are pontificating on television. The Accumulation Index was
invented it to let me rank and compare a key and powerfully predictive element
of a stock's behavior. This is a powerful tool. When the Accumulation Index
turns very positive (blue), it let's us see when insiders are buying a stock in a
way that predicts a big advance. And as you can see below, steady and deeply
red readings from this indicator tell us the stock is being distributed by insiders
to less well informed investors.


Massive Insider Selling at Citigroup - 2007-2008


--------------- CitiGroup's Chart Turned Very Bearish Early in 2007 -----------
C - 2006-2007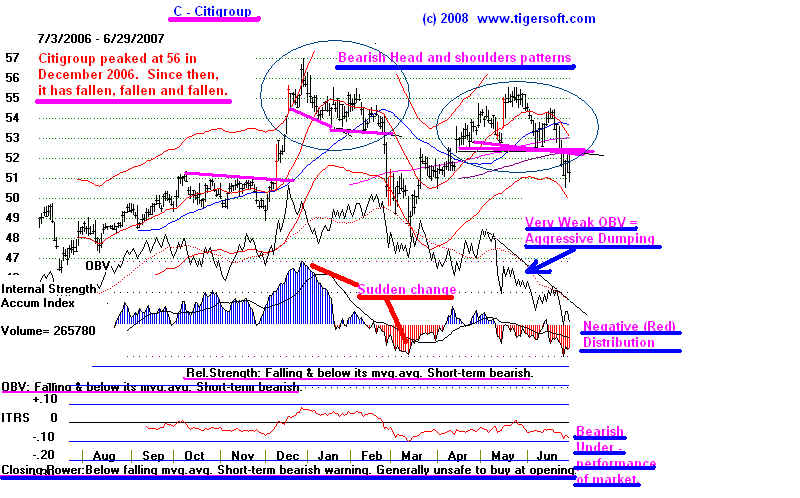 TigerSoft's Closing Power



TigerSoft's Day Traders' Tool




====================================================================

--------------- CitiGroup Showed Massive insider selling in 2007 -----------
Shareholders should be "mad as hell."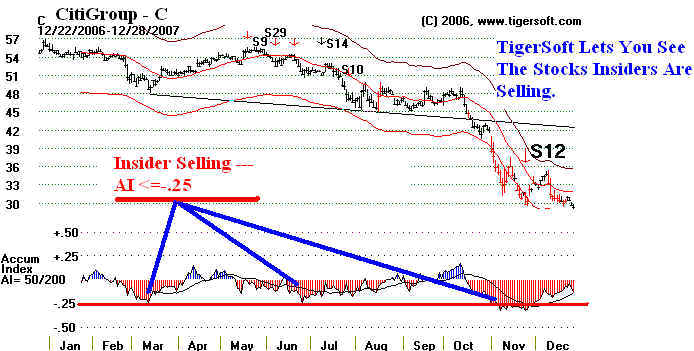 --------------- CitiGroup Showed Massive Insider Selling in 2008 -----------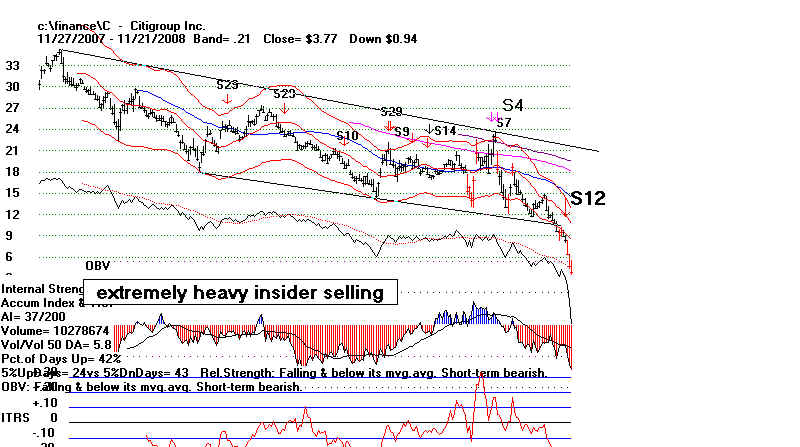 Note bearish down-trending Day Traders' Tool



Heavy Red Down-Day Volume is bearish.




The Famous Insider behind The Bearish TigerSoft Charts


Robert Rubin, The Bubble and The Crash of 2007-2008


Robert Rubin - The Architect and Main Advocate
for Using More Leverage at Citigroup




Citigroup

insiders and analysts say that its former CEO until 2007 and

Rubin

played
pivotal by drafting and implementing a "strategy that involved taking greater trading risks
to expand its business and reap higher profits." In fact, it was Rubin who explained the
benefits of being more aggressive to the new CEO, Charles Prince, in 2002 and how
best to do so. ""Chuck was totally new to the job. He didn't know a C.D.O. from a grocery
list, so he looked for someone for advice and support. That person was Rubin. And Rubin
had always been an advocate of being more aggressive in the capital markets arena. He
would say, 'You have to take more risk if you want to earn more.' " (Source. )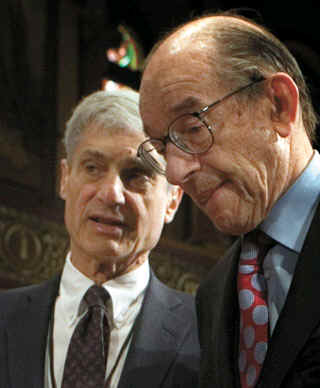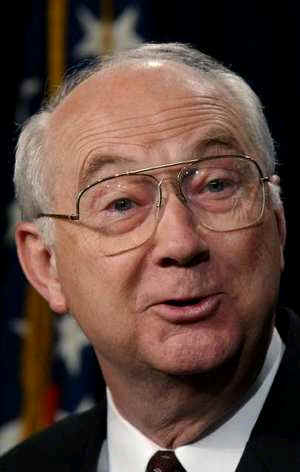 Besides, Bush ("Bankruptcy - Mission Accomplished")
and Paulson - Pimp for His Wall Street Cronies,
Shown above Are The People Who Caused the 2007-2008 Collapse:
Democrat Rubin and Republicans Greenspan, COX (SEC) and Phil Graham

Clinton's Ex-Treasury Secretary, Robert Rubin, is now dancing quickly away from
controversial Citigroup. But the fact remains that "(h)e has collected more than $150
million in cash and stock over eight years to serve as the bank's elder statesman, meeting
with important clients and building relationships with government and business leaders
around the world, though his contract states that he is to have no daily operational
responsibilities." (Source.)


RUBIN KNEW THE RISKS AND TRAGEDY HE WAS CREATING.

The proof is that he himself sold out at the top.
As much as anyone in Citigroup, Rubin advocated using more leverage to make
more loans to make more money. A year ago I noted that he must have known dire trouble
was going to engulf CitiGroup as a result of its use of levevage and its lack of controls
on the quality of their loans. So, Rubin sold more than 600,000 shares when the stock was
between 33 and 55 and he turned down the CEO job. He denies this. He claimed that
"Few if anyone" anticipated the financial meltdown. Not remotely true. See NYU Professor
Nouriel Rubini's dire warnings to International Monetary Fund in late 2006 and ever since.

NY POST ARTICLE

NY POST ARTICLE and Robert Rubin

"Rubin, the Clinton administration treasury secretary who successfully engineered the bank deregulation that made so much of the current mess possible, was appointed to the Citi board in 1999.
Then, it seems, things began to happen.
That is, Rubin apparently undertook to test the limits of his new banking rules.
In a 4,076-word autopsy of Citigroup's "rush to risk," The New York Times on Sunday labeled Rubin "an architect of the bank's strategy."
It describes him as having "pushed to bulk up the bank's high-growth fixed-income trading," including risky debt instruments.
Risky is hardly the word for it - though in mid-2007, according to the newspaper, Citi brass claimed that the likelihood of subprime mortgages actually defaulting "was so tiny that they [were] excluded from their risk analysis."
And this was after Bear Stearns imploded, telegraphing the full scope of the crisis.
Citi's CEO at the time, Charles Prince, never questioned the preposterously rosy assessment.
Nor did then-board Chairman Winifred Bischoff, who was paid $6.1 million and got a low-interest loan of $343,390 in 2007.
What were they thinking?
Did the prospect of ballooning profits totally blind them all to the risk?
Rubin left the board in August 2007, having stuffed his pockets with $107 million from Citi since '99.
The following November, Prince was fired - walking off with company stock then worth $68 million, according to the Times, and a bonus for 2007 of $12.5 million.
In the end, federal regulators had no choice but to structure yet another corporate bailout - this time to rescue a bank with $2 trillion in assets, more than 300,000 employees and operations in more than 100 countries.
Just letting it collapse would wreak global financial havoc.
But to rescue it without calling out those who engineered the disaster would be an affront to justice.
There should be no mistake about where the responsibility resides.
That would be with the Citigroup board of directors - and Robert Rubin in particular.

( http://www.nypost.com/seven/11252008/postopinion/editorials/bounce_these_bozo_bankers_140652.htm )


THESE BANKERS KNEW THAT THEY WERE COMMITING FRAUD

All these bankers knew they were making poor quality loans. They knew it. They
did it anyway, because someone else, they calculated would own the bundled mortgages
they way selling as AAA quality to investors around the world. "There's really no profit in
remaining ethical. Perhaps we should teach our children to incorporate, then rip off every
single sucker they can and retire at 40. Join a a gang and commit crimes under mob rule -
that's the ticket to success in the good old U.S. of A. it seems to me. I don't think any of
them are even the least bit ashamed. " (Source.) "Whistle blowers (people who complained
that 'this ain't right') were fired, excluded, demoted, transferred away from Realty Agencies,
Mortgage Brokers, Banks and Appraisers offices across the country - The reason I call them
whistle blowers because it's become apparent that the people calling foul in the mortgage
lending industry were correct, while they were punished by their peers both financially and
emotionally for pointing out the moral hazards of their occupation." ( Source. ) "Honest
appraisers and loan officers were penalized, blacklisted, not payed and fired. "Recently while
talking to a senior underwriter for a major Wall Street bank, she shared with me that she
had witnessed the sinister inner workings of the lending industry first hand. The underwriter's
job is to provide an unbiased assessment of the risk level of a particular loan." ( Source. )

Robert Rubin's Role in Making The National Housing Bubble

As Treasury Secretary for Clinton, Robert Rubin lobbied hard to get the President to
allow banks to get into the securities' business, thereby giving them new reason to make
unsafe loans and exaggerate their safety as they package them to others to invest in.
(See TigerSoft Blog and News Service - 9/21/2008 - Monopoly Finance)


WHY DOES RUBIN STILL HAVE A JOB AT CITIGROUP?
Citigroup's risk models never accounted for the possibility of a national housing downturn, this person said, and the prospect that millions of homeowners could default on their mortgages. Such a downturn did come, of course, with disastrous consequences for Citigroup and its rivals on Wall Street.
They never factored that housing prices would drop? Really?
[W]hile Mr. Rubin certainly did not have direct responsibility for a Citigroup unit, he was an architect of the bank's strategy.

In 2005, as Citigroup began its effort to expand from within, Mr. Rubin peppered his colleagues with questions as they formulated the plan. According to current and former colleagues, he believed that Citigroup was falling behind rivals like Morgan Stanley and Goldman, and he pushed to bulk up the bank's high-growth fixed-income trading, including the C.D.O. business.

Former colleagues said Mr. Rubin also encouraged Mr. Prince to broaden the bank's appetite for risk, provided that it also upgraded oversight -- though the Federal Reserve later would conclude that the bank's oversight remained inadequate.

Once the strategy was outlined, Mr. Rubin helped Mr. Prince gain the board's confidence that it would work.

After that, the bank moved even more aggressively into C.D.O.'s. It added to its trading operations and snagged crucial people from competitors.
No wonder Wall Street media is standing there with pitchforks and torches calling for Rubin's head this morning. A WSJ op-ed wonders "Why are Robert Rubin and other directors still employed?" New York Post says "Citi of Fools: Negligent bank board must quit."
Yes, it's incredible that nobody required Rubin and the board to resign as a condition of the Citibank bailout. But I tend to look at these final days as the BushCo crooks holding their final heist, taking advantage of the fact that something must be done immediately to keep the economy from hurling into a ditch. They have the ability to impede anything from happening, and they're holding us all hostage and demanding the right to steal as the price of their acquiescence. What's Obama supposed to do? If he calls bullshit, the fragile markets could tumble. He's in a position where he really has to just do what he can.
What I'm more concerned about is the key place Rubin still occupies in Team Obama:

Geithner, Summers and Orszag have all been followers of the economic formula that came to be called Rubinomics: balanced budgets, free trade and financial deregulation.
There are many who are arguing that ideology is not important, and that Obama is prizing competence over philosophical perspective. Glenn Greenwald does a nice job of arguing that competence is largely a function of ideology -- and from a pragmatic perspective, progressives (who are almost entirely left out of Obama's key administration appointments) got a lot of things right.
Source: http://www.huffingtonpost.com/jane-hamsher/is-robert-rubin-competent_b_146372.html



Compare Citigroups' Charts with Other Stocks
That Went or Are Appraching Bankruptcy.

General Motors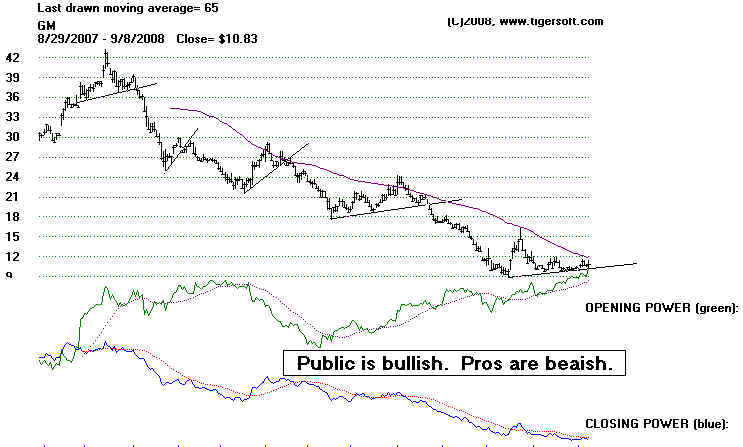 BEAR STEARNS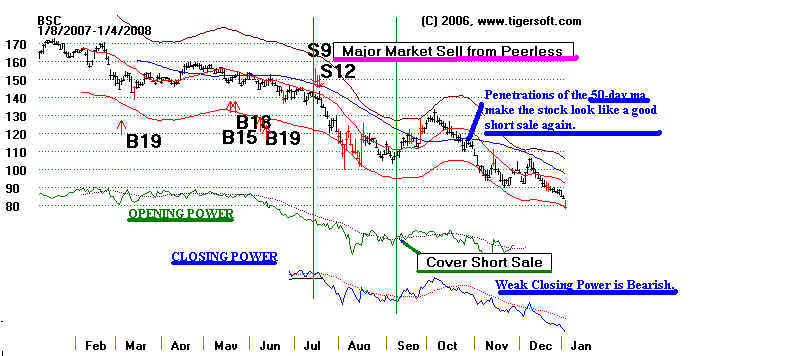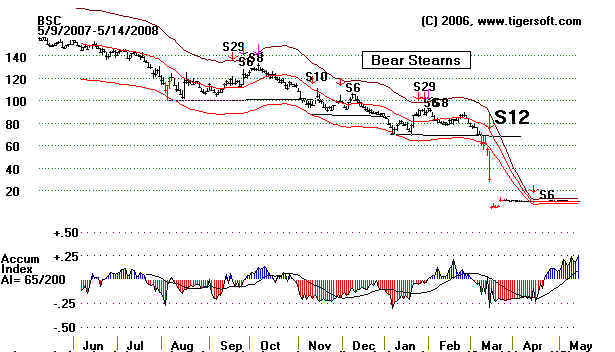 FANNIE MAE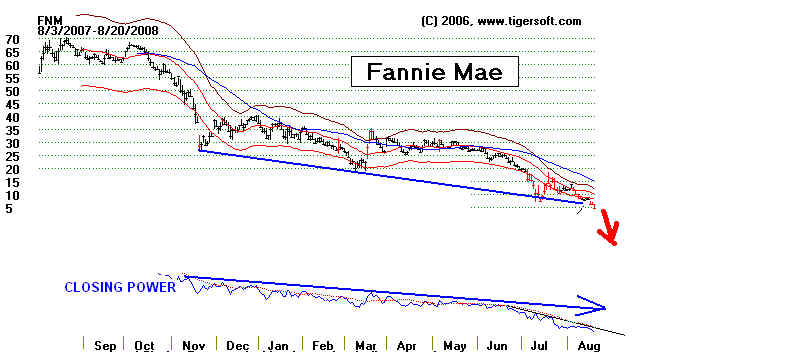 FREDDIE MAC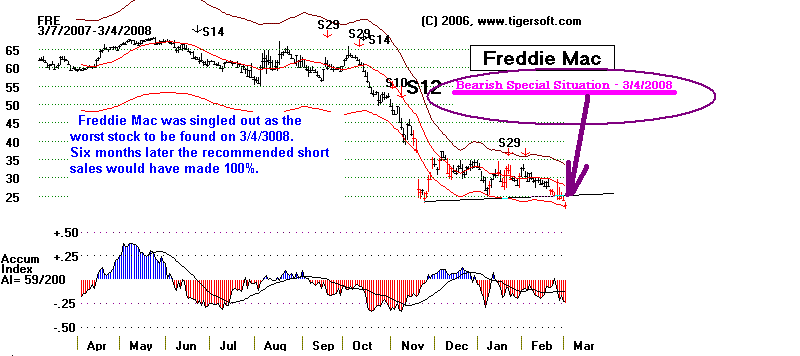 LEHMAN BROTHERS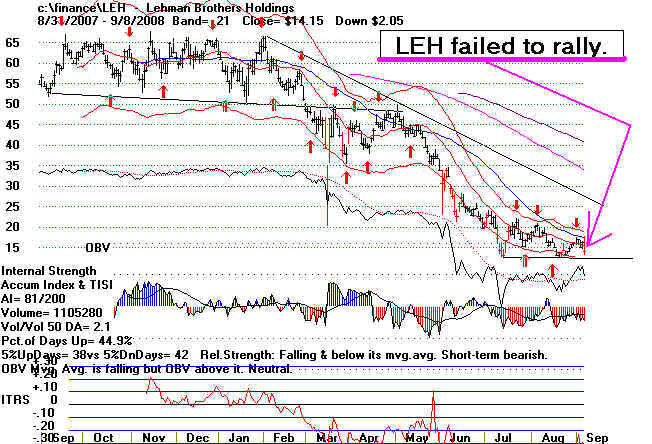 WASHINGTON MUTUAL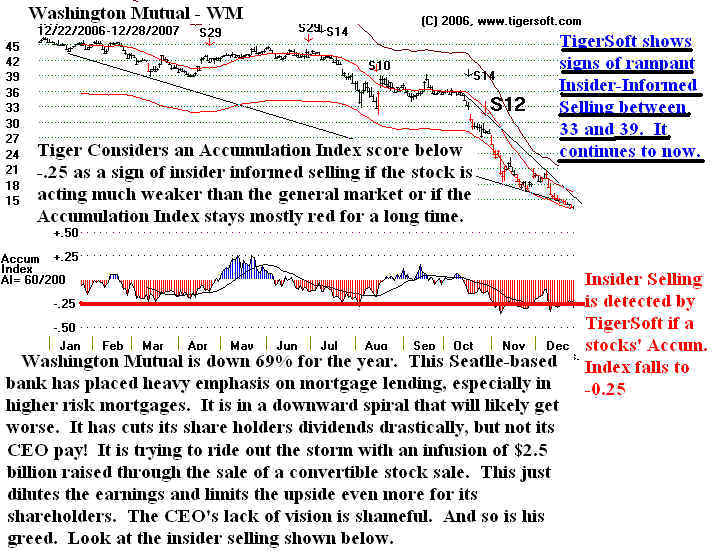 TRUMP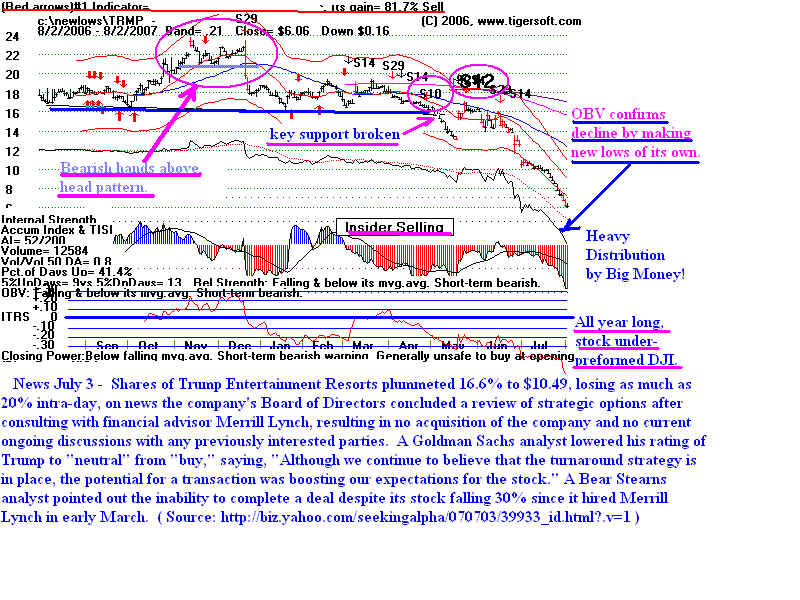 Northern Rock