Bullish High Volume Reversal Days

by William Schmidt, Ph.D.

On volume that was 360% its average trading volume for the last 50 trading,
days, the silver stock SSRI actually rose a little today and closed at its highs. This
is probably a valid high volume reversal day. Such very high volume after a
long decline is often a sign of a selling climax. Everyone - that can be scared
out of the stock for time being - sells. The stock exhausts its sellers and
a rally usually starts. I take it as a bullish 2-day high volume reversal day when
the second high volume day is up. TigerSoft flags these days. One scheme
compares a given day's volume with volume over the last three months. Another
measures how much volume it takes to move prices. When there is little additional
change in price after a substantial decline below earlier support but volume is very
high, it is often an important sign of support.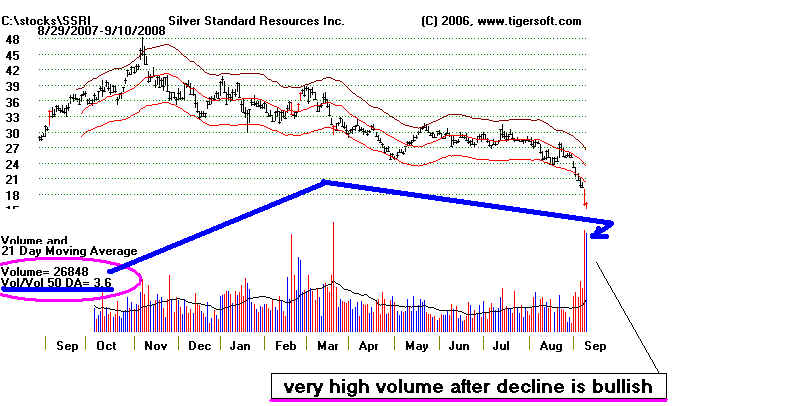 This is often very significant for traders. It's considered high volume
churning if the stock goes sidewise on continued high volume. After a very big
decline such high volume without further weakness means that someone has
a bushel basket under the stock and is buying all the stock offered by those
that are panicking or selling to meet margin calls. Once the panic ends, it's
easy for the stock to recover. Exactly the same situation technically occurred
with Bank of America. The stock rose more than 50% in the following six weeks.
You can use this idea. It is reliable.

Books have been written about "high volume reversal days". But the concept
is not infallible. And it is not usually a sign of a final low, though it can be. Traders
should appreciate that a good rally usually follows.

Now compare three charts: SSRI, BAC and WM,

In the SSRI chart above, volume is shown as a histogram
beneath prices. Volume is red on down-days and blue on up-days
in our charts. The mid-March spike in volume was only for a single
day and there had not been a substantial decline before that.
That high volume day was actually a break-down day. And it took
place at the round number 30 where a lot of public buyers probably
bought at what they took to be an advantageous price. But it was not,
because the high volume occurred on a day when a price range
was exceeded. To be a much more reliable high volume reversal
day there should have been a substantial decline from the point of
breakdown. That is what we have probably just seen. But prices
will need to turn up now and not resume their decline.

The best book on the subject was done more than 40 years ago.
Edwards and Magee - Technical Analysis of Stock Trends. They
suggest that traders should wait and buy if the reversal continues
the next day. They said to buy on stop 1/8 above the closing
price of the high volume reversal. Here that would be a Buy at
16.31. They would also advise using a close sell stop below the low
point of the decline to keep any losses quite limited. So, this will
interesting to watch. Right now silver is down 20 cents. A reversal
upwards past 16.31 would be bullish tomorrow.

The market is on thin ice because of talk that Washington
Mutual may fail in a matter of days, meaning the FDIC will take it over
unless they can get a big cash infusion or they find someone to buy
it out. I have been predicting this since last December. (See story. )

Making predictions is hazardous, of course. But it is necessary
in the stock market. It is a way to learn and it is also a way to learn
to be humble

High Volume at Bottom - Insider Buying -
The Case of Bank of America

Bank of America (BAC) broke below is support-line at 36.
On higher and higher down volume it fell, until it reached 20.
At that point, the day's (red) volume was mor ethan twice what
it had been on average for the last 50 trading days. On very
high volume, it suddenly reversed and rose to a point above 33.
Insiders knew that a turn was coming. Bank of America was drafting
what became the new Housing Bill that Congress passed and the
President signed. ( See story. )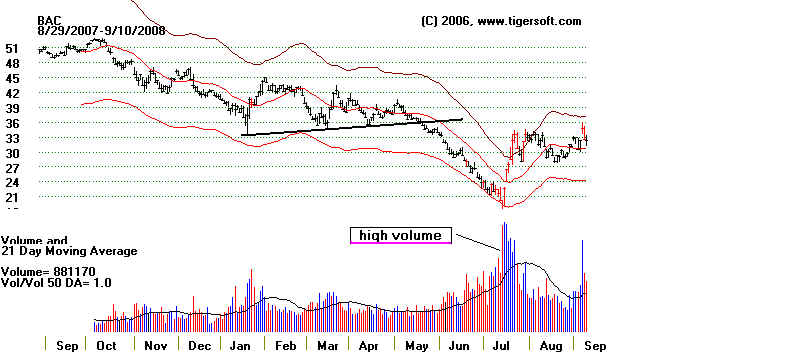 When looking for high volume reversal days, it is important not to
confuse the high volume occurring when a price range breaks down
with high volume AFTER a long decline. The latter is bullish for
trading purposes. The former is bearish. Our Tiger charts turn the
price bar red on a high volume day. Price breakouts or breakdowns
that occur with a red price bar are more apt to continue in the direction
of the breakout or breakdown.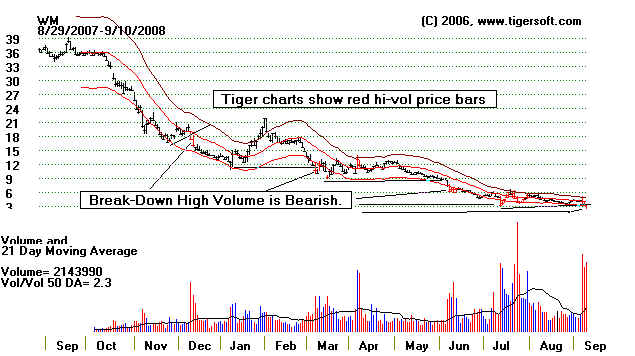 Washinton Mutual - The Black Hole of Banking


This is also important. We use our unique internal strength indicators,
the TigerSoft Accumulation Index and TigerSoft's Closing Power to see
when to sell short before the decline and to get a sense of the magnitude
of the impending decline. Washington Mutual looked as bearish as a
stock could look, back in December. See the write-ups TigerSoft has done
on it.
http://www.tigersoftware.com/TigerBlogs/5-7-08/index.html
http://www.tigersoftware.com/TigerBlogs/May-14-2008/index.html
http://www.tigersoftware.com/Insider-Trading-News-Reviews/12-30-2007/index.html
http://www.tigersoft.com/Insiders/index.html


Here is how Washington Mutual in December 2007. It's extreme
bearishness was judged correctly then by:

1) the amount of red Distribution shown by the Accumulation Index
and the way in which it was steadily and deeply (red) negative.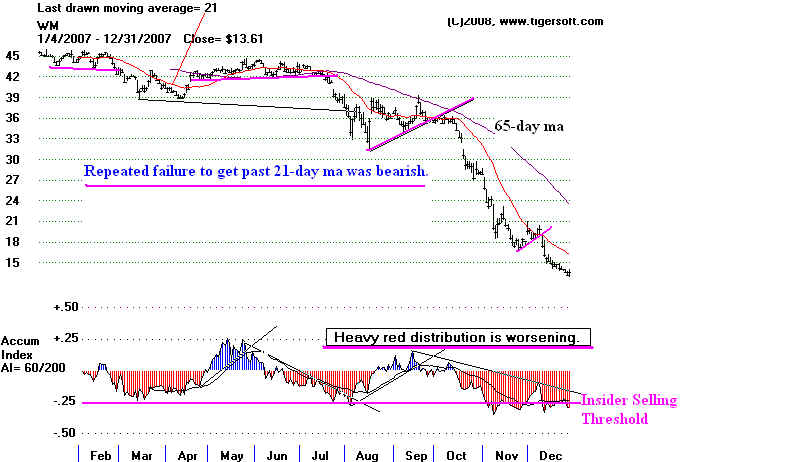 2) the way the OBV Line (representing aggressive selling) was
making new lows ahead of price.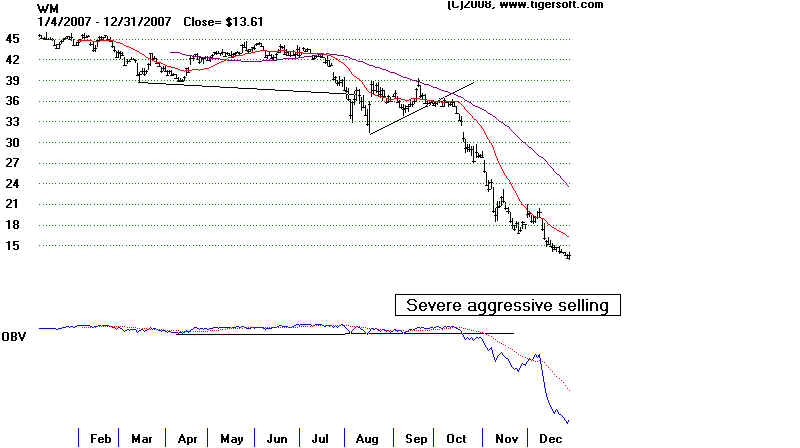 3) is red-down day volume higher than blue-up-day volume.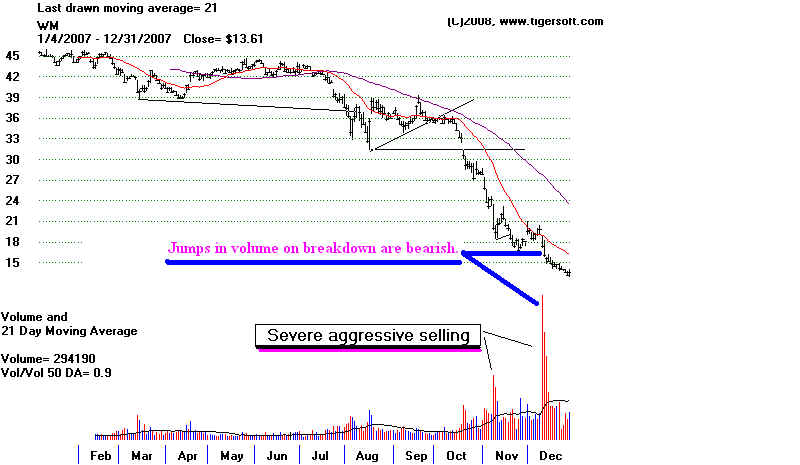 4) the way the stocks' ITRS (Intermediate-Term Relative Strength
indicator stayed in negative territory.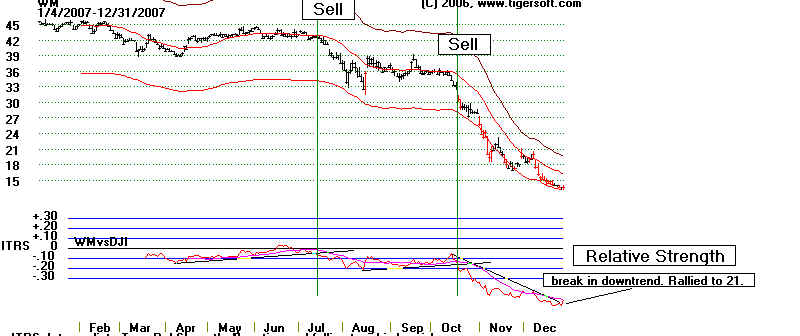 5) how Closing Power kept declining, despite the rising Opening
Power. The rising Opening Power showed that it was the broader public
that was wrongly buying all the way down, while professionals were
selling towards the close. At the end of this chart, the Closing
Power was about to surpass its downtrend line. A rally to 21 followed.
This probably owed to a lifting of the pressures from year-end tax selling.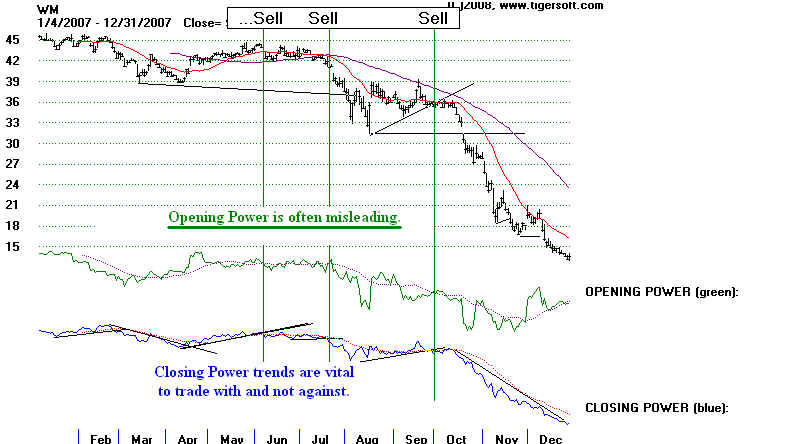 More examples will be set out here.

The Black Hole of Lehman Brothers (LEH)

LEH: Automatic Signals, Prices, OBV, Accum. Index, ITRS (Relative Strength)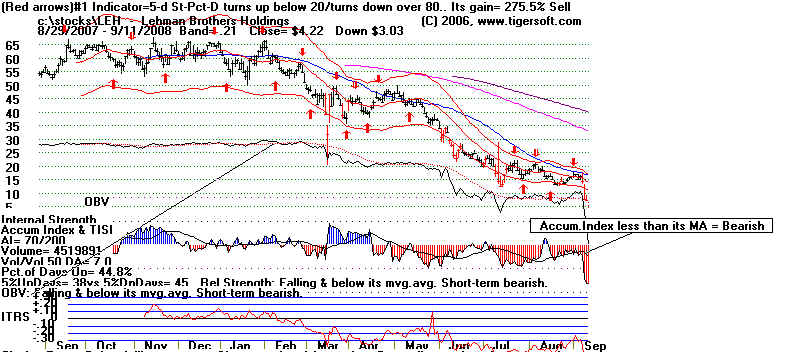 LEH: Volume and Closing Power