MHS MedcoHealth Solutions Inc.
Medco Health Solutions, Inc., a healthcare company, provides clinically driven pharmacy services for private and public employers, health plans, labor unions, government agencies, and individuals in the United States and internationally. Customers do not like them. Cramer misleads viewers.
Shareholders are being destroyed by mediocrs management get too many shares through options.


INSIDERs SOLD more than $48 million worth of MHS from November 2009 to May 2010.
Why would they do this so unanimously and still try to talk up their stock by promising
shareholders buy back programs and 17%-21% growth. The chart shows massive dumping
by institutions and professionals. What bad news is management keeping to itself while
they dump shares on the naive public? If you know, contact us. Be a whistleblower!

Medco Health Solutions, Inc. announced that continues to expect GAAP earnings per share (EPS) growth
of 17%-21% in fiscal 2010. The Company reported EPS of $2.83 in fiscal 2009. According to Reuters Estimates,
analysts on an average are expecting the Company to report EPS of $3.36 for fiscal 2010.

SELL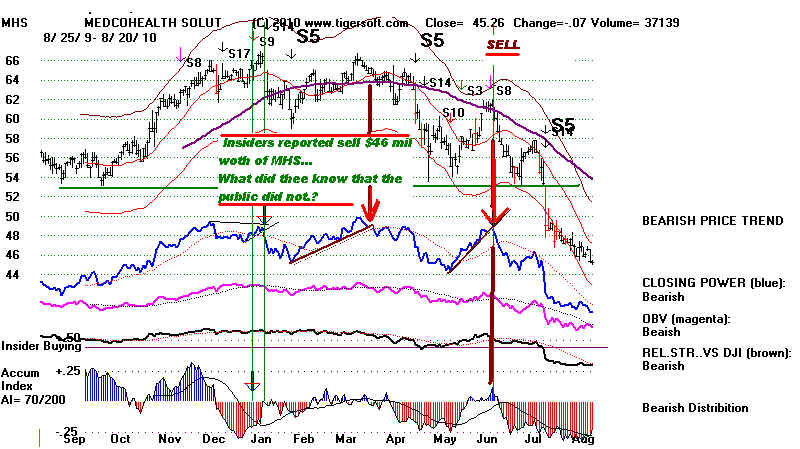 Insiders reported selling $46 million worth of MHS in last 11 months.

May 25, 2010
EPSTEIN ROBERT S

Officer

16,089
Direct
Disposition (Non Open Market) at $55.10 per share.
$886,503
May 25, 2010
CASSIS JOHN L

Director

1,400
Direct
Sale at $55 per share.
$77,000
May 3, 2010
SMITH JACK ALLEN

Officer

7,813
Direct
Disposition (Non Open Market) at $58.92 per share.
$460,341
Mar 18, 2010
WENTWORTH TIMOTHY C

Officer

14,678
Direct
Automatic Sale at $65 per share.
$954,070
Mar 11, 2010
GRIFFIN BRIAN T

Officer

12,081
Direct
Automatic Sale at $64 per share.
$773,184
Mar 4, 2010
PRINCIVALLE KARIN

Officer

8,835
Direct
Automatic Sale at $62.90 per share.
$555,721
Mar 1, 2010
CAPPUCCI GABRIEL R.

Officer

12,136
Direct
Automatic Sale at $63.03 - $63.23 per share.
$766,0002
Mar 1, 2010
PRINCIVALLE KARIN

Officer

20,621
Direct
Automatic Sale at $63.19 - $63.23 per share.
$1,303,0002
Mar 1, 2010
EPSTEIN ROBERT S

Officer

51,440
Direct
Automatic Sale at $64 per share.
$3,292,160
Mar 1, 2010
CASSIS JOHN L

Director

16,000
Direct
Automatic Sale at $63.08 per share.
$1,009,280
Mar 1, 2010
GOLDSTEIN MICHAEL

Director

16,000
Direct
Automatic Sale at $63.05 per share.
$1,008,800
Feb 26, 2010
KORNWASSER LAIZER

Officer

7,847
Direct
Automatic Sale at $62.72 per share.
$492,163
Feb 25, 2010
MORIARTY THOMAS M

Officer

2,694
Direct
Disposition (Non Open Market) at $62.92 per share.
$169,506
Feb 25, 2010
WENTWORTH TIMOTHY C

Officer

9,829
Direct
Automatic Sale at $62.44 per share.
$613,722
Feb 23, 2010
DASCHNER MARY

Officer

2,562
Direct
Disposition (Non Open Market) at $62.40 per share.
$159,868
Feb 23, 2010
CAPPUCCI GABRIEL R.

Officer

1,025
Direct
Disposition (Non Open Market) at $62.40 per share.
$63,960
Feb 23, 2010
MORIARTY THOMAS M

Officer

2,752
Direct
Disposition (Non Open Market) at $62.40 per share.
$171,724
Feb 23, 2010
KORNWASSER LAIZER

Officer

4,533
Direct
Disposition (Non Open Market) at $62.40 per share.
$282,859
Feb 23, 2010
WENTWORTH TIMOTHY C

Officer

5,641
Direct
Disposition (Non Open Market) at $62.40 per share.
$351,998
Feb 23, 2010
TAYLOR GLENN C

Officer

4,577
Direct
Disposition (Non Open Market) at $62.40 per share.
$285,604
Feb 23, 2010
SMITH JACK ALLEN

Officer

4,540
Direct
Disposition (Non Open Market) at $62.40 per share.
$283,296
Feb 23, 2010
RUBINO RICHARD J

Officer

2,667
Direct
Disposition (Non Open Market) at $62.40 per share.
$166,420
Feb 23, 2010
PRINCIVALLE KARIN

Officer

4,545
Direct
Disposition (Non Open Market) at $62.40 per share.
$283,608
Feb 23, 2010
KLEPPER KENNETH O

Officer

16,836
Direct
Disposition (Non Open Market) at $62.40 per share.
$1,050,566
Feb 23, 2010
GRIFFIN BRIAN T

Officer

5,644
Direct
Disposition (Non Open Market) at $62.40 per share.
$352,185
Feb 23, 2010
EPSTEIN ROBERT S

Officer

4,536
Direct
Disposition (Non Open Market) at $62.40 per share.
$283,046
Feb 23, 2010
DRISCOLL JOHN PATRICK

Officer

10,304
Direct
Disposition (Non Open Market) at $62.40 per share.
$642,969
Nov 30, 2009
GRIFFIN BRIAN T

Officer

118,208
Direct
Sale at $63.07 per share.
$7,455,378
Nov 6, 2009
STEVENS DAVID D

Director

140,000
Direct
Automatic Sale at $60 per share.
$8,400,000
Nov 6, 2009
BARKER HOWARD W JR

Director

40,000
Direct
Automatic Sale at $59 - $60 per share.
$2,380,0002
Nov 6, 2009
BARKER HOWARD W JR

Director

2,024
Direct
Sale at $58.70 - $59.69 per share.
$120,0002
Nov 6, 2009
EPSTEIN ROBERT S

Officer

30,000
Direct
Automatic Sale at $59.01 - $59.68 per share.
$1,780,0002
Nov 5, 2009
SMITH JACK ALLEN

Officer

24,000
Direct
Sale at $58.28 per share.
$1,398,720