For-Profit Collegse Are Failing Scrutiny of GAO

For-Profit Jail Should Get The Heat Next. Guess who is the biggest financial backer of
Arizona's new arrest on sight anyone who looks like they are an illegal allien. The for-Profit Prisons.
would be very big gainers if Arizona starts arresting everyone who looks like they could be an illegal
allien. . Source.
Other for profit "public" industries like for-profit-prisons are sure to be treated to the
same type of questions that the for profit-schools are, especially in view of the recent escape
of killers ftom Arizona's for-profit prison system..
Warden, security chief resign after prison escape from a prison ran
for profit by a contracting company called Management & Training Corporation

Criminal Prosecution of these For-Profit Schools for Fraud is very likely.
Some of the schools have even instructed students about how to lie in order to get Federal Govertnment
student aid. In an era of retrenchment, their lobbyists will have to start doling out a lot
of huge bribes to Congressmen. But that's what unlimited corporate campaign contributions
are for, thanks to the Supreme Court. See original article in Barrons.


Kahn Swick & Foti, LLC and Former Louisiana State Attorney General Announce Filing of First Securities Fraud Class Action Against Apollo Group.

Lawyers representing shareholders are getting in the act, too. APOL's officers are charged with
"making a series of materially false and misleading statements related to the Company's business
and operations in violation of the Securities Exchange Act of 1934....In particular, the Complaint
alleges that despite extensive positive statements by defendants in press releases and SEC filings
during the Class Period regarding the Company's operational performance and future growth
projections, these statements were false because: (1) defendants had propped up the Company's
results by fraudulently inducing students to enroll in APOL's scholastic and educational programs
and engaged in other manipulative recruiting tactics; (2) defendants had materially overstated
the Company's growth prospects by failing to properly disclose that defendants had engaged
in illicit and improper recruiting activities, which also had the effect of artificially inflating the
Company's reported results and future growth prospects; and (3) APOL did not maintain
adequate systems of internal operational or financial controls, which would have permitted
APOL's reported operational statements and foreseeable growth prospects to be true, accurate
or reliable.

It was only on August 3, 2010 that investors finally began to learn the truth about APOL
after the United States General Accounting Office ("GAO") issued a report that concluded
that for-profit educational institutions like APOL had engaged in an illegal and fraudulent course
of action designed to recruit students and over-charge the federal government for the cost of
such education. Following these disclosures, shares of the Company declined precipitously over
just a few trading days -- falling almost 10% between August 3 and August 5, 2010, on unusually
high trading volume, thereby eradicating over $684.53 million of the Company's market capitalization
in only four trading days.: (Source )

Below is the Tiger Index for these education stocks. Note the heavy insider selling in the deeply red
readings from TigerSoft's Insider Ttrading Indicator - the Tiger Accumulation Index. Sell short
on rallies after you see this and on red Sell Signals. See our warnings and news about this industry
on 8/7/2010.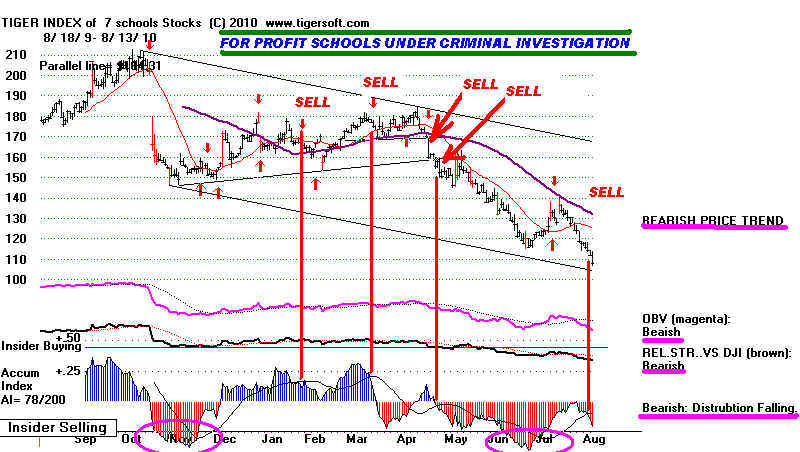 This is definitely a time when investors should be watching how Wall Street Professionals
are treating these stocks. They are becoming pariahs. They now have a stench of criminal
fraud. Watch TigerSoft's now red Accumulation Index for these stocks and the (blue)
downtrend of their Professional Closing Power. Click on the links to see these stocks

Reported Insider Sales:
APOL
Apollo Group

IINSIDER SELLER


His apparent core belief: I find I must have more money, no matter that I am
one of the 313 richest Americans. Insider selling? No moral problem, at all, here.
"Sperling, who is so very concerned about California's carbon footprint, owns more
than 30 homes."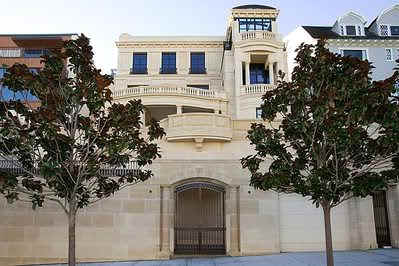 His San Franscisco $65 million house - no one lives there.
Sperling sold 700,000 shares of APOL. Did he know of coming collapse of APOL
because of Congressional investigation's then unreported findings.
Jul 29, 2010
SPERLING PETER V

Officer

55,000
Direct
Sale at $47.01 per share.
$2,585,550
Jul 23, 2010
SPERLING PETER V

Officer

75,000
Direct
Sale at $50.55 per share.
$3,791,250
Jul 22, 2010
SPERLING PETER V

Officer

20,000
Direct
Sale at $46.56 per share.
$931,200
Jul 20, 2010
SPERLING PETER V

Officer

100,000
Direct
Sale at $47.67 per share.
$4,767,000
Jul 13, 2010
SPERLING PETER V

Officer

100,000
Direct
Sale at $43.84 per share.
$4,384,000
Jul 8, 2010
SPERLING PETER V

Officer

150,000
Direct
Sale at $43.77 per share.
$6,565,500
Apr 30, 2010
SPERLING PETER V

Officer

113,821
Direct
Sale at $57.44 - $58.2 per share.
$6,581,0002
Apr 29, 2010
SPERLING PETER V

Officer

106,279
Direct
Sale at $57.80 per share.
$6,142,926
Peter V. Sperling (born 1960) is one of the 400 wealthiest Americans, and the son of John Sperling[1].
He is Senior Vice President and a Director of Apollo Group, and a co-founder and Chairman of CallWave, Inc.[2]

Reported nsider selling varied from one company to another, as measured
by SEC filings. But when you look at the TigerSoft charts you can see how similar
they all were. The unofficial selling was rampant. Insiders always know first. They tell
their friends on Wall Street. Then the collapses began in earnest, long before the GAO
report was made public.

DV DeVry
ESI ITT Education
LOPE Grand Canyon Education
CECO Career Education
CPLA Capella Education
Aug 3, 2010
HENKEL SCOTT M

Officer

1,200
Direct
Option Exercise at $20 per share.
$24,000
Aug 3, 2010
HENKEL SCOTT M

Officer

1,200
Direct
Sale at $91.55 per share.
$109,860
Aug 2, 2010
OFFERMAN MICHAEL J

Officer

4,521
Direct
Option Exercise at $20 per share.
$90,420
Aug 2, 2010
OFFERMAN MICHAEL J

Officer

4,521
Direct
Sale at $92.65 per share.
$418,870
Jul 29, 2010
RONNEBERG AMY L

Officer

11,922
Direct
Option Exercise at $20 - $53.91 per share.
N/A
Jul 29, 2010
RONNEBERG AMY L

Officer

11,922
Direct
Sale at $92.44 per share.
$1,102,069
Jul 29, 2010
HENKEL SCOTT M

Officer

6,631
Direct
Option Exercise at $15.13 - $20 per share.
N/A
Jul 29, 2010
HENKEL SCOTT M

Officer

6,631
Direct
Sale at $92.70 per share.
$614,693
Jul 29, 2010
THOM GREGORY W

Officer

2,500
Direct
Option Exercise at $11.92 per share.
$29,800
Jul 29, 2010
THOM GREGORY W

Officer

2,500
Direct
Sale at $91.58 per share.
$228,950
Jul 29, 2010
TUKUA DARRELL R

Director

10,000
Indirect
Option Exercise at $15.13 per share.
$151,300
Jul 29, 2010
TUKUA DARRELL R

Director

10,000
Indirect
Sale at $91.86 per share.
$918,600
Jun 14, 2010
THOM GREGORY W

Officer

500
Direct
Option Exercise at $20 per share.
$10,000
Jun 14, 2010
THOM GREGORY W

Officer

500
Direct
Sale at $83.37 per share.
$41,685

COCO Corinthian Colleges
STRA Strayer Education linc
Aug 13, 2010
BROCK WILLIAM E

Director

700
Direct
Sale at $201.02 per share.
$140,714

LINC Lincoln Educational Services
May 27, 2010
ABRAMS EDWARD B

Officer

13,469
Direct
Option Exercise at $14 per share.
$188,566
May 27, 2010
ABRAMS EDWARD B

Officer

13,469
Direct
Sale at $24.18 per share.
$325,680
May 26, 2010
MCHUGH THOMAS F

Officer

2,029
Direct
Sale at $24 per share.
$48,696
May 26, 2010
ABRAMS EDWARD B

Officer

3,989
Direct
Option Exercise at $11.96 - $14 per share.
$52,0002
May 26, 2010
ABRAMS EDWARD B

Officer

3,989
Direct
Sale at $24.18 per share.
$96,454
May 21, 2010
SHAW SCOTT M

Officer

71,453
Direct
Option Exercise at $3.10 per share.
$221,504
May 21, 2010
CARNEY DAVID F

Officer

25,000
Direct
Option Exercise at $11.96 per share.
$299,000
May 17, 2010
SHAW SCOTT M

Officer

3,896
Direct
Option Exercise at $3.10 per share.
$12,077
May 17, 2010
SHAW SCOTT M

Officer

3,896
Direct
Sale at $25 per share.
$97,400
May 17, 2010
CARNEY DAVID F

Officer

7,500
Direct
Option Exercise at $3.10 per share.
$23,250
May 17, 2010
CARNEY DAVID F

Officer

32,800
Direct
Sale at $24.98 per share.
$819,344
May 17, 2010
CARNEY DAVID F

Officer

7,500
Direct
Automatic Sale at $24.70 per share.
$185,250
May 13, 2010
SHAW SCOTT M

Officer

12,104
Direct
Option Exercise at $3.10 per share.
$37,522
May 13, 2010
SHAW SCOTT M

Officer

12,104
Direct
Sale at $25.09 per share.
$303,689
May 13, 2010
CARNEY DAVID F

Officer

40,000
Direct
Sale at $24.91 per share.
$996,400
May 3, 2010
CARNEY DAVID F

Officer

7,500
Direct
Option Exercise at $3.10 per share.
$23,250
May 3, 2010
CARNEY DAVID F

Officer

7,500
Direct
Automatic Sale at $24.83 per share.
$186,225


See how the Blue Accumulation Index turned Red, showing insiders knew
of the GAO investigation's criminal fraud findings. See how Wall Street Pros
shofted from buying (uptrending blue Tiger Pro-Closing Power)
to showing Wall Street selling and selling short (falling blue Tiger Pro-CLosing Power)

The way to play these stocks is simple. Trade the trend of the TigerSoft
Pro-Closing Power