TigerSoft Blog
www.tigersoftware.com
by William Schmidt, Ph.D. (Columbia University and Tiger Software)
Author of Tiger Insider Stock Trading Software. Peerless Stock Market Timing: 1915-2013
Explosive Super Stocks Killer Short Sales Tiger Tahiti System Tiger Closing Power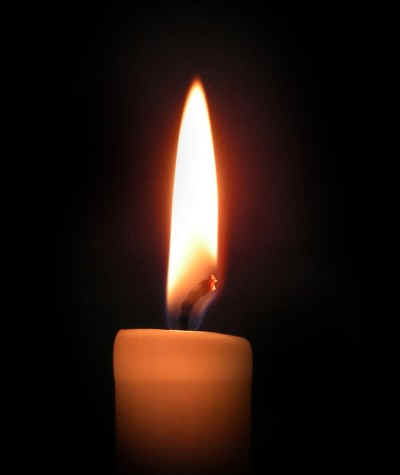 10/29/2011 Fond Memories of My Brother Baldwin Stephen Schmidt
---------------------------------------------------------------------------------------------------------------------------------------------------------------------------------------------

11/8/2013 Democrats and Republicans Keep Sending Manufacturing
Jobs Overseas to The Delight of Big Corporations and Wall Street.

Neither party talks about how international free trade is destroying the American worker.
The Economic Recovery consists mostly of low paying jobs. Manufacturing jobs are
still being sent overseas. The evidence shows that Obama has quietly betrayed all the Union
workers who campaigned for him. The Democrats just love all those campaign contributions
from Wall Street "fat cats" and will do nothing to jeopardaize them. More than 5 million
manufacturing jobs have disappeared since 2000. 2.7 million were lost to China. Lots could
be done, but Obama proposes absolutely nothing! No wonder Wall Street keeps rising
and Main Street USA continues to suffer. Income and Wealth inequality have never been
greater. The numbers are worse now than in 1907 or in 1928 before severe stock market
crashes.
Decline in U.S. Manufacturing Jobs,
Feb. 2013 to Sept. 2013
Month

All Employees in Manufacturing

February

11,988,000

March

11,984,000

April

11,977,000

May

11,972,000

June

11,965,000

July

11,948,000

August

11,961,000

September

11,963,000



10/11/2013 Republicans Finally Denounce Tea Party Extremeism
Up Goes The Stock Market

Who did Speaker Boehner finally listen to? The Koch Brothers, National
Retail Association, National Federation of Inependent Businesses,
US Chamber of Commerce, American Bankers Association and Wall Street.
In unison, all these major sources of Republicans funding have denounced
the Tea Party effort to shut down the government. Only when they all started
yelling at him, did the spineless Boehner agree to end the threat to shut down
the government. Within a day, all sorts of other Republicans themselves then started
to denounc the Tea Party terrorists. Why? Because polls show Republican
approval ratings have now dropped below 25%. Wall Street Journal/NBC gives
Republicans a 24% approval rating.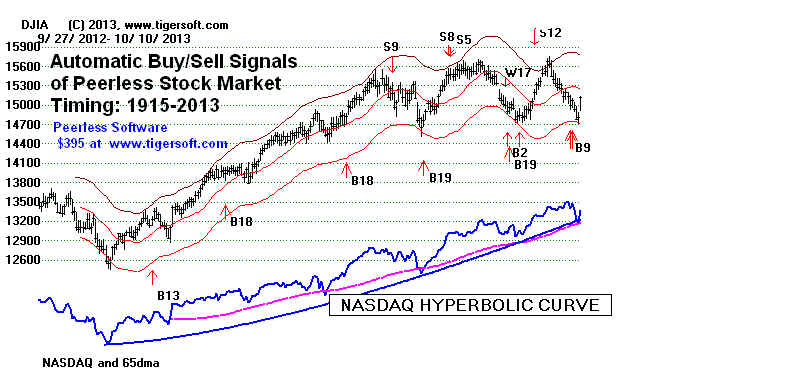 New 10/9/2013 Tea Party Desperation Is Making
The Tea-Party Ideologes Do Dangerous and Crazy Things.

They know they are fighting Demographic trends. In 10 years
they will be an insignificant minority. And they know they
are alienating more and more of their own people with their
fire-brand extremeism. This may be their last chance.

New 10/8/2013 Tea-Party Terrorists Now Threaten America
Just as Did Many of Their Ancestors in 1860.

Stop Them Now. Do Not Assume They Do Not Mean
What They Say. That Is how The American Civil War Started.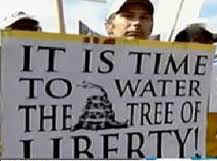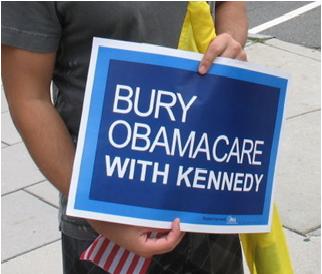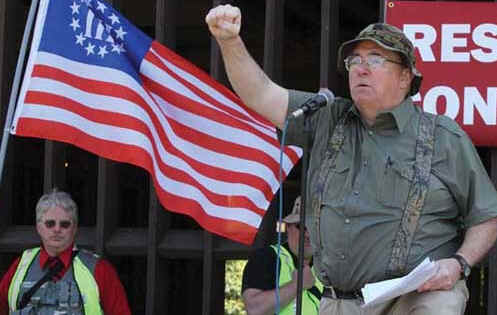 They Are A Minority of racist, hot-head Extortionists, anti-democratic, would-be
Secessionists. Not for nothing are they called "Neo-Confederates". They hate
the 14th Amendment's egalitarianism. They place their "peculiar" version of
"property rights" above "human rights". And also just like the Slave-Owners
who fired on Fort Sumter and started the American Civil War that caused 600,000
young men to die, they saw their world was in rapid economic and political decline,
so they were desperate and did not care who they hurt.

Especially Abraham Lincoln Republicans should call this minority, the
Neo-Confederate faction in the House of Repesentatives exactly what they are.
They are "terrorists". Instead, the commercial media celebrates their "boldness"
and "their spirit of independence". They are lionized and their "books" promoted.

Is this is another attempr at starting a new Civil War, at destroying the American
Federal Government of wrecking the Economy. Just as after the Civil War,
when ex-slave-owners who fought the Union Army, were required to sign
loyalty oaths and not allowed to run for public office, limits should now
be imposed. The 14th Amendment explicitly requires House members
to work to ensure that all US Government debts are paid in full. Instead,
the Tea Party faction threatens to stop the US Government and bring
about "Default" if they do not get their way, this time - that ObamaCare,
the law of the land must be delayed by a year or they will put the US in default
of its debts. This is the Confederate's doctrine of nullification all over again.
Always the Supreme Court has rejected it.

We cannot ignore their threat. It must be exposed and prevented. They are not
men of "good will" who modestly only seek to improve laws. They threaten the
"good faith and credit" of the entire country. It seems they seek to destroy the
US every bit as much as the Slave-Owners in Charleston did in 1861.
They are terrorists who threaten the economic and political security of each
American citizen. They pose a deadly threat to the entire World Economy, too.

Do not the disasters they now threaten us with justify full force
FBI counter-terrorism measures against them if they persist?.

New 10/3/2013 The Tea Party's Dirty Little Secret
"Actually, it was Republican Presidents That Created Most of The National Debt."
Cheney boasted "deficits do not matter". Bush knew if they squandered
the national Treasury, they could always just blame the Democrats
and the Commercial Media would let them get away with the lie.

See Tiger Blog 3/1/2008
"Cheney's Buds Have Robbed The US Treasury Dry."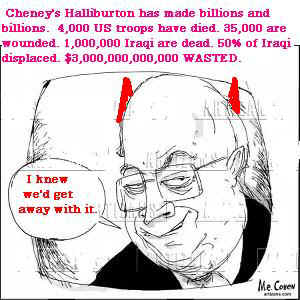 New 10/2/2013 Meet Mr. GerryMander
John Boehner's House District Is Typical, but Hardly Exceptional.
"It looks like a fire-hydrant with a wrench sticking out". It carefully avoids Dayton and the industrial
Cincinnati-Dayton corridor. The US Senate's composition is bad enough. How much longer can America
survive such flagrantly anti-urban, anti-working class, anti-consumer and anti-democratic government as
the House of Representatives show? Republican desperation lies at the heart of the ridiculous degree of
gerrymandering now of House seats. They are fighting many trends: demographics, urbanization and growing
class consciousness in a country whose middle class is dwindling...
---------------------------------------------------------------------------------------------------------------------------------------------------------------------------------------------

Chronological Listing of Tiger Blogs on
The Real US Political Economy and Stock Market since 2007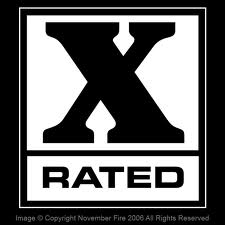 Little Children Should Look Away. This Is Not A Pretty Picture.
This is not what they teach you in Civics Class, Social Studies or Sunday School.
Nearly everyone but Obama know that both Dems and Repubs are the puppets
of the big bankers. An extreme statement? The public comments about this
overwhelmingly reflect the same cynicism I feel.

Why Is The Class Divide So Wide?

The theme running through out most of the articles I've written here on
is the growing contrast and contradiction between the bleak economic
situation 100 million Americans ( "Main Street") are now in and the
plush Political Economy of Wall Street. Time Magazine has a timely lead
article this week that put it bluntly, "How Wall Street Won."

What exactly has Wall Street won under Obama? For starters, nearly all the income gains
since 2008 have gone to Wall Street and the highest corporate officials. These huge gains
did not go to Wall Street because they were smarter or more deserving. Hell, they
caused the ECONOMIC CRASH! They were given to them by public policy makers.
Here's my short list of the public policies since 2008 that made this possible.
Robert Reich has an appropriate essay: "Why The Idea of 'Free Market' Is Total BS."
Rolling Stone's Matt Taibbi's take on this is well worth reading, too.

The forces that have made this divide so wide are well-entrenched and
growing each the day. It was not always like this. Now the Super-rich
are parasites. They are consumed by Greed. They are Traitors. They
eagerly create jobs overseas. They pauperize Americans and then
they accuse workers who want more balance in society of waging
a "class war". But they, these same super-rich, accuse the poor who
work hard at two or three jobs of being "parasites" when they get food
stamps to feed their family because they are paid so little in their non-union,
non-benefit jobs. Congress is "the best that Big Money can buy". So is
the Presidency. So is the supine Supreme Court. So is the monopolized
mass media. "Where is a poor boy to turn?"- that's a very good question.

Once the stock market was a barometer of the national economy, Under
FDR, the rising stock market also meant the restoration of hope for a national
economic recovery for all Americans. Under Eisenhower, there was full employment,
decent wages, fair taxation and a rising stock market, too.

Things have markedly changed for the worse. Now the stock market
measures the degree of control that the super wealthy have over all of America.
But, it was not always - I emphasize - like this. Once a rising stock market
offered hope to millions and millions of Americans.

A Rising Stock Market Once Meant Good Times for All Americans
The "I Like IKE" Years Remembered.
(The next Blog)

Would Eisenhower be a Republican now? After the Korean War, from
1953 to 1960 the stock market boomed. But so did the middle class of America.
There were construction jobs aplenty. There were manufacturing jobs
for anyone. There were good unions who protected workers and made
sure the productivity gains were widely distributed. Taxes on the super
wealth's income was as high as 91% for income amounts over a million.
The government was not a "barren whore" as libertarians say, it built the
massive interstate highway system we use today. And still the stock
market boomed.
DJIA
September 14, 1953 255.5
January 1, 1954 280.4
January 1, 1955 488.4
January 1, 1956 499.5
January 1, 1957 435.7 (Sputnik scare)
January 1, 1958 583.7
January 1, 1959 679.3 +128% rise in the DJI.

People have asked me to write a Daily Blog. They wanted
me to give them a thought or two each few day. About what?
They let me decide. As, I see it, a blog is a personal statement.
I will try to make it entertaining and relate it mostly to the
stock market and insider trading. As we look at the forces that
effect stock prices, we are immediately drawn into
"political economy", the study of choices governments make
based, upon their biases and the pressures brought to bear
on them. Many of these choices are very one-sided and
hurtful to the people I grew up with in the MidWest. Many
are highly offensive to my sense of compassion and honesty.
There are no "sacred cows" here. I do promise to try not to
belabor the obvious.

So, I hope these thoughts, reflections and finds are worth your time.
I will give you my best. In return, I ask that you ask me
first before you publish on the internet or elsewhere what
I offer here. Email me at william_schmidt@hotmail.com

About me and my 31 years's work, TigerSoft
The Real US Political Economy vs Wall Street's Stock Market

The tragedy:
- American Income and Wealth Inequality are now much worse than in 1928.
- The wholesale exporting of US manufacturing jobs amounts to treason and should be considered criminal.
- Neither political party recognizes, much less has solutions to reverse, the decline in good paying manufacturing jobs.
- To blame the poor who are the victims of this failing economic and political system is hypocritical, arrogant and ignorant.
- The US Government wastes trillions on tragically misguided foreign wars and bases that should be used here at home..
- Sadly, Wall Street has been the best place to make a lot of money. Yet it produces little and causes these perverted priorities.
- The lack of regulation of Wall Street will surely produce another Bubble and Crash. So be prepared. Use TigerSoft.

Our Tiger Software will help you survive and thrive in this Wall Street dominated Economy.
Peerless Stock Market Timing: 1915-2013
TigerSoft Insider Trading Stock Charts
Tiger Power Ranker
William Schmidt's Nightly on-Line Hotline.
See www.tigersoft.com Contact william_schmidt@hotmail.com 858-273-5900 About Us




NEW 9/8/2013 Financial Parasitism:
>>> It Is Not Accidental that Wall Street Is Booming
while Main Street Is in Survival Mode.
HOW CAN THE STOCK MARKET KEEP RISING
WHILE MAIN STREET AMERICA IS IN DECLINE?

2013

NEW 9/13/2013
>>> Obama as Puppet of Wall Street

Populist Rhetoric notwithstanding,
Obama Does What Wall Street Tells Him To Do.

Despite all his populist rhetoric, for 4 1/2 years Obama and the FED have given
Wall Street nearly everything it wanted and wants. In return, Wall Street has
agreed to use its powerful computerized program trading tools to pump the
market up and limit the short selling they used in 2008 to drive the stock
market. The low trading volume shows this. Program trading by firms like
Goldman, JPMorgan and Bank of America (through Merrill Lynch) push prices
up and up.

Because the public is absolutely traumatized, mistrustful and dangerously
pauperized, they have mostly avoided the stock market until 2013, just in
time for what may be a market top after rising 55 months!

The public and some institutions have have not appreciated the power of computerized
Wall Street manipulation of prices upward backed up by Fed guarantees that
interest rates will stay low. These Wall Street big bank traders are safely
backstopped AND also bankrolled by the U.S. FED. And Obama does not challenge them.
There is no Administrative drive to limit the power of the Big Banks, to break
them up, to tax their computerized trading or their millions and millions in
profits. E

President Obama has recklessly and cynically gambled that a rising stock
market will eventually inflate the wealthy's bank accounts so much
that they will start spending their profits and that will boost business
and job creation. Because so much money goes into hyper-specualtion
and goes overseas, Obama's trickle-down gamble is not paying off. The
new jobs in the US are not good-paying manufacturing jobs. they are
mostly very low paying, non-union services jobs in places like Walmart
and in fast-food restaurants. Without good jobs, 100 million Americans
are poor consumers. Without a big consumer base, corporations have
one more reason to invest overseas. There is no loyalty on Wall Street
or among most big corporations to America. At the same time, the Wall
Street bubble of speculation and over-production will eventually crash
the stock market.
.
Tiger Blogs on this subject:
Professionals Now Rig Stock Prices Upwards with Extra Fed Help
April 9, 2010 The Power Elite's Biggest Gamble of All. They Cannot Afford to Lose.
That's Why The Market Looks Like It Will Keep Rallying.

April 4, 2010 Why The Stock Market Keeps Rallying:
The Secret Deal Obama, The Fed and Wall Street Have Reached.

April 9, 2009 Goldman Sachs Is "The GREED CONNECTION" between Wall Street and
Washington

April 25, 2009 Massive Federal Reserve Fraud and Corruption Story Breaking..
Bernanke Covers Up Hundreds of Billions of Dollars in Losses
from Bad Loans The Fed Made To Banks Using Toxic Collateral.

March 23, 2009 Monopoly Finance Obama Obama's Biggest Wall Street Contributors Fleeced
Shareholders on The Way Down And Now Will Fleece Taxpayers on The Way Up.

March 25, 2009 Why Is The Stock Market Rallying? Wall Street Now Sees That Obama's
Populist Rhetoric Is Designed To Fool The Angry Public Obama Is Signaling Wall Street
He Will Protect Them
TIGERSOFT LEVELS WALL STREET'S PLAYING FIELD

The stock market is where the rich make their money. Make some yourself.
But first learn how to watch the insiders from TigerSoft. It's not so difiicult.
See how easy it is to spot the difference between stocks likely to rise from those
about to fall.

Tiger two proprietary internal strength indicators show you this.

1) The Tiger Accumulation Index lets you see what insiders
are doing in any given stock. Buy what they buy. Sell what they sell.


2) The Tiger Closing Power shows you whether Wall Street
Professionals are new buyers or sellers. Trade with them!

Examples: Both of the charts below were from 7/19/2013. Both were recommended
on our nightly Hotline, one as a buy and one as a short sale.

You can readily spot the stocks Insiders are heavily buying and heavily selling
just like we do. Each day contrast the best, like AFPC with the worst,
like SQM . The results are often amazing. Just as there are two
economies, there are two Wall Streets.

7/19* 7/31 8/19 9/4
APFC 33.74 36.37 44.18 50.93
SQM 38.2 28.96 27.03 26.96
* Recommended

Bullish Looking Stock - AFPC
Bearish Looking SQM - Short the Confirmed Breakdowns


But you also must also know when the market is dangerous!

Tiger's Hotline and Peerless Stock Market Timing: 1915-2013
will tell you when you the market is dangerous.

Peerless was created in 1981. It has called all the major tops
and bottoms since then on a real-time basis. LET TIGERSOFT HELP YOU.

Introduction. Peerless Stock Market Timing: 1915-2013 Unsolicited Testimonials
Warning:

THE STOCK MARKET BOOM CANNOT BE MAINTAINED. Another Financial Collapse Could Be Worse Than in 2008.

Now would be a good time to get our Peerless Stock Market Timing: 1915-2013 See how Peerless Called
the tops in 1929, 1930, 1931, 1937, 1941, 1946, 1957,
1960, 1962, 1966, 1969, 1971, 1973, 1974, 1976, 1978,
1979, 1980, 1981, 1984, 1987, 1990, 1997, 1998, 2000,
2001, 2002, 2007, 2008, 2011... 2013?


The stock market is still the best place to supplement your iincome
and to build a retirement fund. But you really must learn how to navigate
through its pitfalls and traps for average investors. We can help you a lot.

FOR SAFER, MORE PROFITABLE STOCK MARKET
INVESTING AND TRADING, TURN TO TIGERSOFT.
We've been serving investors large and small since 1981.

Insider Trading in Stocks is Rampant:
TigerSoft Insider Trading Stock, Commodity and Currency Charts.
Use TigerSoft Insider Trading Charts to Level The Play FIeld,
Peerless Stock Market Timing: 1915-2013
Learn Peerless and know more than the most Insiders do.
31 Years of Automatic Peerless General Market Buys and Sells applied to SP-500 Stocks
About TigerSoft About Us

Back to Home Page - www.tigersoft.com
Peerless Stock Market Timing: 1915-2008,
TigerSoft Insider Watch Software
and TigerSoft Automatic Buys And Sells.

Insider Trading in Stocks Is Rampant,
How TigerSoft Spots Key Unofficial Insider and Professionals' Trading
Become An Insider Trading Bounty Hunter

Make Big Money!
Use TigerSoft Insider Trading Charts to Level The Play FIeld,
Daily Trading Oppprtunities Using TigerSoft
The Trading Opportunities in The New Merger Mania

TigerSoft's Measures of Insider and Professional Buying
have been Bullish since March 2009.

Our understanding of American Political Economy has exactly matched and explained
the Stock Market's Bullishness since March 2009. Our Peerless Stock Marker Timing: 1915-2011
has caused us to be very bullish since March 2009, while many others held back and called for
another market collapse. They needed to :

1) Use Peerless and see the many buy signals since March 2009,
2) Watch Tiger's Professional and Insider Buy Indicators which have all been very bullish,
3) Understand the reality of American Plutocracy now.
DJIA and Peerless Buy and Sells 2009