Low Priced Oil Stock Speculation
Using TigerSoft's Accumulation Index

"Insiders always know" when a stock is ready to make a big advance.
That's very evident if you define "insider buying" as bulges from our Accumulation
Index above a critical threshold level. However, we don't advise buying just because
insiders and their friends are buying a stock. Other technical conditions must
be present to fulfill the requirements needed to be a TigerSoft Explosive Super
Stock at take-off. Clustered major red Buys are usually the key.

Find a hot industry, like oil stocks now, and run the Tiger Power Ranker
and you will readily find stocks like these. Look at the examples below. See the bulges
of blue Accumulation above the key threshold. After a bulge appears, look for
nested major Buys. See the Buy "B20", "B12" and "B24" up arrows. A "B10" may
also appear. These automatic signals are your call to buy the stock. In the first stock,
you would have taken positions between 1.25 and 1.75. Now the stock (QBIK) is just
below 4.00. It still looks good and you're up more than 100% in 6 months. Not bad!
But far from exceptional. Look at the other examples below. You will some additonal
stocks below that point to some of the pitfalls of buying low-priced stocks.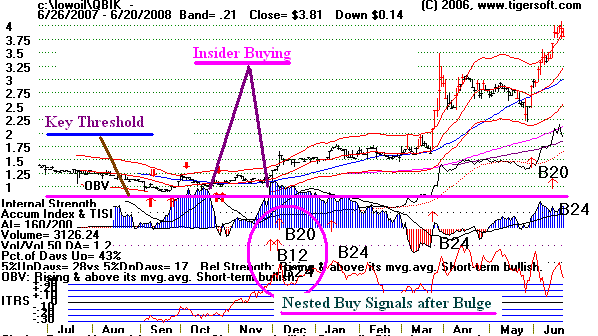 More Examples of Explosive Super Stocks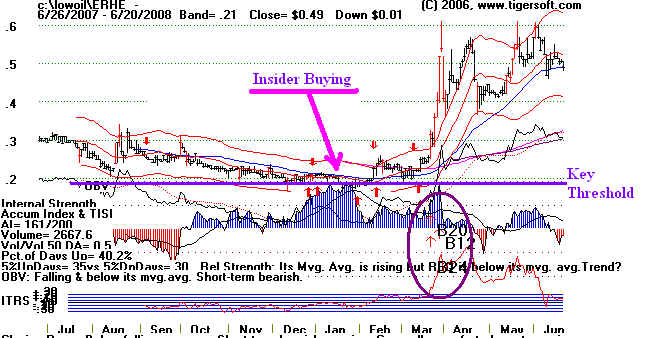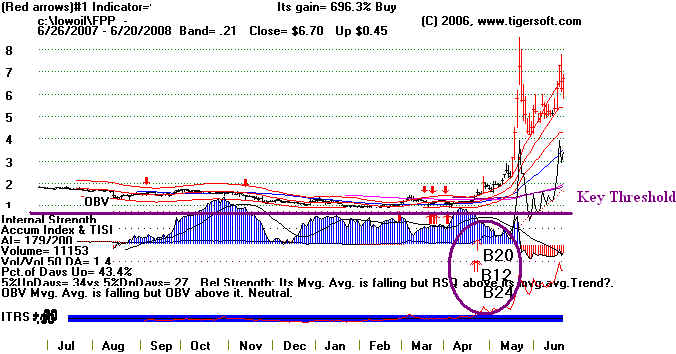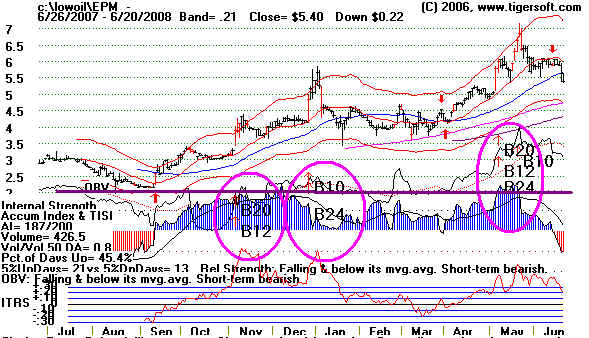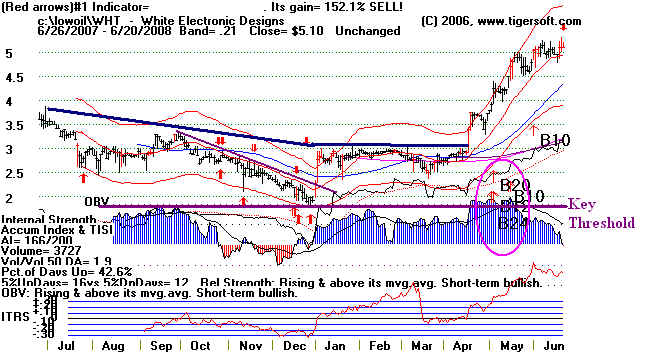 You can make a list of the stocks with the tell-tale Accumulation bulges and
then watch for breakouts END broke out at 1.70. It is now 2.29. At some
point you will have to sell. We cover this in our Explosive Super Stocks book.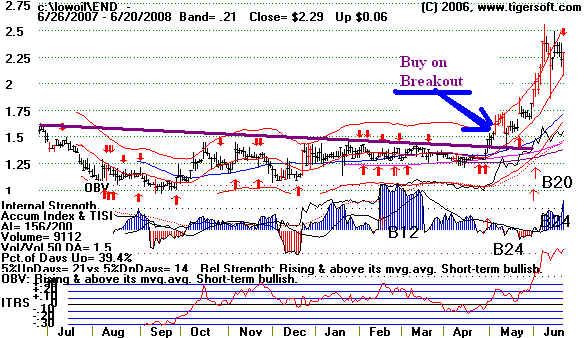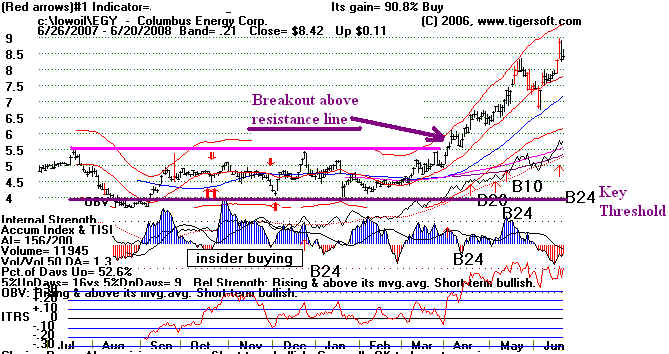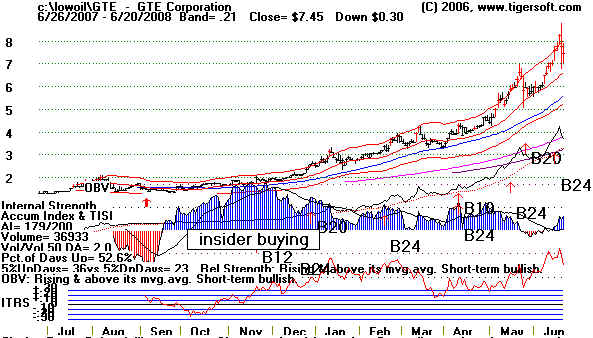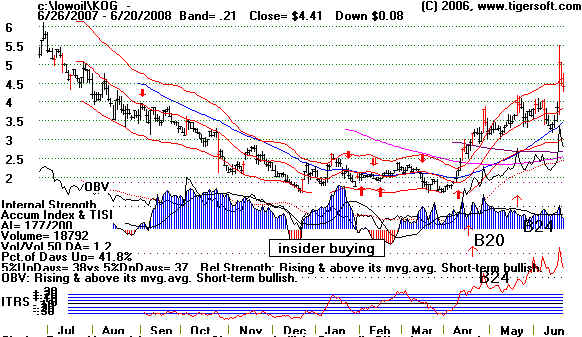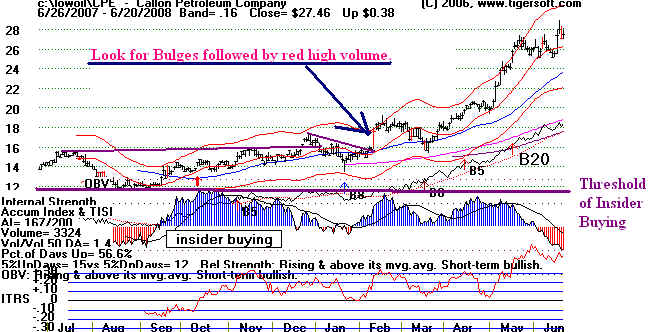 Use trendlines, too. A bulge from TigerSoft's proprietary Accumulation Index
that coincides with a trendbreak is apt to produce a very good trade. Use he red
Up-Arrows to determine when to take additional positions.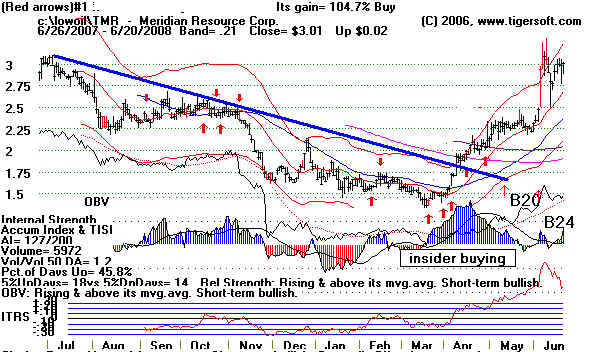 Trading Mistakes You Can Easily Make.

Wait for downtrend to end!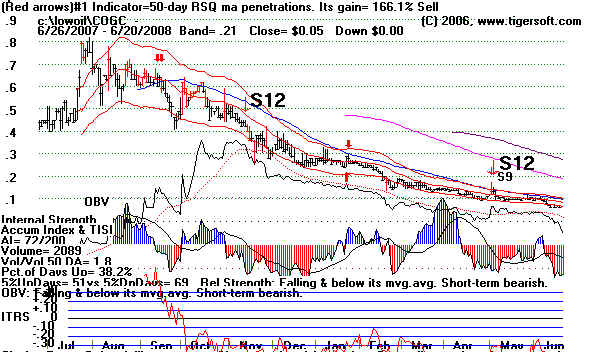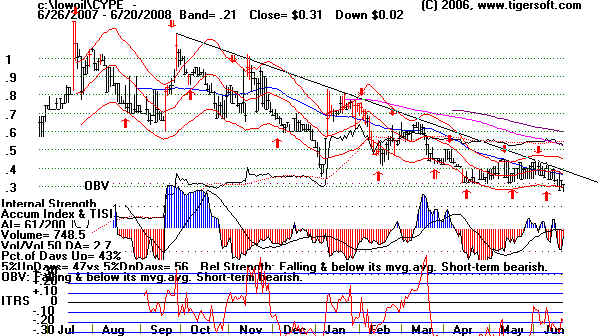 Trading Ranges Can Last A Long Time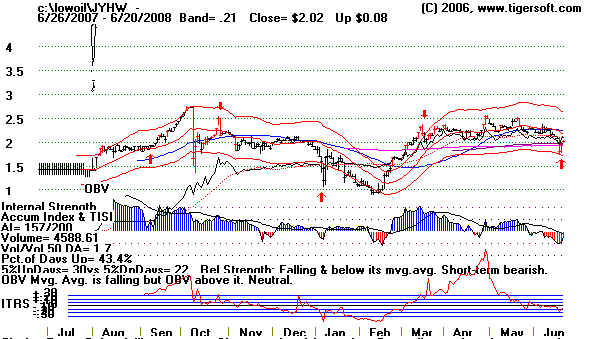 A Bulge of Accumulation
Is Not A Sufficient Condition to Buy
Prices can breakdown after a bulge of premature accumulation.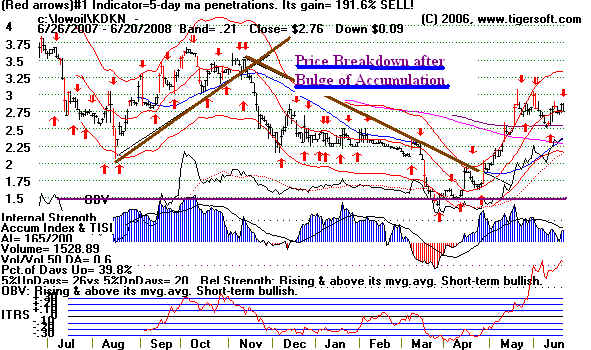 Deep Dips by TigerSoft's Accumulation
Are Warnings Not To Expect Too Much from the Stock