Research on Individual Stocks upon Request: Includes Composite Seasonality Graph
of Any Stock for $125. Example of historical research NEM - Newmont Mining. Order Here.
========================================================

PROFITABLE SHORT SALES IN A BULL MARKET

SEAHAWK'S INSIDER SELLING WAS EASY TO SPOT
USING TIGERSOFT's ACCUMULATION INDEX
AND PRO-CLOSING POWER

There are always some stocks that insiders and professionals
are dumping into the otherwise rising tides of a bull market. SEAHAWK
(HAWK) shows this to be true, even though most other drilling and
oil stocks rose substantially in the last eighteen months when
HAWK was steadily declining from 20 to 4.5. Can there be any doubt
that Insiders knew HAWK would be filing for bankruptcy protection
and were busy selling their own shares while keeping this information
from the public. If the SEC were worth anything, they would launch
a full scale investigation, but odds are overhwelming that they
will do nothing. That is par for them...

Seahawk Drilling Files Chapter 11 Seeking Alpha

(Tue, Feb 15)



TigerSoft spots sigificant Insider Selling using our Accumulation
Index. This we invented in 1981. See below how the Accumlation Index
stays negative (red) and frequently falls below -.25, our threshold
for signifying important unofficial and official insider selling.
In addition, Wall Street Professionals were privy to the extreme
bearishness of WAWK's stock. See how the blue Tiger Closing Power
kept falling and falling, all the while the general Public were fooled
by the apparent "cheapness" of the stock to steadily buy all the way
down. This is absolutely typical of insiders selling before they announce
the bad news. Compare SEAHAWK's case below with the insider
selling by Peter Sperling of Apollo. Or the bankers' insider selling
at CitiGroup or Washington Mutual before they plunged into the abyss
because of the recklessness of CEO's use of leverage in the mortgage
debacle of 2008-2009.


HAWK - Seahawk - 2010-2011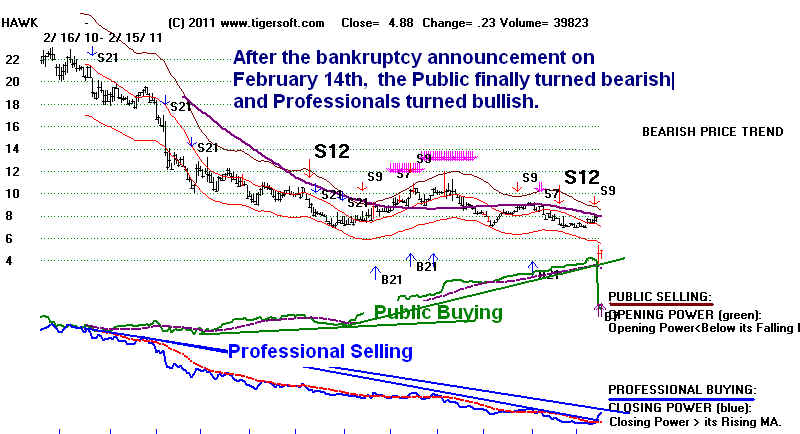 Seahawk Drilling, Inc. 5 Greenway Plaza Suite 2700 Houston, TX 77046 Website:
http://www.seahawkdrilling.com Oil & Gas Drilling & Exploration Seahawk Drilling, Inc.
engages in a jackup rig business in the United States, Gulf of Mexico, and
offshore Mexico. The company offers rigs and drilling crews on a day rate
contractual basis. Its Jackup rigs are mobile and elf-elevating drilling platforms
equipped with legs that can be lowered to the ocean floor and provide shallow
water drilling services. Its customers include independent oil and natural gas
producers and drilling service providers, as well as the national oil company in Mexico.
As of February 23, 2010, the company had a fleet of 20 jackup rigs. Seahawk Drilling, Inc.
was incorporated in 2008.

Yahoo reports HARK Insiders bought no shares in the last six months. Randall D. Stilley
was the biggest insider selling. Stilley is HAWK's CEO and President. His annual salary
is said to be $981,000.
Feb 3. 2010 9826 shares sold at $20.90
Aug. 25, 2010 2410 shres sold ar 7.48
Aug. 26, 2010 12705 shres sold ar 7.47
Dec. 30, 2010 11672 shares sold at $8.91
Feb. 1, 2011 6810 shares sold at $7.13
http://finance.yahoo.com/q/it?s=HAWK+Insider+Transactions

Randall D. Stilley has served as Chief Executive Officer and President since October 2004. Prior to joining Hercules, Mr. Stilley was Chief Executive Officer of Seitel, Inc., an oilfield services company, from January 2004 to October 2004. From 2000 until he joined Seitel, Mr. Stilley was an independent business consultant and managed private investments. From 1997 until 2000, Mr. Stilley was President of the Oilfield Services Division at Weatherford International, Inc., an oilfield services company. Prior to joining Weatherford in 1997, Mr. Stilley served in a variety of positions at Halliburton Company, an oilfield services company. Mr. Stilley is a member of the Energy Steering Committee at the Houston Technology Center. He is a registered professional engineer in the state of Texas and a member of the Society of Petroleum Engineers.
http://www.hotstocked.com/officers/r/randall-d-stilley-7709.html



INSIDER AND PROFESSIONAL SELLING AT DGIT BEFORE IT CRASHES.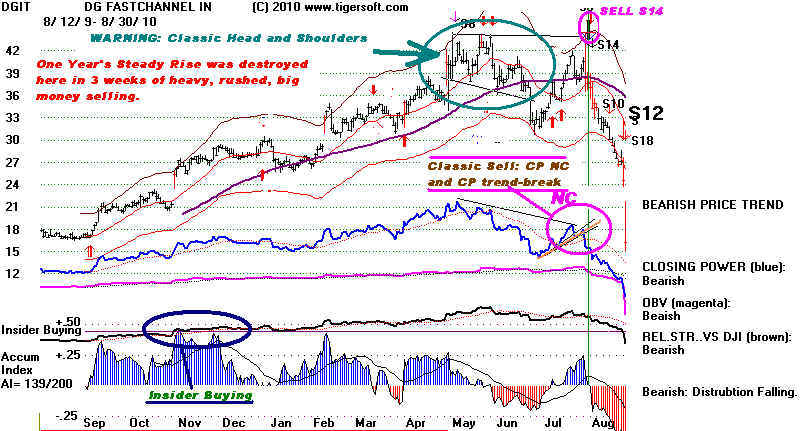 DGFastChannel - products/services digitially deliver commercials, syndicated programs, and video news releases.
This was a 38.4% decline in one day. Technical weakness was easy to spot as it topped out.
Tiger's CLosing Power failed to rally with the stock three weeks ago and then broke its uptrend. This is a classic SELL. Margin calls must have been triggered by the slide. Professionals and market makers steadily sold it down.

The real truth is that official insiders bought no shares in the last 6 months, but sold 1,101,900 shares.
Belatedly, the company forecast "weaker-than-expected" revenue for the thrid quarter. The insider expected
the drop in revenue much earlier. That was why they sold. They just didn't get around to telling shareholders
until this weekend. How convenient. Not a single complaint on the Yahoo message board of DGIT. A bunch
of sheep?. Will Scott go SCOT-free? Will the SEC ask any questions? Don't hold your breath. Just use
TigerSoft to level the playing field.

INSIDER TRADING BY SCOTT GINSBURG AGAIN?
WHY DO DGIT SHAREHOLDERS NOT COMPLAIN?
WHERE IS THE SEC?

CEO and Chairman of the Board Scott Ginsburg was the biggest seller. He sold more than a million shares.
between 32 and 43. He was found guitly of insider trading in 2002 and was fined a million and enjoined not
to engage in future violations of the law. Obviously, he is man on a mission of greed.
http://www.sec.gov/litigation/litreleases/lr18632.htm
http://www.nytimes.com/1999/09/10/business/sec-names-3-in-insider-trading-lawsuit.html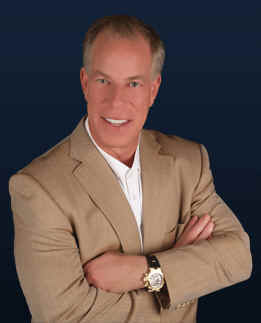 Feb 18, 2010
GALLAGHER LISA C

Director

1,000
Direct
Automatic Sale at $34 per share.
"I'M A LONG-TERM INVESTOR"

Read the commennts on Yahoo by someone who watch the insider selling, thought it smelled, but
lazily did nothing with his position, saying he was a long term investor. This is very typical.

"What a joke, DGIT CEO acting stupidly
"Please tell me that there is no stench in the air from Ginsburg's last sale of over 250K shares at 32.5 and then immediate drop back down.

MMs ran it up for him to sell and then sell it right back down as if they know for a fact they have nothing to fear from DGIT management from doing anything crazy like releasing information to the public. One thing for sure the people buying at 32.5 are the same ones selling it down. Ginsburg is acting stupid here in my opinion. I mean it is not as if he has not given out insider info before and been prosecuted for it. He had better start thinking more clearly if you ask me.

I keep holding long because I am a very big believer in the long term position and think the stock will be trading above $40 before the end of the year. But it is hard to put up with this kind of monkey business.