TigerSoft New Service Tiger Blog- Free Research

48/2010 12000 or Bust!
WHY TIGERSOFT REMAINS BULLISH.

The Financial Power Elite's Biggest Gamble
with Your Money. It Is A Desperate Last Gambit.

It MUST Work, or Else!

By William Schmidt, Ph.D. - Author of TigerSoft and
Peerless Stock Market Timing: 1915-2010.
www.tigersoft.com


Make Money.in Stocks. Use TigerSoft To Track Key Insider Buying and Selling in All Your Stocks
www.tigersoft.com PO Box 9491 - San Diego, CA 92169 - 858-273-5900 - william_schmidt @hotmail.com
--------------------------------------------------------------------------------------------------------------------------------------------------------------------------------------------

TigerSoft's Thesis about the Power Elite's Purpose and Plan

OBAMA's RHETORIC ASIDE, THERE NOW EXISTS
AN UNHOLY ALLIANCE. Some call it a "Triumvirate",
a "Conspiracy" or a "Power Elite". What matters is
that it includes
1) The Federal Reserve of Greenspan and Bernanke,
2) The Biggest Wall Street Banks - especially Goldman Sachs,
3) The White House
- Pres. Obama,
- Treas. Secty. Geithner,
- Chief Economic Advisor Summers and
- Financial Personnel Advisor - Robert Rubin.

THEY ARE GAMBLING BIG WITH YOUR MONEY that
they can rig stock market prices to go much higher.

This they believe this will trickle down, create buying power,
restart the economy and create full employment again.
This begs many, many questions. They are probably
wrong. But the point is that this is their plan. Given
their Orthodox assumptions, perspectives and priorities,
this is the only plan! So, they have to play it out. And
that means still higher stock prices. They also know
it has to work, or there will be terrible consequences.
If it does not, the Power Elite will have to use brute force
to retain their power in the face of continuing high
unemployment, poverty and social/economic polarization
in America.

This this, the TigerSoft thesis of why the market
continues to advance. For example:

Why is Goldman Sachs' (GS) stock going up just when a Washington blue-ribbon
Pane finally focuses on the causes and culprits behind the financial crash of
2007-2009. Our answer here is that the Power Elite wants to show that they
are still very much in total control.

The CRASH Panel is no real threat to them. The evidence we present below shows
that it continues the cover-up. The Panel is white-washing Wall Street's miserable failure.
They are not following up their interviews with the hard questions about the bankers'
insider trading, for example. They KNEW there would be a COLLAPSE. They created
and then abetted and profited from it. the CRASH Panel is missing most of the real
underlying issues. As a result, it is very dubious that they will make any policy
recommendations that get to the core issues that caused the world-wide economic
collapse.

Goldman's SACHS's (GS) STOCK IS GOING UP JUST WHEN A WASHINGTON
BLUE RIBBON PANEL FINALLY FOCUSES ON THE CAUSES OF THE FINANCIAL
CRASH OF 2007-2009 AND POINTS THE BLAME FINGER AT THE BIGGEST BANKERS?
BECAUSE THE POWER ELITE WANTS TO SHOW THAT THEY ARE STILL IN TOTAL
CONTROL. IN FACT, THEY STILL SEEM TO BE, AS WE SHOW BELOW.

----------------------------------------------------------------------------------------------------------------------------------------------------
THE US POWER ELITE STILL WANTS MUCH HIGHER STOCK PRICES. THEY HAVE ALL
THE CARDS. THE BLOG HERE SHOWS THAT THEY ARE FIRMLY IN CONTROL FOR NOW.
THEY CANNOT AFFORD TO FAIL. THEY ALL KNOW THIS.
----------------------------------------------------------------------------------------------------------------------------------------------------

WHY BET AGAINST THEM. ESPECIALLY IF YOU HAVE TIGERSOFT TO TELL YOU
WHAT INSIDERS ARE BUYING. THEY KNOW THAT THIS GAMBIT NOW MUST WORK,
OR THERE BIG TROUBLE! IF THEY FAIL, TO CONTINUE TO RULE, THEY WILL PROBABLY
HAVE TO RESORT TO BRUTE FORCE.

LET'S HOPE THIS LATEST VERSION OF "TRICKLE DOWN" WORKS BETTER THAN
THE PESSIMISTS THINK FOR STOCKS PRICES AND FOR WAGE EARNERS, AS WELL.

---------------------------------------------------------------------------------------------------------------------------------------
Professionals control Goldman Sachs (GS) See below How Tiger Tracks the Swings of Their
Net Buying and Selling. Right now Professionals want it to rise.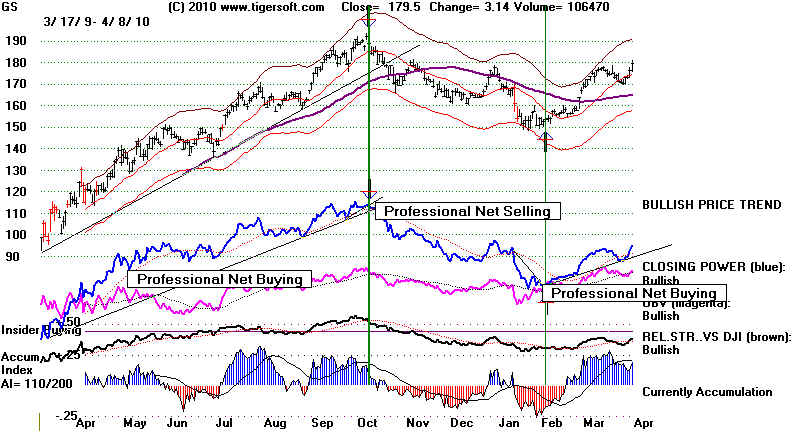 Professionals are also still buying DIA, the ETF fo r the DJIA. This bodes well for the market
even though the DJI has reached the 11000 resistance. The ETF for the DIA (below) now
shows both new Professional and Public buying. That is usually short-term very bullish.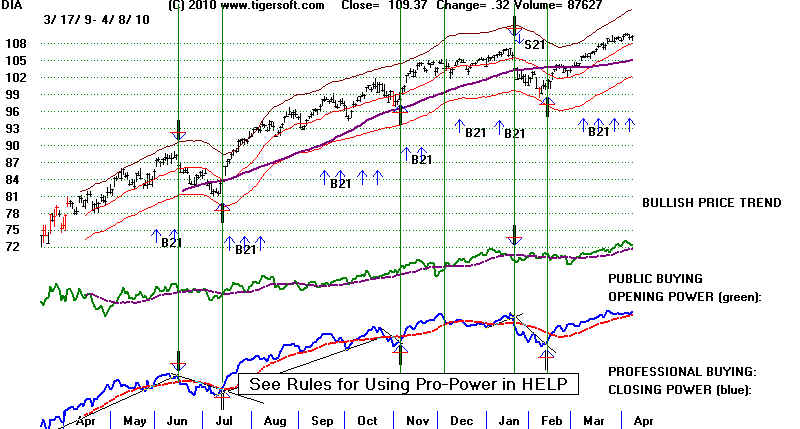 Also TigerSoft Blog - March 23, 2009 - Obama's Monopoly Finance Capitalism (Part 1)
TigerSoft Blog - 9/21/2008 - Monopoly Finance Obama.(Part 2)





Just when Goldman Sachs and other banks are finally getting
some heat. some well-deserved blame for causing the housing
bubble and stock market crash, the GS stock turns up. Why is that?

Millions of Americans see perfectly well what has been going on between
Wall Street and Washington for years and years. The rushed Paulson $800 billion bailout
for Wall Street, their bonuses under Obama and the reckless speculation now, while
10%-18% of all Americans look around desperately for jobs) can only be interpreted
to mean that Wall Street comes first and Main Street pays the bills. Million of Americans
have exhausted their savings, been bankrupted, lost their homes and their jobs because
of the unholy alliance, the triumvirate of Wall Street, the Federal Reserve and two
White Houses, each run by ;leaders of a different political party.

Millions of Americans who are not highly trained economists still clearly
understand that the American taxpayer has been put in hock for trillions of dollars by
the Federal Reserve to bail out the very perpetrators of the biggest financial collapse
and fraud since the early 1930s. Why should they pay for the misdeeds of the very
people who put them pout of work and their home? The magnitude of the heist is
not lost on them. It far exceeds what Halliburton got away with as Cheney's favorite
prime contractor. He arranged that Halliburton would get billions in no-competition
contracts purportedly to support the wars in Iraq and Afghanistan.

Millions of Americans who are not Marxists sense that normal competitive
capitalism has now morphed into a dangerously anti-democratic conspiracy of
cronies, a Power Elite of bankers and politicians who now are totally interdependent.
The big banks are now too big to fail, even though the dangers of allowing them to serve
simultaneously brokerages and commercial banks has been clear since the early 1930s.
Meanwhile, the Fed and the White House have encouraged Wall Street's extremes of
pay and bonuses. They applauded the biggest banks' high growth rates. They even
arranged the monopolistic banking consolidations, in the wake of weaker bank failures.
In all this, nearly all the regulators were in bed with the banks.

How can else can one explain banks being allowed to use leverage of 30:1 and
even 50:1? How else can one explain why they were so readily allowed to sell short
stocks starting just before the market top in July 2007, without need to borrow any shares
and to sell on down-ticks? The lessons of Bear Raid" market manipulators of 1929-1933
were completely ignored, despite their grim consequences. There was no regulation
of Wall Street under George Bush. The SEC was then a wholly captive agency. How else
can you explain that Bernie Madoff's Ponzi Scheme could 17 years, despite the
many warnings federal regulators received. And how else can you explain why
federal regulators allowed banks to speculate madly on each others' demises with
credit default swaps? This would have been an egregious violation of most states'
insurance laws. But Bob Rubin and Larry Summers, both Wall Street Democrats,
condemned such restrictions as forcefully any "free-market" Republican.

So with this background, a blue ribbon panel has taken up the Causes of the Crash..
See the "Financial Crisis Inquiry Commission" http://www.fcic.gov/hearings/
Its chairman is Phil Angelides, a former California State Treasurer. He interviewed
Greenspan and Rubin on the first day. http://www.fcic.gov/reports/
Greenspan says "I was wrong 30% of the time"?
Ex-Citi exec says he warned Rubin on mortgage risk
Ex-Citi executives face questions on mortgages

To date, the questions and testimony in the government's hearings about the Causes
of the 2008 Crash have shed little new light, though for many they have helped connect
the grim events and the key players. A powerful, yet succinct summary was offered by
(4/7/2010) Dylan Ratigan. How the Federal Reserve is boosting stocks by risking
a bigger bubble than in 2000 for stocks, 2004 for housing and 2008 for oil... The Fed's
power grab now seems total and it's all a secret.
Greenspan and Bernanke as successive Crime-Family Godfathers.





It's frustrating for me to hear the excuses offered by Rubin. He received $107 million from
1999 to August 2008 from CitiGroup . He still says he was not kept informed about
CitiGroup's exposure to a break in the housing bubble. This is a ridiculous lie. He is the one
that pushed hardest for CitiGroup to use massive leverage. Then from June 2006
to January 2007, he sold $13 million dollars worth of CitiGroup stock right at its top,
above $50, precisely because he did know how dangerous the bubble had become.
Two years late the stock could be bought at a dollar a share!
See - http://www.tigersoftware.com/TigerBlogs/Nov-25-2008/index.html CitiGroup
got $45 billion from the taxpayer for it to survive the collapse after Rubin's bubble.
He continues to be respected by Democrat leaders. He was Obama's chief advisor
in hiring his White House financial assistants. Before being Clinton's Treasury
Secretary, he had been Goldman's CEO.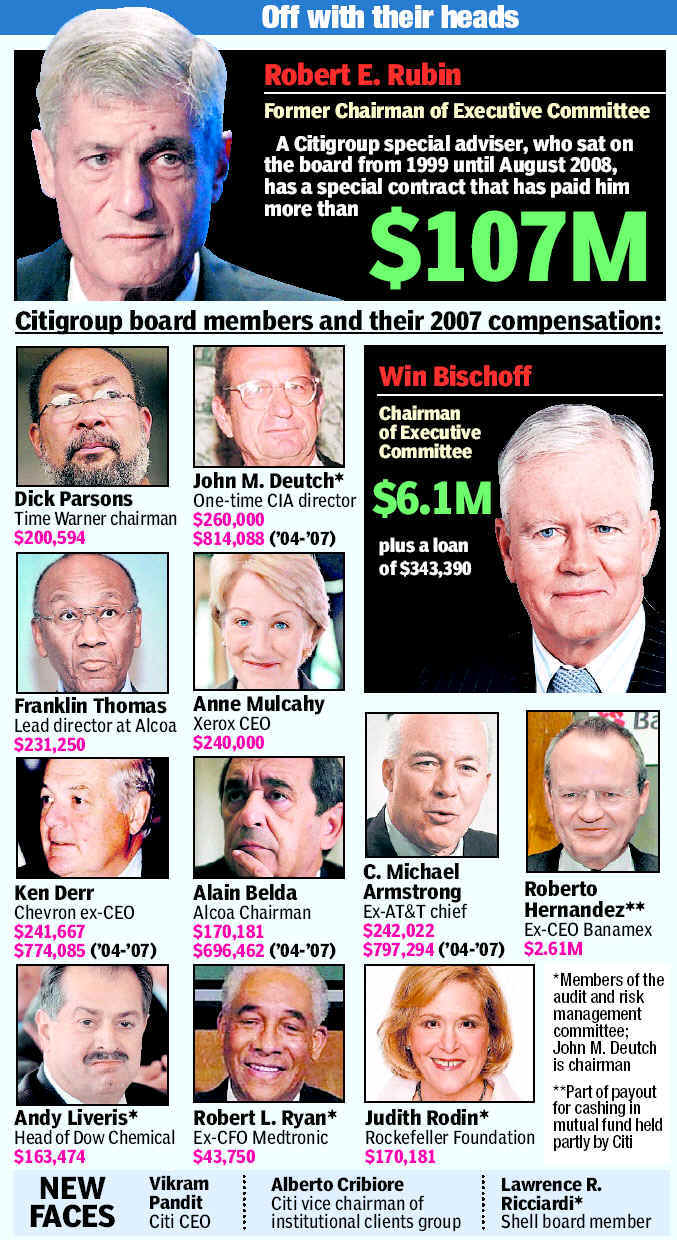 Source:
http://www.nypost.com/seven/11252008/postopinion/editorials/bounce_these_bozo_bankers_140652.htm


100% COSMETICS?

The more I ponder this, the more I see this new panel as yet another way for the
Power Elite to mislead and manipulate the public. The insider selling by these bankers
at the 2006-2007 top proves they knew they were creating a bubble. In addition, Goldman
set up a $10 billion hedge fund to short the market in late 2007, after successfully lobbying
the SEC to let them sell short on down-ticks in July. Their merciless purchase of credit default
swaps on their investment banking competitors and then finally on AIG shows that
they could see the market was very dangerous because of the home mortgages they continued
to sell to unwary investors who thought they were getting good returns on AAA graded
securities. How can these big banks feign ignorance of the dangers? Look at the evidence,
blue ribbon commission. Don't just take the bankers at their own words. They had plenty
of warnings. Early-on respected economists Roubini (NYU) and Schilling (Yale)
warned high powered audiences that there would be a CRASH. Even TigerSoft could
discussed the dangers of the housing bubble and warned of a 1929-like crash in the
period just before the bear market began. See TigerSoft Predictions and
http://tigersoftware.com/tigerBlogs/October-10-2008/index.html

Is this panel then another Power Elite effort to paper over the real problems?
There is no mention of the ever widening gap between the very rich and the poor
and the diminishing "middle class". "The rich get richer but it's the poor that go to jail".
Working people need to have consumer buying power. The rich spend proportionately
less. Investing in stocks takes money away from direct investments in job creation
enterprises. Income inequality in 2007 had just reached the same level it was in 1928.

Should not the unchecked political power of the greediest in our society frighten all of us.
How can we have a democracy when power and wealth are so concentrated and used
so selfishly? Worse, these biggest Wall Street firms would never be to do what they have done
but for the willingness of the President and most of Congress to dance like puppets to
their Wall Street masters' tune. Our government seems almost totally bought and paid for,
does it not?

Is this too harsh? The anger out there is red hot. For me, what is especially frustrating is
how completely Obama has caved in, rhetoric aside, to Wall Street. But it it not a surprise.
His biggest corporate campaign contributors were from Wall Street. Congressmen and
the White House are defined more and more completely by one thing: who gave them the largest
"campaign contributions".

But take heart if you're an investor. The stock market would have crashed wide open,
if this panel were really about to do its job. The DJIA would have fallen 500 points if the
panel was moving to recommend:
1) a separation of investing and commercial banks functions into different
institutions.
2) the break-up of the too-big-to-fail banks,
3) the imposition of a stiff windfall tax on Wall Street's big bonus executives
in the bail-out firms,
4) to stop massive computerized trading, unlimited short sales and NYSE and
CTRB secrecy about members' large short positions.
5) to end the Fed's secrecy in the matter of the trillions in bank bailouts and
6) to stop the efforts in the Power Elite to give the Fed even more powers
vis-a-vis banks.

I think we can safely bet that there will be no expose of the secret arrangement between
the Administration, the Fed and Wall Street Banks, in providing these banks TRILLIONS from
taxpayers in return for worthless toxic debt collateral. There is also very little chance that
anyone will challenge the Federal Reserve, Greenspan or Bernanke for being far too
chummy with the very bankers that caused the Crash.

What is more, I think I can safely guarantee that no one on this panel will attack
the widespread central bankers' ORTHODOXY, their belief and perspective that economic
growth depends first and foremost on Wall Street handouts and on a Wall Street bull market,
not jobs or a Main Street recovery. For them, government jobs are illegitimate! Jobs
also seem to be a lower priority by Obama. The government, he says, cannot
put people to work. Work must be provided by private employers, however long workers
must wait. Obama did not even have a Public Works plan ready to submit when he entered office.
He had to call town meetings to get ideas, a year after becoming President. (Obama is
certainly no FDR bringing a "new deal" for all Americans and frontally attacking Wall Street.
Too bad, because FDR brought a huge increase in stock prices, despite all the new regulations,
the public works programs and the much higher income taxes on the wealthy.)

. I would also bet that no one on the Panel will attack the central bankers' ORTHODOXY that
conveniently forgets how dangerously undemocratic the highly massive and monopolistic
Wall Street banks are as they push around politicians of both parties with millions and
millions of dollars of what are politely called "campaign contributions". Any takers?.