Baseball's Home Field Advantage:
What Behind It? Signs Being Stolen? What's Up?

by William Schmidt, Ph.D


Now, I like statistics. But it's baseball that got me to like numbers. When I was
very little, my grandfather took me aside and explained what "numbers" were. See, he
worked in a factory and "ran numbers" there. He would go around and collect bets on
such things as the total number of runs in baseball for a given week, as well as take straight-up
bets for a bookie who payed him a little on the side. He never got rich at it, for sure. In fact,
he was always real poor. His vacation was going down to the train station and counting the box cars
going by with me. He was thinking how he would like to hop up on one of them, I think. Well, I
loved him. He taught me basic arithmetic long before I had it in school. And getting this
head start in math has kept my interest in numbers all my life. So I grew up liking them
and baseball especially. And I still do. I was a catcher. So I study the pitching part of the
game. San Diego's hitting leaves a lot to be desired.






What I want to consider here is what's with the huge home-field advantage that now
exists in baseball. It been documented, of course, for some time, but look at how different
the wins and losses are this year from home to away, for almost all teams, especially those
near the top of their division. Below are the win-loss record to date in 2008 for the teams
leading each division. Only the LA Angels, the team with second best record in baseball
this year, is doing nearly as well away as at home. The differences are enormous.
Of all 30 major league teams, only 5 have won more away than they have lost. Even the
best teams have trouble winning much mor ethan 50% of their away games.

Win-Loss Record
At Home Away
American League
East
Tampa Bay 47-19 32-32
Boston 43-18 33-37
NY Yankees 38-28 32-33
Central
Chicago W.Sox 46-22 30-34
Minnesota 48-23 28-35
West
LA Angels 40-26 40-25

National League
East
Philadelphia 39-28 34-31
NY Mets 41-25 32-35
NY Yankees 38-28 32-33
Central
Chicago Cubs 49-19 33-31
Milwaukee 41-24 36-31
West
Arizona 37-28 31-36
LA Dodger 39-30 26-37



I found lengthy study on the Net that concluded the advantages covered
most aspects of baseball.
Home teams succeed at:
Hitting more homeruns
Striking out less
Walking more
Getting hits on balls in play
Pitching complete game shutouts
Allowing fewer runners to reach on error
Stealing bases more successfully
Getting hit by more pitches
Hitting triples
NOT especially at hitting doubles, but at hitting extra base hits on balls in play overall
Picking off opponents' runners
Statistics back to 1981 show that the biggest advantage is in the 1st and 9th inning. Is that
from the crowd cheering, in part? This notion is supported because home teams have a
noteworthy advantage in close games and low-scoring games.

In baseball there is official rulebook that teaches boys how to play. And then there is the
unofficial way in which baseball can be won by intimidation, stealing signs and the fans
getting to the umpires. Watch the pitcher, some of them clearly release the ball 3" or
4" in front of the rubber. They are never, never called on it!

The Wall Street Journal reported that the 1951 New York Giants scored their miracle
comeback from 13 and a half games behind the Brooklyn Dodgers in September
with an "elaborate sign-stealing scheme that involved telescopes in the scoreboard
and a system of bells and buzzers." (Source: http://findarticles.com/p/articles/mi_m0FCI/is_8_61/ai_88575166 )

I've always wondered with today's technology whether someone might steal the
visiting catchers' signs and post them in some secret way on the billboard in center field,
or in another spot the hometeam batters could see. That would help them enormously.
Knowing that the next pitch is going to be curve would takes all the surprise away and let
batters dig in for a fast ball and flex up for a curve ball. Since the catcher also signals
the location he wants for the pitch, the home-team batter could have quite an advantage
once the catcher's signs were understood.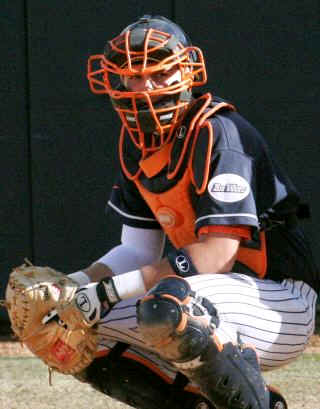 The problem with this is that the pitcher and catcher could change the signs anytime
they want. That would cross-up hitters a lot.. It's probably easier to explain home-town
advantage in other ways. "Tthe stealing theory surfaces with teams like the Cubs more
often because of the scoreboard. the belief is that someone in the scoreboard appears
in 1 of 2+ openings depending on the pitch (1 for fastball, 2 for curve, add more
as necessary). the batter is supposed to know which opening means what." Source.
.

Explanation for Home Field Advantage

I can list a lot of possible explanations. And tell a few
stories. But there are a lot of unanswered questions.

1. Familiarity and comfort for the batter working with a familiar backdrop in the outfield. The
home-field batter see the ball better.

2. The height of the pitching rubber and how the pitchers' mound is maintained must
vary from stadium to stadium. The hometown pitcher is more comfortable on the mound
he plays half his games on. Home team hitters are hit by more balls, for example, for
this reason.

3. The outfield varies a lot from stadium to stadium and so does the foul territory. The
home-field team has a big advantage knowing where the outfield fence is and how far they
can go to catch a foul ball.

4. Infields are better maintained in some stadiums than others. And in all stadiums,
the field is in better shape to field infield grounders on in the top of the 1st inning.

5. The home-town players know how to play the lights in their stadium better. Outfield
errors on fly-balls lost in the sun would give the home team an edge.

6. Crowd noise. Baseball etiquette has changed a lot since I was a kid. Home-town fans
razz opposing team outfields quite personally now.

7. Traveling to play on the road is more tiring. Muscles are tighter. It's certainly harder
to play with a hangover.

8. Climate differences are important. Places like Coors Field, 5000' high, produce
longer fly balls. The Home team would know how to take advantage of this and
prevailing conditions. Colder locales require more time to warm up. Perhaps, the
visitors don;t fully realize this. Houston's humidity and Arizona's heat is very debilitating
unless one knows from experience how to prepare for and cope with it. From 1977
to 2008, the biggest home-field advantage was Colorado, Houston, Tampa Bay and
Florida.

Difference Between Home Winning Pct and Away Winning Pct.
.
0.159 COL (meaning that Colorado winning percentage for home
ganes was 15.98% higher than its winning percentage
for away games).
0.114 HOU
0.113 TBD
0.11 FLA
0.105 TEX
.

Look at how different the dimmensions are from one ball park to another.

( Source: http://www.andrewclem.com/Baseball/Dimensions.html )




















Sources:
http://www.thegoodphight.com/2008/7/3/564256/homefield-advantage