PHASES of A TYPICAL SPECULATIVE STOCK

1. PUBLIC OFFERING - Often the stock settles back awhile if market is weak.
2. TAKE-OFF and MARK-UP Insider Buying and Flashy, Eye-Catching Advance,
Key Borkerage Sponsirship, Professional and Institutional Buying.
Public Selling and Skepticism.
3. TOPPING OUT: Insider Selling, Hype and Bullish Publicity, Public Buying
4. COLLAPSE: Public Bargain Hunting Buyers Are Victimized.
Professional Short Selling. Institutions Dump
5. BASE RE-BUILDING: Public Panic and Frustration.
Short-Term Professional Traders Dominate.

by William Schmidt, Ph.D.

1. PUBLIC OFFERING The best trading system for DRYS at this time was based on the trends of the
TigerSoft Closing Power.


But 50-day ma is violated to upside and Accumulation Index turns positive. After a big
drop, this is bullish. But there is still lots of overhead supply from the buyers at 20 a
year earlier.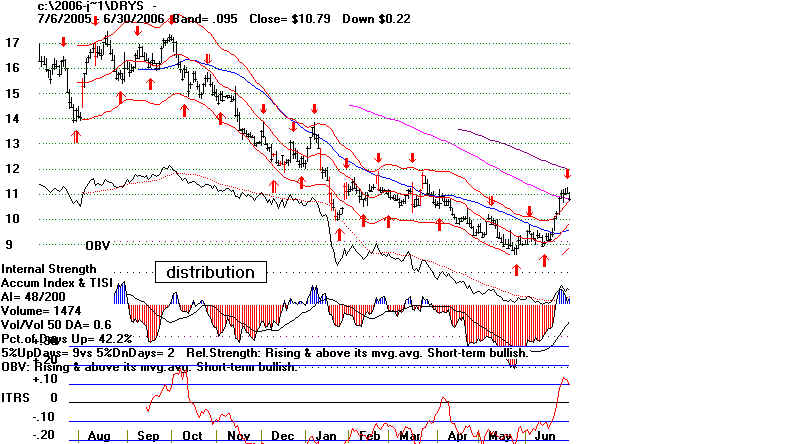 Professionals continue to dominate the stock in this period with
short-term Buys and Sells.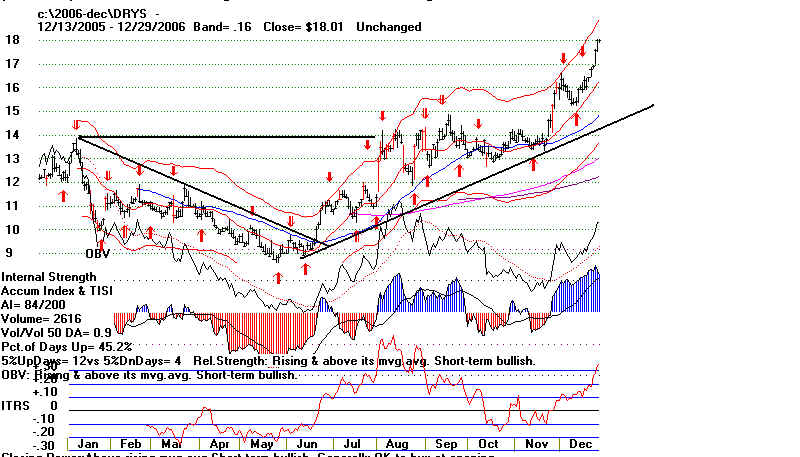 2. TAKE-OFF 3. Topping Out4. COLLAPSE

7) Tigersoft's Day Traders' Tool diverged downward from the stock's upward price
action in the first half of 2008.
8.) We would use breaks to the downside of the Closing Power uptrends as
points to Sell Short given so many bearish cconsideration.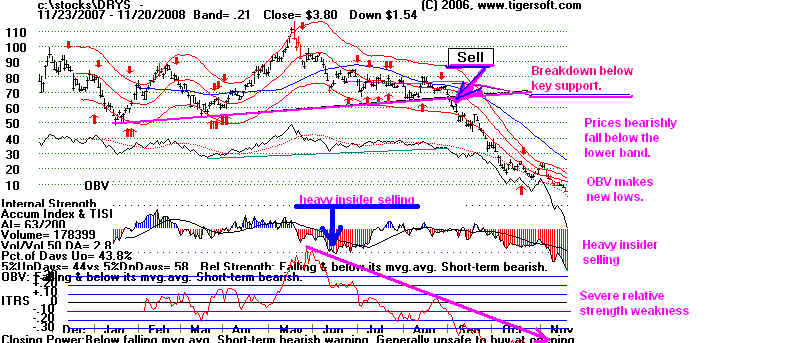 Heavy downside
volume.

TheTiger Day Traders' Tool diverged downward from the rallying prices
in the first half of 2008. This extreme divergence warned of wxtreme price
weakness ahead. (This tool is our creation and is explained in the Help routines
of the software.)