GREEDY and OVERPAID CEOS
ARE LOOTING THEIR COMPANIES AND
WIPING OUT THE SAVINGS OF THEIR SHAREHOLDERS,
NOT TO MENTION THEIR WORKERS AND CONSUMERS!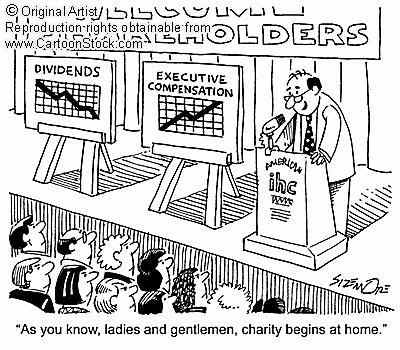 ( http://www.cartoonstock.com/directory/e/emo.asp )

It's all too easy to find examples of grossly overpaid American CEOs
who choose to grab all they can while running their companies into
the ground. All you have to do find such companies is look for stocks
that are down 50%, 75% or even 90% or more over the last 2-5 years.
Seldom are the CEOs who ruined the company and its stock fired.
And if they are let go, they typically receive "golden parachute" worth
millions. See the examples of Colt, Pfizer, MER, Citigroup, Starwood...

You can readily go to Yahoo Finance and see for yourself how much
these greedy SOBs are paying themselves for their failures in leadership.
To make matters worse, most dumped thousands and thousands of shares
of their companies' stocks, which they got as "bonuses", before the
bad news came out and dropped their stock even more. See the cases
of Citigroup and Washington Mutual.

Executive pay and bonuses are only part of the their compensation.
The average American worker cannot begin to imagine how plush the
world of CEOs is with their company jets, chauffeured cars, corporate
townhouses, retreats, apartments, golf club memberships, penthouse
seats for ball games, food and catering, butlers and personal assistants.

Over the next week or so, TigerSoft will give more examples. This is a
problem that shows no signs of going away. CEOs seem to be a special class
of humanity, all greed and arrogance. The worse they are for their shareholders,
the more they grab all they can! And their Board of Directors are happy to
consort in the looting. It's high time Board of Directors automatically have
labor representation on their Board. The European experience shows it works.
(Google "mitbestimmung" (or co-determination) and translate it. )

Ever Wonder Why US Health Insurance Is So Expensive?
Absurdly high health company executive pay is a big part of the problem.
There are about 23 big health companies. Using United Healthcare as an
example, their CEO was paid about $324 million over a five year period. For the 23 health
insurance companies, that's about $7 billion just for just 23 CEOs. If you add in all the
Vice Presidents and the "fat cats" on these companies' Boards of Directors, the
5-year cost is probably about $30 Billion just for these companies. If their pay was
reduced by 80% in a public national health insurance scheme, that would go a long
way toward providing more affordable health care. Let's say a government run health
insurance program costs $10,000 for each family. This alone would pay the health
insurance for more than 500,000 American families a year. The same argument
can be made for the high costs of many others goods and services.
See http://blogs.webmd.com/mad-about-medicine/2007/08/ceo-compensation-who-said-healthcare-is.html
http://healthcare-economist.com/2006/02/14/united-health-ceo-earned-1248-million-in-2005/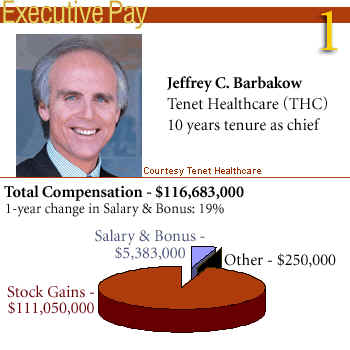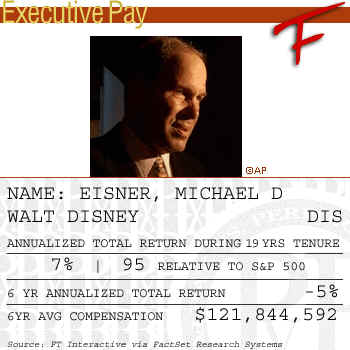 It's clear to most Americans that health insurance profits depend upon reducing
the amount of health care provided the millions who are insured and not insuring
those who need health care the most. So, when a health insurance CEO gets a
"merit" bonus for exceeding profit goals, it's obvious the American health system
is not meant to provide health care as much as it is meant to benefit those who
run these companies in ways most working people cannot even imagine, so garish
and extravagant are these CEOs' life-styles and senses of entitlement.

United Health Group
CEO: William W McGuire
2005: 124.8 mil
5-year: 342 mil

Forest Labs
CEO: Howard Solomon
2005: 92.1 mil
5-year: 295 mil
Caremark Rx
CEO: Edwin M Crawford
2005: 77.9 mil
5-year: 93.6 mil
Abbott Lab
CEO: Miles White
2005: 26.2 mil
5-year: 25.8 mil
Aetna
CEO: John Rowe
2005: 22.1 mil
5-year:57.8 mil
Amgen
CEO: Kevin Sharer
2005:5.7 mil
5-year:59.5 mil
Bectin-Dickinson
CEO: Edwin Ludwig
2005: 10 mil
5-year:18 mil
Boston Scientific
CEO:
2005:38.1 mil
5-year:45 mil
Cardinal Health
CEO: James Tobin
2005:1.1 mil
5-year:33.5 mil
Cigna
CEO: H. Edward Hanway
2005:13.3 mil
5-year:62.8 mil
Genzyme
CEO: Henri Termeer
2005: 19 mil
5-year:60.7 mil
Humana
CEO: Michael McAllister
2005:2.3 mil
5-year:12.9 mil
Johnson & Johnson
CEO: William Weldon
2005:6.1 mil
5-year:19.7 mil

Laboratory Corp America
CEO: Thomas MacMahon
2005:7.9 mil
5-year:41.8 mil

Eli Lilly
CEO: Sidney Taurel
2005:7.2 mil
5-year:37.9 mil
McKesson
CEO: John Hammergen
2005: 13.4 mil
5-year:31.2 mil
Medtronic
CEO: Arthur Collins
2005: 4.7 mil
5-year:39 mil
Merck Raymond Gilmartin
CEO:
2005: 37.8 mil
5-year:49.6 mil
PacifiCare Health
CEO: Howard Phanstiel
2005: 3.4 mil
5-year: 8.5 mil

Pfizer
CEO: Henry McKinnell
2005: 14 mil
5-year: 74 mil

Well Choice
CEO: Michael Stocker
2005: 3.2 mil
5-year: 10.7 mil

WellPoint
CEO: Larry Glasscock
2005: 23 mil
5-year: 46.8 mil

Wyeth
CEO: Robert Essner
2005:6.5 mil
5-year: 28.9 mil
l "Scratch My Back..."

Today, the NY Times re-ran an article, "Millions for (CEO) Moochers"
that first appeared in 2004. The average CEO of a major corporation
is paid $10.8 million a year. The company's Board of Directors
approve this pay, so that they, too, can get a piece of the corporate
pie. Consultants are then hired to show that such pay is necessary.

The purity of their greed is quite amazing. It's a throw-back to
the Gilded Age of Monopolies, Robber Barons, no unions and the
50-hour work week. It's not surprising that real wages for American
workers have been declining since 1971.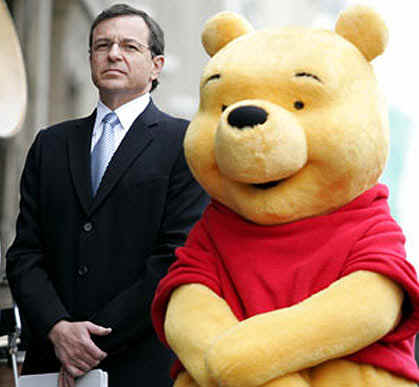 "While Disney artists bring their imaginations to life through animation, Disney
executives are living a lifestyle that animators can't even begin to imagine. The Wall Street
Journal recently reported that Disney chief executive Bob Iger received a 7% pay increase
in 2007 for a total financial compensation of $27.7 million. According to the company's
proxy statement, the breakdown is as follows: $2 million salary, which remained the same
as 2006; a $13.7 million bonus, which was a decrease from his $15 million bonus in '06;
stock awards totaling $7.9 million, and $740,000 for personal air travel, security and a car
benefit. Other Disney execs who earned healthy sums were CFO Thomas Staggs ($9 million),
General Counsel Alan Braverman ($7.9 million), executive vp of human resources Wesley
Coleman ($2.7 million) and executive vp for corporate strategy Kevin Mayer ($2.6 million)."
( http://www.cartoonbrew.com/disney/the-salaries-of-disney-execs )




We start by looking at an articles written in 2005. I have added
relevant materials that were found on the internet.

In 2005, Michael Brush of MoneyCentral.MSN wrote:
(Source: http://moneycentral.msn.com/content/p125120.asp )
"
Consider Michael Ovitz. Although stockholders sued, the one-time Hollywood superagent
gets to keep the $140 million he was paid for 14 months of work as president at Walt
Disney (DIS, news, msgs). A Delaware judge ruled in mid-August that Disney's board didn't
breach its responsibilities in awarding the huge severance package. While the Ovitz payout may
have been legal, it's the type of corporate behavior that costs investors millions of dollars every year.
And it's not just a few spendthrift companies throwing good dollars after bad leaders. We scoured
corporate regulatory filings and found plenty of examples of overpaid underachievers in executive suites.
Ultimately, we came up with a list of the five most overpaid bad chief executives..."

I want to make clear that I could just as easily have taken up the "obscene executive payouts"
at Warner Music. or ex-Disney boss Michael Eisner's fantasyland pay of $285 million for
running his company nearly into the ground, with earnings falling 63% from 1996 to 2004.
Transactions (All Holdings)
Date
Shares
Stock
Transactions
04/23/2008
3,840
CIEN
Open Market Sale
proceeds of $129,600.00
04/23/2008
3,840
CIEN
Exercise of Stock Options
at cost of $63,436.80
04/11/2008
3,840
CIEN
Open Market Sale
proceeds of $117,964.80
04/11/2008
3,840
CIEN
Exercise of Stock Options
at cost of $63,436.80
03/27/2008
19,200
CIEN
Open Market Sale
proceeds of $597,696.00
03/27/2008
15,280
CIEN
Exercise of Stock Options
at cost of $252,425.60
03/27/2008
3,920
CIEN
Exercise of Stock Options
at cost of $78,204.00
03/24/2008
3,840
CIEN
Open Market Sale
proceeds of $116,236.80
03/20/2008
489
CIEN
Open Market Sale
proceeds of $14,278.79
01/03/2008
3,840
CIEN
Open Market Sale
proceeds of $121,113.60
01/03/2008
3,840
CIEN
Exercise of Stock Options
at cost of $76,608.00
12/20/2007
8,791
CIEN
Open Market Sale
proceeds of $301,179.65
12/20/2007
8,791
CIEN
Open Market Sale
proceeds of $301,179.65
12/20/2007
20,000
CIEN
Award of Stock
*** Undefined Type ***
12/18/2007
69,000
CIEN
Award of Stock
*** Undefined Type ***
12/18/2007
23,000
CIEN
Award of Stock
*** Undefined Type ***
12/18/2007
57,000
CIEN
Award of Stock
*** Undefined Type ***
12/17/2007
3,840
CIEN
Open Market Sale
proceeds of $133,056.00
12/17/2007
3,840
CIEN
Exercise of Stock Options
at cost of $76,608.00
12/03/2007
3,840
CIEN
Open Market Sale
proceeds of $167,846.39
Jure Sola, the CEO and chairman at Sanmina-SCI (SANM, news, msgs)
collected $26.4 million during the past four years while Sanmina shares fell 78%. The bulk of Sola's pay came
in the form of a performance bonus of $19.9 million, paid for hitting one recent quarter's targets. "According
to a blog post by Business Editor Bolaji Ojo, posted on EETimes, Jure Sola of Sanmina-SCI Corp. is
holding tightly to his job despite a litany of problems. The market in which Sanmina-SCI plays today
is not the one Sola started out leading in 1991."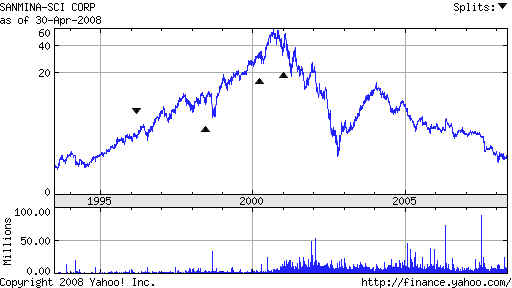 STEADY RED DISTRIBUTION
AND INSIDER SELLING.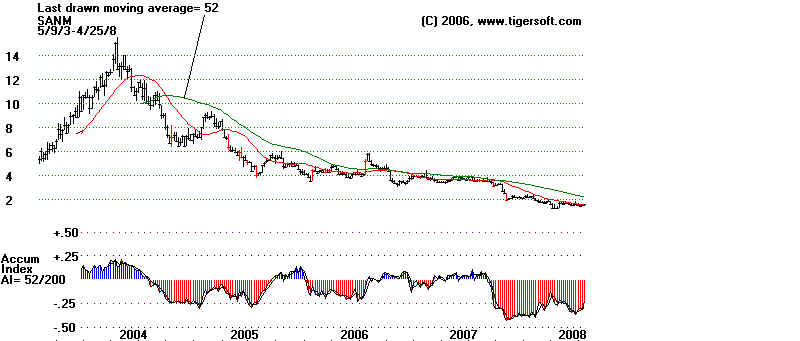 Sun Microsystems (SUNW, news, msgs) paid Scott McNealy, its CEO,
chairman and founder, $13.1 million a year over the past four years (2005), even as Sun's shareholders lost 76%
of their money. Since then, the stock has gone nowhere and is under heavy red Selling distribution and insider selling..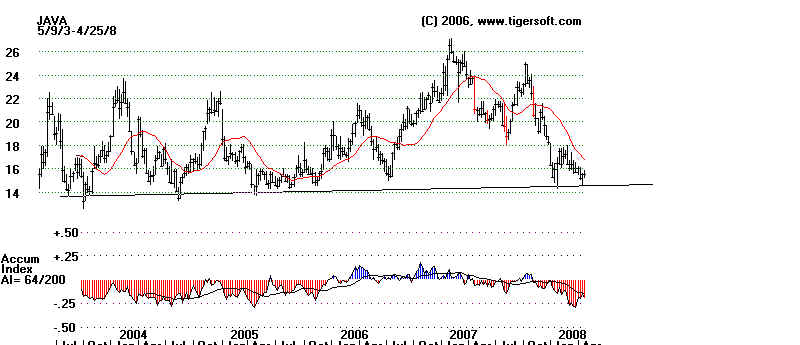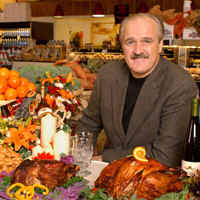 Shares of supermarket chain Albertson's (ABS, news, msgs)
fell 39% over the past four years. Despite this dismal record, Albertsons CEO and Chairman
Larry Johnston collected a total of $76.2 million in that time.
Education College: Stetson University BBA ' 72
$105 Million Dollar Man
Larry Johnston, Albertsons Inc. former CEO, will get a multimillion-dollar "golden parachute" when the Boise grocery
chain is sold to SuperValu Inc. and its buyout partners.

Here's what Johnston will receive in cash, stock, health and other benefits, along with income tax reimbursements
on his "golden parachute":

• $8.85 million for severance of three times his base pay.
• $482,212 for his pro-rated annual bonus.
• $35,818 for 36 months of health and other benefits.
• $50,000 for outplacement services.
• $100,000 for relocation expenses.
• $159,208 for fringe benefits.
• $20.4 million for his life annuity, if he takes it as a lump-sum payment.
• $627,111 from the company's long-term incentive plan.
• $3.7 million from the company's deferred-compensation plan.
• $28.9 million if he cashes in his 1,100,461 stock options at $26.29 each.
• $29.3 million if he cashes in his 1,114,753 shares of stock at $26.29 each.
• $12.9 million to pay the income taxes on the package.
http://www.stopalbertsonsnow.com/
http://couponing.about.com/b/2006/01/23/goodbye-albertsons-hello-supervalue.htm

"Deception, Lies, & Deceit. It might as well be Albertsons new motto." "Since Albertsons
couldn't win the Grocery Strike, they have come up with a plan to circumvent the agreement they made with their
employees. Albertsons has decided to sell your local store -- to themselves. They will then close down your
Albertsons, get rid of all of the current employees, and open under a new name. This "new" store will hire workers,
without training, union benefits, or contracts. Their object is to make more money by ridding themselves of their
Union employees. The same hard working employees they signed a binding contract with just last year. The very
people that make going to Albertsons such a great shopping experience. Albertsons is hoping that some new paint,
and a new name will fool you and your friends into complacency. "
( Source: http://www.stopalbertsonsnow.com/ )
Under CEO Peter Dolans watch at Bristol-Myers Squibb (BMY, news, msgs),
shareholders have seen the stock decline by 48% over the past four years. Dolan took home $41 million.
In 2000 it was 80, now it is 20. Peter Dolan was named CEO of Bristol-Myers Squibb (BMY) on
May 1, 2001, and was the seventh CEO since the company was founded in 1887. He was elected chairman
of the Board of Directors on September 12, 2001. Dolan joined Bristol-Myers Squibb in 1988 in the over-the-
counter products division. Subsequently, he held senior leadership positions in the company's various
businesses, including consumer medicines, nutritionals, medical devices and pharmaceuticals. He became
president of the company and a member of its Board of Directors in January 2000. On September 12, 2006,
a federal monitor urged for Dolan to be removed due to a mishandled attempt to settle a patent dispute
over the drug Plavix. Later on the same day, it was announced that Dolan would step down as CEO.[1] Dolan
was replaced by James Cornelius, who was selected by the BMS board to serve as interim CEO. In addition,
he has relinquished his positions on the Board of American Express and the presidency of the Pharmaceutical
Research and Manufacturers of America. (Source: http://en.wikipedia.org/wiki/Peter_R._Dolan )