TigerSoft News Service 3/18/2010 www.tigersoft.com

How To Turn Insiders' Buying
To Your Big Advantage

(C) 2010 William Schmidt, Ph.D. - Author of TigerSoft and Peerless - All rights strictly reserved.

1. WATCH ONLY STOCKS WITH TIGERSOFT ACCUMULATION
INDEX BULGES PAST THE KEY THRESHOLD.

2. BUY THEM WHEN THEY NEXT SHOW AUTOMATIC TIGERSOFT
BUY SIGNALS.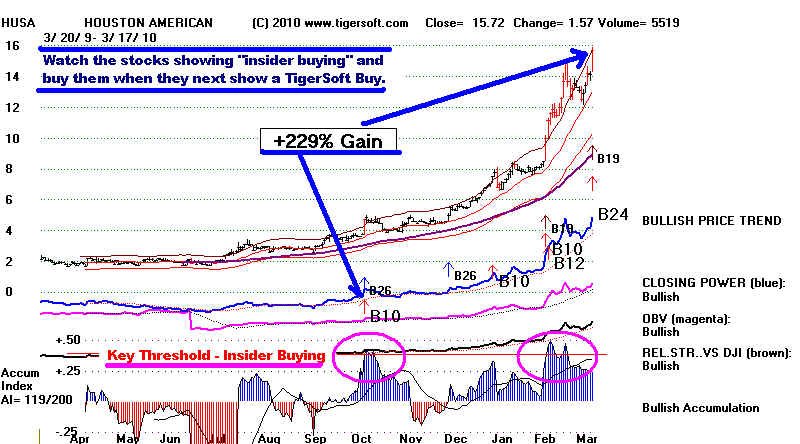 3. SELL THEM WHEN THEY VIOLATE THE KEY MOVING AVERAGE
IF THEY ARE HAVE ADVANCED SUBSTANTIALLY,

or IF THE ACCUMULATION INDEX TURNS NEGATIVE AND THEY
VIOLATE THIS KEY MOVING AVERAGE,

or IF THEY GO SUPER-HYPERBOLIC, THEN USE CLOSING SELL
STOPS BENEATH A STEEPER KEY MOVING AVERAGE WE WILL
TELL YOU ABOUT.

Needless to say if our Peerless system shows a series of
Major Sells for the general market, we need to be especially
alert to a reversal downward even the most highly accumulated
stocks. See the Peerless general market Buy and Sell signals
from 1981-2009.

Needless to say

The Best Performing Stocks of 2010.

3/18/2010

A lot of people consider the market now a "rigged bubble."
They have been doing this for months, yet the market keeps rising,
especially speculative stocks. These people correctly, in my view,
complain that the Fed has given abundunt credit to the biggest Wall Street
banks while placing absolutely no onus on them to loan money out
to real people and businesses. Moreover, the Fed has not even set
out requirements for these banks not to speculate wildly with their
taxpayer money or restrict performance bonuses when great risk
is being taken with taxpayer money, The people who allowed the
financial collapse in 2008 are still in charge. There is little indication
that they have learned a thing!

Be that as it may, our job here is to make traders and investors
money/ This has been a perfect environment for TigerSoft because
all the lessons we have learned about how profitable it is to watch
insider trading is still true, just as it has been ever since last March when
our Peerless system gave a major Buy one day up from the bottom,
when the DJIA was at 6900. The DJIA is now up more than 50%. But many of
Tiger's top picks are up over much more than 100%. Even in the lastr 3 months
we still see very big gains. Armed with Peerless to tell us when to sell
the general market and lots of experience to decide when to take profits,
we want you to join us and use TigerSoft to make money as we have,
very easily, just using the approach spelled out at the top of this page.

Find the stocks showing intense insider buying and buy them when
they show a TigerSoft major Buy. Then let them rally. Remember that our
research back to 1990 shows that most often the stocks showing
"augmented Buy B24s" will rise for a year or more from the first big bulge
of Accumulation. Such "insider bought" stocks average yearly gains of +36%.
Actually, we can make bigger gains in a market this good, by being more selective
and not simply holding a year, as our testing did to make calculations simpler.

Learn from the many recent examples below and compare them with
the explosive super stocks of other eras.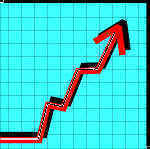 PLAYING THE RIGGED BUBBLE, Part III

Part II - March 8, 2010 The Tiger Weekly B12 Signal:
Part I - March 1, 2010 Many Hyperbolic Bubble Stocks Are Going Much Higher:
Know Thyself and How To Pick and Play Them.

See also Use The TIGERSOFT ADVANTAGE TO TRADE LEGALLY LIKE AN INSIDER.
Insider Buying HALL of FAME Super Stocks
How To Find and Pick The Biggest Stock Winners Early On
What Predicts Best Performing Stocks 3/31/2006
Best Performing Stocks of 2007 What We Can Learn from Their Take-Offs

Test Your Skills at Stock Selection
Which would you have bought?
IBM or Cheyenne Software
Here's What would have happened.
IBM or Cheyenne Software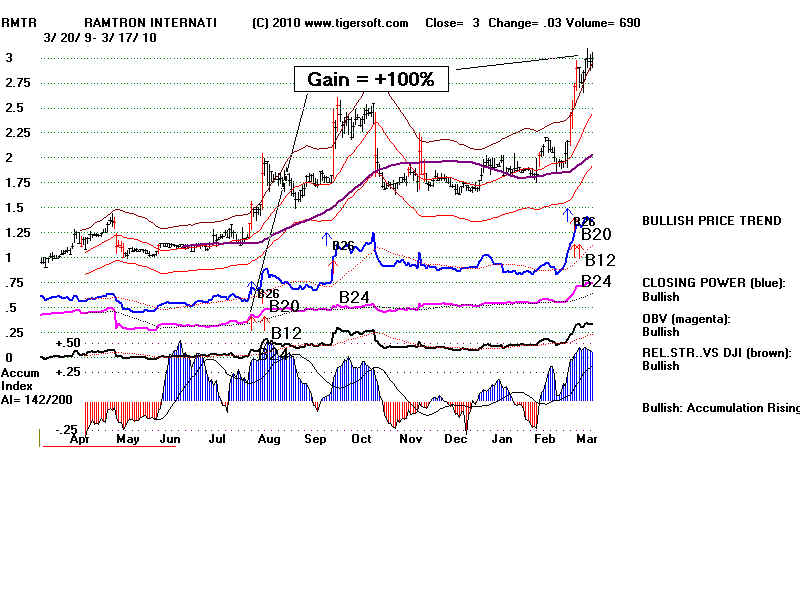 3