TigerSoft New Service

Make Money. Use TigerSoft To Track Key Insider Buying and Selling in All Your Stocks

www.tigersoft.com PO Box 9491 - San Diego, CA 92169 - 858-273-5900 - william_schmidt @hotmail.com
--------------------------------------------------------------------------------------------------------------------------------------------------------------------------------------------
Bubble Stocks Are Going Higher
"Know Thyself." How To Pick and Play Them.

When To Sell A Bubble Stock
by William Schmidt, Ph.D. - Author of TigerSoft and Peerless Stock Market Timing

Our Peerless and TigerSoft programs, signals, Insider Buying and Professional Buying indicators
strongly suggest that the market may now going into a bubble phase and buying climax. This
periodically happens when interest rates are kept low, longer than usual, AND money shifts into
more and more speculative, thinner and thinner stocks after a long advance. Confidence soars
and professionals the public alike sell Blue Chips to buy technology and story stocks that are
moving upwards fast. "Performance or else" dictates it. Wall Street was built on these basics:
profitable manipulation of stock prices, group-think, stories and hype and the need to perform.
The competition among money managers in this environment all but guarantees bubbles from
time to time. After all, their bonuses are derived from their profits using other people's money.

A Long Bull Market often ends in a Bubble -

Example SP-500 Bubble 1995-2000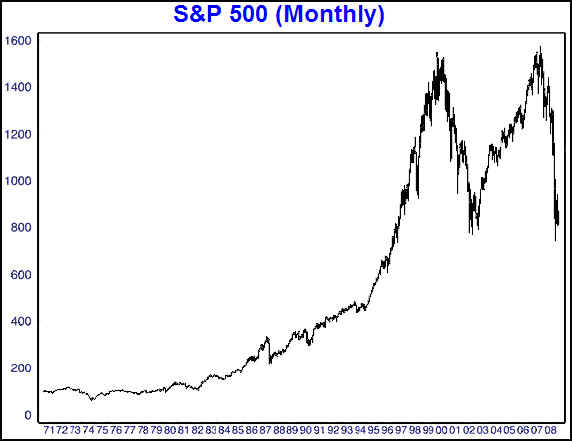 Example NASDAQ Bubble 1999-2000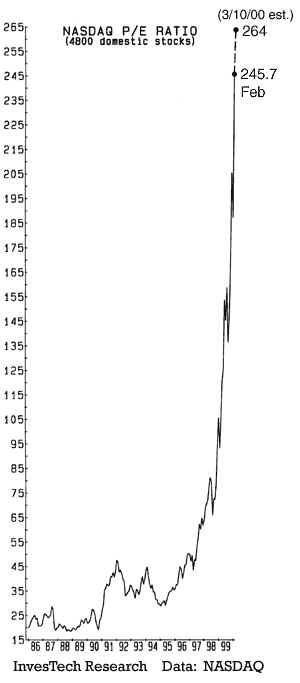 http://www.itulip.com/naspe.gif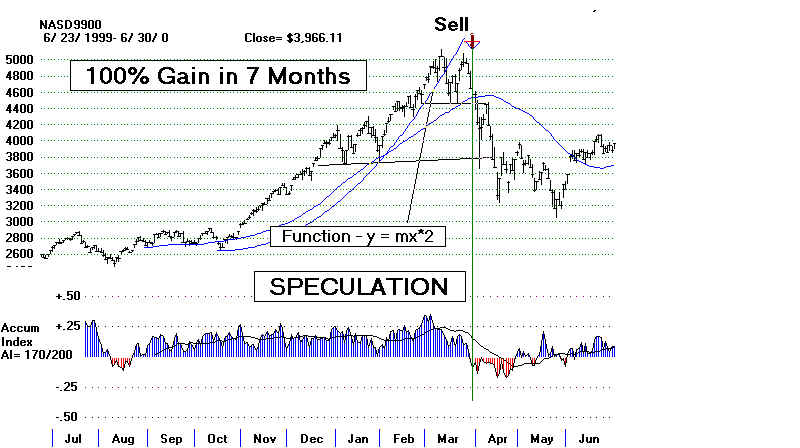 | | |
| --- | --- |
| Nikkei 225 | http://www.tradersnarrative.com/wp-content/uploads/2008/04/chinese%20stock%20market%20bubble%202008%20bear%20market.png |


So, we are seeing a highlyu selective new bubble now. Look below at how some stocks are
screaming higher and higher in hyperbolic fashion. These are companies new to 99.9% of all investors.
I want to point out that this is not a general market bubble. True, the DJI has risen more than 50%
from its March 2009 low, but there is precednt for that in a lasting, surging bull market. Some
examples are 1933, 1954-1955 and 1957-1959.

After these "super stocks" have been located, the trick here. of course, is to spot their tops and
not hold too long. A simple French Curve works in many cases. Draw an accelerating line through the
recent bottoms. TigerSoft does that automatically using exponential functions. But there's much more
than curve-fitting we can offer. Over the years, TigerSoft has learned a many things about these
speculatiive swings upward and how to catch their reversal.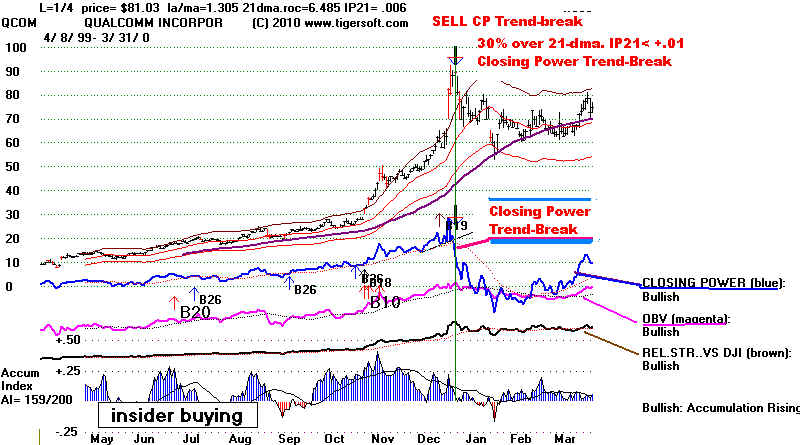 "Know thyself", said Socrates. For one thing, bubble stocks can keep rising a lot longer than
many investors can hold out and keep away from the party. So, if you know you can
be induced by a very bullish stampede eventually to buy, it is better to buy earlier. It will then
be easier to sell with a profit when the times comes. Second, use our Peerless. Peerless will
almost certainly give a Sell near the final top. That' what it has been doing since 1981 and
with back-testing, back to 1928. Third, watch TigerSoft's unique tools, the Professional Selling
and the Tiger Closing Power Indicator. They will almost certainly gives us ample warning
when to sell. See examples in 2000, 2007 and 2008. Our advise, get TigerSoft and Peerless.
They we will explain all this....
For now, see (2/20/2010) Watch The Pros To Catch The Tops in "Bubble" Stocks.

Below see three stocks that are going up faster and faster now.
They are acting like sirens calling wayward and uninitated investors towards the rocks.
Notice that they have the classic take-offs we identify with explosive super stocks.
Insiders Rule The Stock Market. AND http://www.tigersoft.com/Tigersoft-Explosive/index.html