WHEN SUMMER
HEAD AND SHOULDERS
PATTERNS FAIL.

Most traders do not appreciate that a move by the DJI above the apex of its right shoulder
is a reliable Buy, especially in Summer, when a seasonal upswing from June lows is fairly common.
A lot of advisors tell us to cover short sales then because the head and shoulders pattern thereafter
has been destroyed. I would go further than that and say BUY in these cases, but watch the
internal strength indicators, Peerless signals and the uptrending NYSE A/D Line.

Example: "Technical analysis is not always 100% accurate,
so it is important to always place a stop loss in case the pattern fails.
I would recommend placing a stop loss at a price just above the second
right shoulder. If at any point price moves and closes above the head,
then the pattern has failed.
In the three cases shown below, you can see that the accompanying NYSE A/D Line was always
weak as the pattern unfolded, but then improved considerably first when the neckline either held
or only briefly failed and then when the apex of the right shoulder was exceeded. The general
market was clearly taking its cue from the DJIA.


Early Signs The Pattern Will Fail

Good breadth and a rising A/D Line is a certainly a warning that head and shoulders pattern
may not work out as the chartists expected. In July 2009 the A/D Line did not confirm the
false breakdown. Our Short Selling book also tells us to watch for positive Accumulatin Index
readings. Consistently positive AI readings on the right shoulder are bullish, So is a rising OBV Line
while the pattern is forming. Look at the SP-500 chart just below for 2009. You can see these
factors were all at work in the SP-500 chart working to destroy the pattern.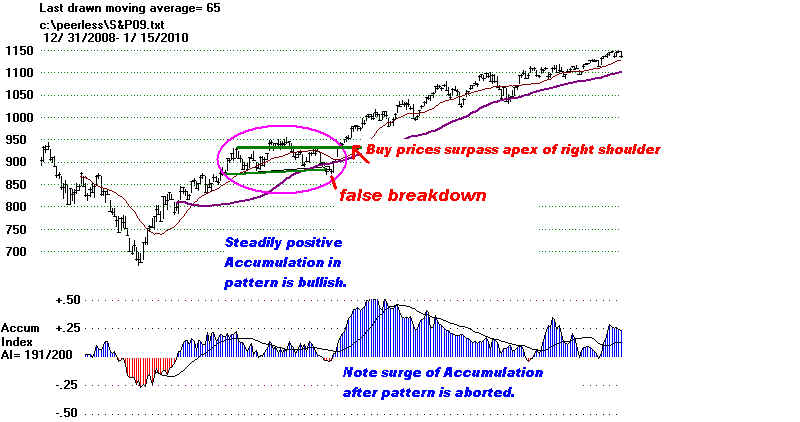 DJIA: 1951, 1983, 2009