SUPER STOCKS in 2009
Some TigerSoft's Picks

Picking Them And Trading hem
Profitably Using TIGERSOFT.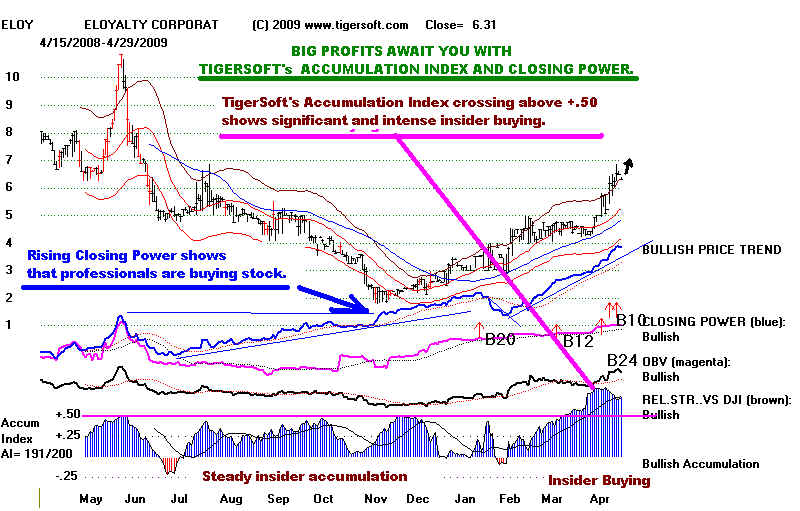 Each of the stocks below is up at least 100% since the DJI bottomed on 3/9/2009.
They are rising, at least, 4x faster than the DJI since the bottom. They now show
heavy insider buying all their internal strength indicators are rated "Bullish". Watch
their Cosing Power trends. It must also be rising. ELOY at the top of the page here
shows steady accumulation and recent heavy insider buying. This is a thin stock.
The buying this notice gives to the stock will help it rise. Compare this with USNA's
rise from 9 to 39 back at the start of the 2003 bull market.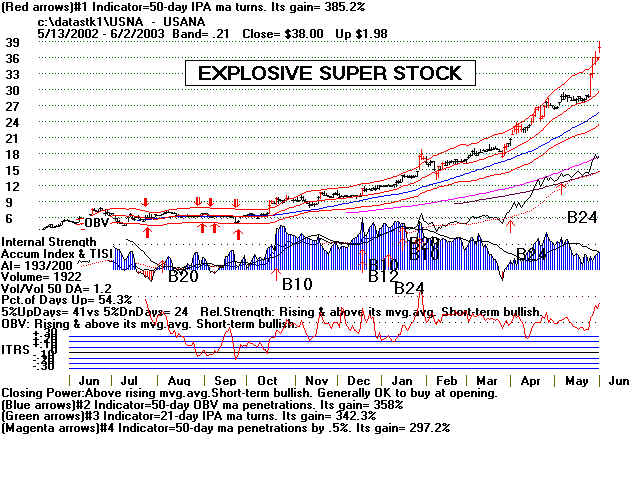 Read more on our website how we find stocks like this early-on in their advances
and get our software to trade them most profitably. We have a lot to show you, so that
you can take advantage of what looks like a new bull market for certain, carefully selected
stocks. ORDER TIGER's "Explosive Super Stocks" Book by Wm.Schmidt, Ph.D.

Look at these stocks and then read more of the discussion about about applying
TigerSoft. These are some good links to start. Our main website is www.tigersoft.com

TIgerSoft's Simple Rules for Trading Stocks Very Profitably while Liming Risk.
Introductory TigerSoft
Market Timing is VERY IMPORTANT Peerless Stock Market Tining: 1915-2009
Best-Performing Stocks, Year after Year
Different Trading Applications of TigerSoft
Insider Trading
Testimonials
About Us
Tiger Blog
What We Offer

Order TigerSoft here.
Order form: Introductory TigerSoft Automatic Buy/Sell and Insider Trading Detection Software ...$295
Order form for On-Line, "Nightly Peerless/TigerSoft Hotline " ($298)

by William Schmidt, Ph.D.


Stocks up more than 100% since March 9, 2009 bottom
with high Accumulation and rising Closing Power Lines.