RADIO SHACK's SAD STORY
A Microcosm for What's Happening To America:
Ignorant, Cynical, Over-Paid CEOs
and Under-Paid Workers.

Its CEO is paid $1 Million /yr.. He Seems Genuinely Trying To Kill His Own Company.
He says: "I'd like to capitalize on the store's strong points, but I honestly don't know what they are".

"I may never know the answer. No matter how many times I punch the sales figures
into this crappy Tandy desk calculator, it just doesn't add up."
( http://www.theonion.com/content/news/even_ceo_cant_figure_out_how )

"Cost cutting is not a sustainable strategy for growth."

$5.90 an hour plus commissions brings a very high turn-over and employee low morale

Radio Shack Psychological Test for New Employees
"It is always wrong to steal: Yes or No."
(Not if you're the CEO!)

The stock of Radio Shack (RSH) peaked in 1999 at 80 and it has been in decline since.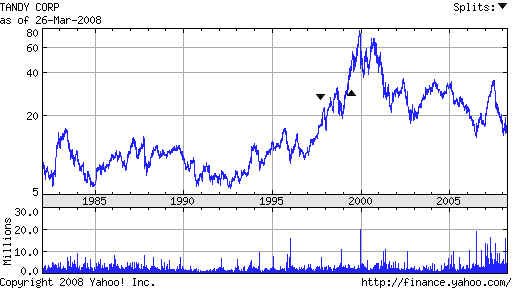 In August 2006, Radio Shack picked a new CEO, Julian Day, to cut costs and revive its stock.
Julian Day was an Englishman who had previously worked with Thompson McKinsey, the
management consultant firm and Chase Manahattan. In 2002 he was made CEO of K-Mart.
He was the hatchet-man. He cut $59,000 jobs, closed 599 stores and sold a lot of valuable real estate.
K-Mart emerged from Chapter-11 retailer and merged with Sears. In return, Julian Day got bonuses
and stock options worth an estimated $84 million.

In July 2006, Day was brought in to be the CEO of Radio Shack to achieve the same results
for its shareholders. His fame on Wall Street brought a rush by short sellers to cover their short sales.
RSH broke its down-trendline and rallied back up to the 34-35 level that had previously stopped
two other advances, back in 2004 and 2005. Once again, simply using a ruler with a stock's
charts and applying standard technical analysis principles of broken price-trendlines, resistance
and support. The TigerSoft charts add the Tiger Accumulation Index, automatic Buys and Sells
and key moving averages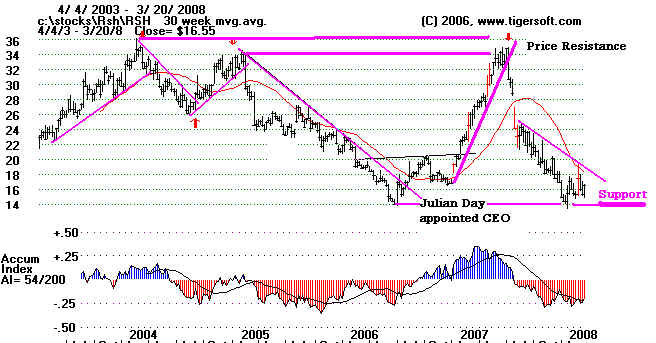 Julian Day used a meat cleaver approach. He seems to have relished his image of being brutally direct.
A month after taking charge, Radio Shack announced that it would cut 400 to 450 management jobs
and closed nearly 500 stores, just as he had done at KMart. He had his terrified minions send out no pink slips.
They used E-Mail rather than face-to-face meetings with those that were leaving. Some had worked for the
company for twenty years. The kindest observers term his approach as "slash and burn". Radio Shack
still has more than 6,000 locations and gross revenues of more than $4.5 billion. But for how long?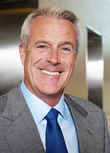 Even with a Hollywood smile,
CEO Julian Day Is Just Another Overpaid Axe-Man
at The Top. He Readily Admits He Has No Vision.

At least he is honest about his limitations as CEO. Despite having been CEO of Radio Shack for
nine months, he told analysts that he still has "no idea" how the home electronics store manages to stay open.
"There must be some sort of business model that enables this company to make money,
but I'll be damned if I know what it is," Day said. "You wouldn't think that people still
buy enough strobe lights and extension cords to support an entire nationwide chain, but
I guess they must, or I wouldn't have this desk to sit behind all day....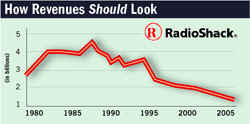 Should This Man Be CEO?
Sales just declined for the sixth quarter in a row, sliding to $1.36 billion from $1.46 billion.
Analysts on average had expected a profit of 72 cents a share on revenue of $1.35 billion.

"Have you even been inside of a RadioShack recently?" Day asked. "Just walking into
the place makes you feel vaguely depressed and alienated. Maybe our customers are at the mall
anyway and don't feel like driving to Best Buy? I suppose that's possible, but still, it's just...weird....
"Even the name 'RadioShack'—can you imagine two less appealing words placed next to one another?"
Day said. "What is that, some kind of World War II terminology?
Are ham radio operators still around, even? Aren't we in the digital age?"
( http://www.theonion.com/content/news/even_ceo_cant_figure_out_how )

Here's a quote from an employee on the Yahoo board for Radio Shack.
"In order to make our day tomorrow, I suggest we fire Julian Day.
He has depleted my store inventory, cut my pay, and forced me to send employees
home thus leaving the store short staffed. Since he has taken over this company, our prices
have been raised to a level that we are no longer competitive, the quality of our products
have dropped, our customer service department has been pawned off to us at the store,
and normal store upkeep (window cleaning, carpet shampooing exc) have been out
of the question. I also suggest that Radioshack as a whole takes a good long look
in the mirror. All Tenured managers are leaving and it is getting harder to keep
knowledgeable sales associates around as you can no longer live off the money
you make here. The one asset this company does have is good employees, but because
corporate has cut our pay and the crap we have to go through is getting ridiculous
most of these people are leaving."

Radio Shack: A Lesson in Corporate Self-Destruction

Even Wall Street observers, who are simply interested in the bottom line, feel the Englishman is
out of touch and has a very short-term orientation. Morale is low. There are too few employees in many
stores. (I went into one last night. Only one employee was there to wait on five or six customers. Customers
walk out when they get annoyed. And they don;t come back. The pay is now $5.90 an hour plus commissions.
Pay has been cut recently to as close to minimum wage at is possible. Turnover is naturally very high.
And many Radio Shack employees can't answer the questions you might ask them. Radio Shack
does give its employees valuable training in electronics. But after a few months' expose to wage exploitation,
most employees leave. (Go into your local Radio Shack store. You'll find that the employees there
are quite ready to tell you how they feel about their CEO's penny-pinching, meat cleaver philosophy.

"Visits to RadioShack stores helped convince Bank of America analyst David Strasser
to slap a "sell" rating on RadioShack this month. In addition to having concerns about the continued
deterioration of the cellphone business and the impact of advertising reductions, Strasser told
clients that cuts in commissions and benefits "have hurt employee morale and
decreased store employees' willingness to aggressively cross-sell products."

""Running the company for cash and margin rather than retailing success
does not seem like a viable long-term strategy," wrote Carol Levenson,
research director at Gimme Credit.
( http://www.leanblog.org/2007_07_01_kanban_archive.html )

A Personal Note

I loved Radio Shack when I was a kid. I loved going into the store and
seeing the latest electronics gadgets in the emerging age of Electronics. I built a hi-fi amplifier
from one of their kits. And I spent hours in their Olympia Washington stores playing with the
new TRS-80 that opened up the age of home computers. So like a lot of older people,
I am loyal to Radio Shack and am saddened by its decline, made more rapid by an
uneducated Oxford College (UK) graduate whose only claim to fame is laying people
off and lowering their wages without any iota of concern or compassion.

There are lots of other people like me, who are loyal to Radio Shack.
Here are some of their comments, as gleaned from many places on the internet.
Here's one of the better sources I used:
http://brandautopsy.typepad.com/brandautopsy/2007/05/refocusing_radi.html

Views of Radio Shack Found on The Internet

This from a Radio Shack employee:

"I hate those goddamned tests. We used to give one when I worked at a nationwide
electronics retailer (ok, it was RadioShack). Those tests don't tell the employer whether you're going
to steal or not; they tell them whether you're a liberal or not. The question that always got me:
"It is always wrong to steal: Yes or No." Well for fuck's sake it's not always wrong.
Basically, they want to find out if you think in black and white or in shades of gray.
I lied my ass off to get that job. ...Be careful, and make sure you check questions against
ones that came before to see if they're asking the same thing, slightly rephrased,
to catch you in a lie. Lie about almost everything you've ever done wrong, except
if they ask you if you ever lie, in which case you have to answer yes, because everyone
lies once in a while."

Another worker:

"We were given long training period in which I learned the ins and outs of various electronics
and how to answer technical questions on a vast amount of products ranging from transformers to
cell phones to TVs. Despite the low pay I loved the work. My manager let me freely merchandise
products, make creative displays and organize things as I saw fit. I am unsure of my specific start dates."

Still another worker:

"As an employee of RadioShack, I can only say that moral at the store level is incredibly low.
The pay is horrendous and the reason none of us employees know anything about the stuff
we sell is because the turnaround rate is so high. All seasoned knowledgeable employees
and are being replaced with part time teenagers who don't mind making minimum wage.
Any full time employees (including managers) are leaving because they can no longer live
off of the money they make... I am a store manager and the pressure to cut hours is so high that the
only associates we can hire are part timers. We work about 60hrs a week because
we cannot go over budget with hours for hourly employees.
No overtime and a salary that is far below standard.
Another employee:
"The stock holders like the cost cutting that Julian Day has done, but the fact is RadioShack
is shooting themselves in the foot. The consensus i get from every person I talk to is that Julian Day
is going to get his money, make his bonus, and leave.... From what I have been told, this used to a
great company to work for. Now, I only hear from the old timers that they have never seen
it this bad. The general feeling amongst the associates is that RadioShack is going under..
and we are all kind of happy. The higher ups have stomped on the people who make them
money, and most people think that it come back to bite them in the butt."

Suggestions from Well-Wishers and Loyal Customers:

(1)

"I remember when I was a kid, Radio Shack was a cool store because it was like a
Hobby Shop Plus. You could get the best widely available R/C car or
some of the first models of computers."

(2)
"At some point, RadioShack needs to focus on its strengths and not its
weaknesses to grow sales. RadioShack should stop trying to sell Plasma TVs and start
focusing more efforts on being the "eclectic electric hardware store." Their strengths are being
known for selling most any electrical do-hickey needed to make something work."

(3)
"I advocate RadioShack refocusing its efforts to become a convenience store version
of Fry's Electronics. They should sell only the most-popular, most-obscure, and
most-needed electrical gadgets/gear to make our stuff work. Would you buy a Plasma TV at
RadioShack? Would you buy a Cell Phone package at RadioShack? I wouldn't. I would
buy those somewhere else like Costco for the TV and the Sprint store for the cell phone."

(4)
" I would buy USB 2.0 cords, blank DVDs, replacement power cords for my
Laptop and Digital Video Camera, etc. at RadioShack. Not sexy stuff but stuff
we consumers need in order to make our gadgets work today."

(5)
"In a nutshell, I agree with so many of you and I hope some day RadioShack will "GET IT" and
become a more modern refined version of what it was in the 1980s when it was a "cool" place
to go as so many have said on here and I agree. I really was like going to a neat place that you could
check out all the doodads and gizmos along with picking up some parts to make something at home work.
They even had people back then who knew what the stuff did, how it worked and why."

(6)
"Plasma TV's have better profit margins than that thing that you put on the
end of your three-pronged electric cord to make it into a two-pronged cord."

(7)
"I totally agree with ya on doubting that RadioShack can survive just by doing
what they are good at. No business lasts forever. None."

(8)
"Now, I think it's almost embarrassing to be seen near a Radio Shack.
That being said, I don't really know why I would go to Radio Shack. That is terrible news
for a company with a marketing budget the size of theirs."


""If they still focused on R/C cars, other hobby shop items PLUS those
hard-to-find electronic components, there is a good chance my son and I would make
regular visits on Saturday mornings."

(10)
" I've heard RS announcing you can drop off used batteries there to be recycled.
Sounds like they're doing a little "green" marketing." (I like this, too. We have lots
of old monitors, printers and computers that should be recycled."

(11)
"Your points are right on. Just yesterday I needed a lapel mic and the
first place I thought might have one was Radio Shack. Sure enough, they did."

(12)
"They could create a niche by doing a Geek Squad type of thing... providing guys (or gals)
who really know how to set up a computer or stereo or wall-o-tv, who would come
to your house with a truck packed with wiring and do it for you, leaving you a working electronic
whatsit, cords neatly coiled, etc. That's the stuff we don't know how to do, and
you can't get that kind of help from any big box store.

(13)
"Radio Shack could team up with O'Reilly - publisher of Make magazine - the readers
of which are squarely their target - to supply parts, kits, and add-ons for all the wickedly cool projects
Make features. It seriously should be the geek equivalent to Home Depot."

(14)
As I grew, my interest in radio and electronics increased. I bought
enough parts to put together a real crystal radio set. You know the ones with a real crystal and
cat whisker that took a real touch to get it to detect. I then bothered my parents to
buy me a soldering iron, tools and a 50-in-1 set from Radio Shack. A 50-in-1 is a box with a
bunch of electronic components in a box organized by what they do. Each component would be soldered
to a spring. The idea is you would place the end of jumper wires in the springs and tie the devices
together for the circuit that you were instructed to build. Great fun for a budding engineer...
Later, My parents finally bought me that DX-120 short-wave receiver
that I had been drooling over when ever I was at Radio Shack. As soon as it was given
to me, I had cleared out a space in my closet and 100 feed of bare copper wire was draped
across the house for an antenna. ( http://www.lns.com/house/pozar/pozarbio.html )

(15)
"In our District, each store is held accountable on making our daily sales goal. If we make our day..
good. If not, The Manager has to email our DM explaining what we did wrong for not making our sales
quota for the day and what we are going to do differently tomorrow. We didn't make our day today. However,
I didn't write the email. However, If I had wrote the email and could say the truth it would have went something
like this:

"The main reason we didn't make our day today is because we had less costumers come in
than this time last year. I attest that to the fact that corporate has decided to cut advertising drastically,
which had in turn lowered foot traffic. Our ticket count was down over 30 tickets than this time last year,
which means that we had at least 30 less customers come in. If corporate had not been so concerned about
saving money by cutting the advertising cost people might actually be interested in coming into my store.
Sure, saving the money has increased profit which in turn rose the stock price and helped
Mr. Julian Day get his stock option bonus. But, that does nothing to help me at the store level."

-------------------------- How To Trade Radio Shack's Stock ----------------------------------

This is simple. Use TigerSoft's Buys to Buy and its Sells to Sell.
I can't, in good conscience, recommend shorting this stock. But it is profitable
using TigerSoft's red Sells to sell short at the next day's opening and cover the
short sales on the next red Buy usimg the following day's opening.
For more information about TigerSoft,
please see - http://tigersoft.com/--3--/Explanation/index.html .