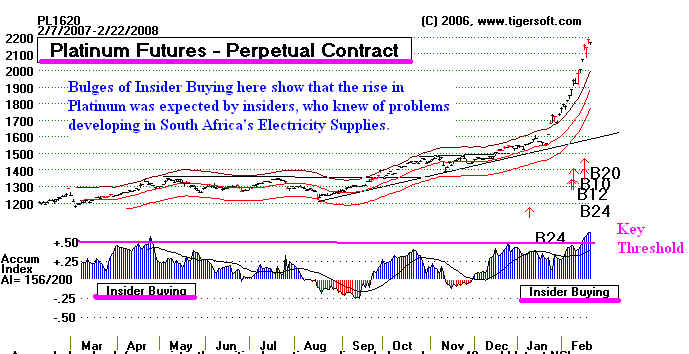 This chart would have looked to very bullish last September to any experienced TigerSoft user.
It shows the need to scrutinize continually all investment vehicles with Tiger's Power-Ranker.
The October 2007 advance coincided with Blackouts at that time.

PLATINUM and South Africa's Power Outages

The success of the Gold and Silver exchange-traded funds has naturally led to speculation
that a platinum ETF is coming. There certainly would be a lot of investor interest in it. Platinum
has risen more than 50% in the last month. Industrial demand keeps growing, but production has
slowed recently as 79% of it comes from South Africa, where power outages have closed mines.
90% of it is used by the automobile industry for its catalytic converters. The automobile
industry and environmentalists will certainly fight anything which will reduce further the supply of
platinum. as a platinum ETF would.

Platinum is very scarce. Only 118 tons of platinum were produced last year. This 1/16 as
much as the annual producti0on of Gold and 1/100 as much as the amount of new silver each
year. It takes about 10 tons of copper or nickel ore - mostly extracted at depths of a mile or more
down and at temperatures above 120 degrees F.- just to produce one pure troy ounce of Platinum.


The shortage now is further complicated by the fact that it takes six to nine months for the platinum
to finish processing after it comes out of the ground.

Experts say global platinum demand could outstrip supply by 400,000 to 500,000oz in 2008,
compared with a supply shortfall of about 265,000oz in 2007. The market had a surplus of 65,000oz in
2006, following seven successive years of deficits. Top producer Anglo Platinum , which accounts for 40%
of world supplies, has said power problems would cut output by 120,000oz in 2008, while number 2 Impala
Platinum has forecast "very tight market conditions. It reports that it is now losing 3,500 ounces of Platinum
a day because of the outage.
( Source: http://www.mining-journal.com/Breaking_News.aspx?breaking_news_article_id=4444 )

South Africa Has Serious Power Problems That Will Not Be Solved Quickly

A month ago the Associated Press reported that South African gold, diamond and platinum
mines were shot down because of "unprecedented, unplanned power outages". Mining companies
like AngloGold Ashanti, Harmony Gold Mining and Gold Fields suspended underground operations
for fear that power outages could stop miners underground and the cooling systems will fail.

The power was still off on February 6 and all the platinum mines were shut down. ESKOM,
South Africa's privatized electicity utility has not given a date when mining operations
can be resumed or if it will be able to guarantee a sustained supply of the electricity needed
by the country.
(Source: http://www.theglobalalliance.org/South-African-power-crisis-life-threatening-200801173319.html )

A failure from ESKOM's aging (1976) and outdated nuclear power generator at Koesberg is
blamed by some. One blogger wrote:that there may have been a serious accident at an old
South African nuclear installation at the remote town of Potadder.
( http://everything2.com/index.pl?node_id=1795551 It should be mentioned that a South African
minister blamed sabotage at the Eskom nuclear reactor at Koeberg.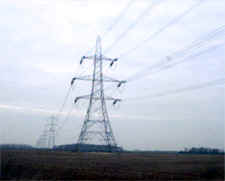 On February 13th, one observer wrote with alarm about the emmergency.

"It is not only that ESKOM have not maintained or expanded their operations in the last 15 years,
but the next big whammy is that there is no coal to keep the power stations running…at most times,
there is a couple of months supply of coal onsite for electricity operations, today there is hardly
a few days supply. Incidentally the reason given for this catastrophe is that the trucks delivering
the coal have been unable to get to the power stations as the road infrastructure has deteriorated-
potholes again. In the Afrikaans language: 'slaggate' - a direct translation to 'slaughter holes'. ..

"At some point the effect of the power emergency on water and sanitation supply should be
considered and this would be part of the roll out of unexpected events resultant of the collapse of
the power supply, but the water board have usurped the power supply with homegrown problems
of their own…

"So here we have it, 43% of the dams have safety problems and are in danger of collapsing.
Further to this, the ground water in Gauteng, the province of Johannesburg, has radioactive
contamination from mining operations...

"The first reaction to the power emergency took the form of a rush for candles, refilling of gas
bottles and the purchasing of generators (if you could get them). Then the complacency set it,
business learnt to sit through power outages, retail shops were forced to close their doors for a few
hours a day. There was and is a shortage of food supplies, food went bad in the fridges and had to
been thrown away. It was kind of charming in a strange kind of way, to eat dinner by candle light
and forgo the 'soapies' on TV. Traffic lights were out over a large number of suburbs and delays
in getting to business meetings became the norm...The schools are unable to teach a full day's lesson.
The internet service providers and the mobile phone companies' frequently have service delays or are
just plain 'off line'. The battery runs out on your laptop and that's the days productive work is over
until the power is back on…Patients in ICU or undergoing operations, as the power grid went down,
were at risk of and did, die. (Source: http://www.bitsofnews.com/content/view/7234/ )

LATEST UPDATE ON POWER OUTAGES IN SOUTH AFRICA

On February 20th, it was reported that South African mines are now getting 90% of their
normal supply. This situation is expected to last for the next four years. It will take that long until
new power plants can be brought on line. With rolling blackouts and mines not getting all
the power they need, this will substantially reduce the deeper mine's pruduction of platinum and gold.
( Source: http://portal.gci.net/news/read.php?id=15937952&ps=1014&lang=en&_LT=HOME_BUNWC01L3_UNEWS )

Judging from the ETF for Soth Africa, it appears the worst of the crisis may be over. As the weather
gets cooler there will be less electricity demand.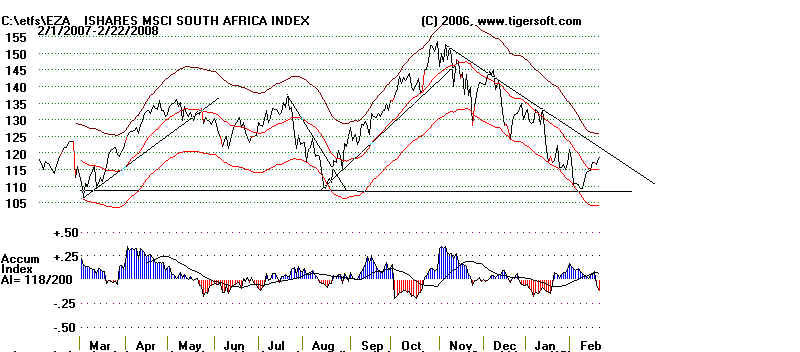 ===================================================================================
Platinum Stocks

SWC - Stillwater Mining -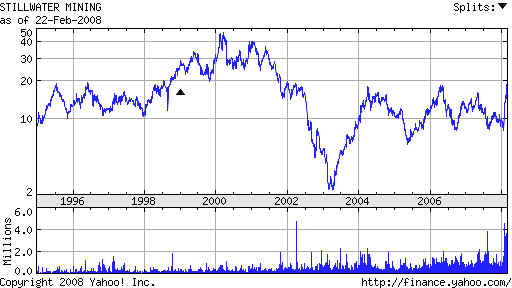 http://www.stillwatermining.com
Stillwater Mining Company engages in the development, extraction, processing, refining, and marketing
of palladium, platinum, and associated metals in Montana, the United States. The company's mining operations
consist of the Stillwater Mine located on the J-M Reef in Nye, Montana; the East Boulder Mine located at the | western end of the J-M Reef in Sweet Grass County, Montana; and a smelter and base metal refinery located in
Columbus, Montana. As of December 31, 2006, it had proven and probable ore reserves of approximately 42.4
million tons with an average grade of 0.54 ounce of platinum group metals per ton, containing approximately
23.0 million ounces of palladium plus platinum.
Stillwater Mining Company Earnings Call scheduled for Tue, Feb 26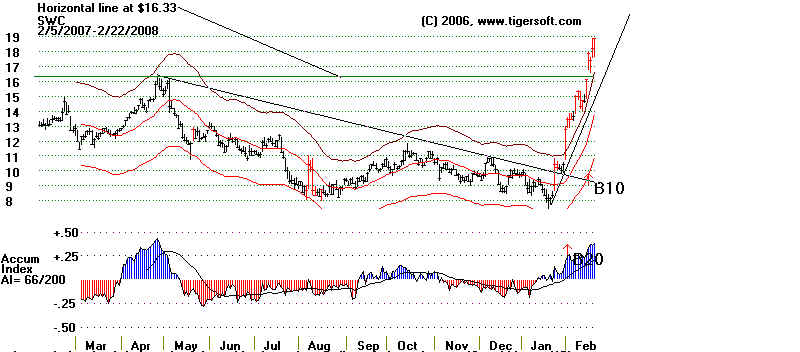 PLG - Platinum Group Metals
http://www.platinumgroupmetals.net
Platinum Group Metals, Ltd., an exploration stage company, engages in the exploration and development of
mineral properties primarily platinum in Canada and South Africa. The company holds a 37% interest in the
Western Bushveld Joint Venture, a platinum exploration and development project covering approximately 72
quare kilometres on the Western Bushveld Complex of South Africa. It also holds interests in War Springs and
Tweespalk projects located along the Northern Limb of the Bushveld Complex, as well as owns rights to
mineral properties acquired by staking or option in the Lac des Iles area of Ontario, Canada.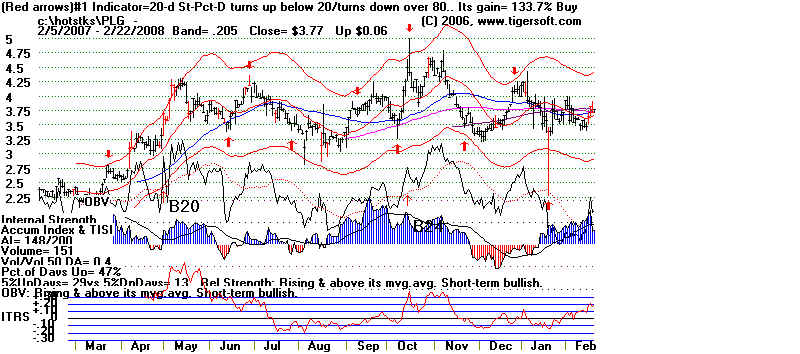 XPL - Solitario Resources http://www.solitarioresources.com
Solitario Resources Corporation, together with its subsidiaries, engages in the acquisition and exploration of
mineral properties principally in Mexico, Brazil, Bolivia, and Peru. The company involves in the exploration for
minerals in Latin America, focusing on precious and base metals, including gold, silver, platinum, palladium,
copper, lead, and zinc. It holds interests in the Bongara zinc project, Peru; Yanacocha Royalty Property, Peru;
Pedra Branca Platinum Group Metals Project, Brazil; Mercurio Gold Property, Brazil; Pachuca Real silver-gold
property, Mexico; Amazonas Zinc Property, Peru; Corazon gold property, Mexico; Titicayo silver property,
Bolivia; Triunfo gold-silver-lead-zinc property, Bolivia; and the Santiago exploration project in Southern Peru.
It has a strategic alliance with Newmont Overseas Exploration Limited to explore gold in South America.
The company was founded in 1984 and is based in Wheat Ridge, Colorado.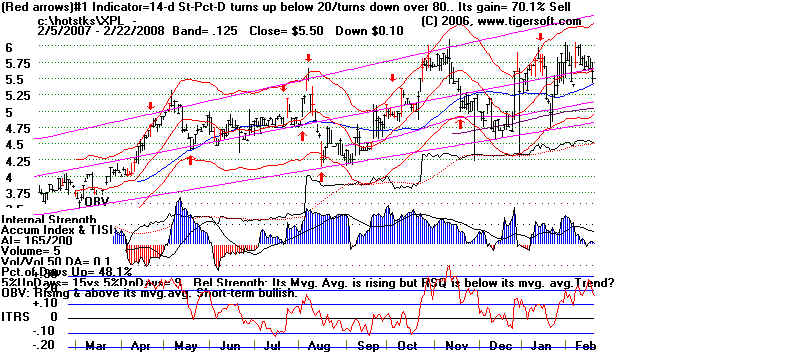 ====================================================================================

Platinum Coins


US Platinum Eagle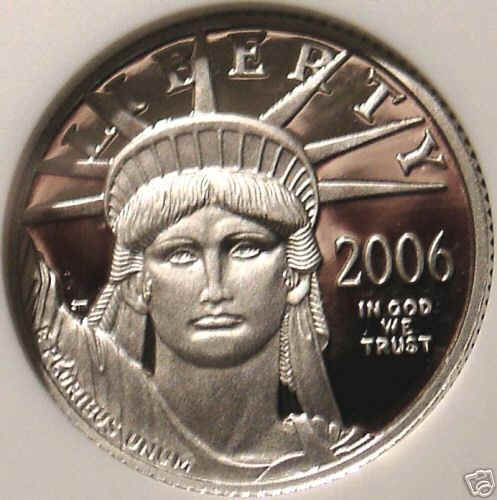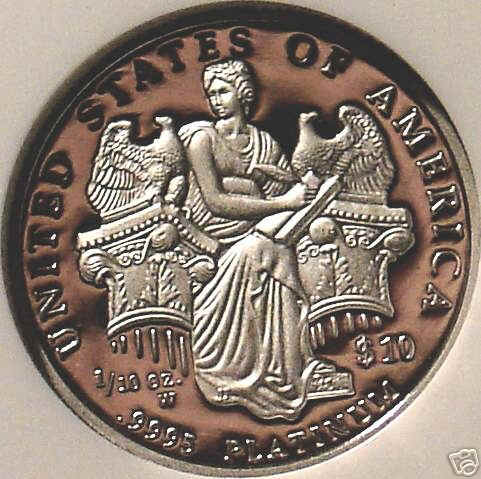 Canadian, Chinese, Russian, Australian, Soviet and Isle of Man Platinum Coins.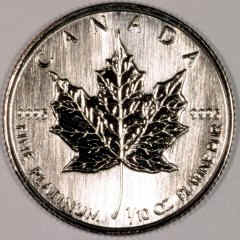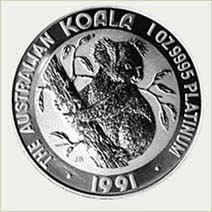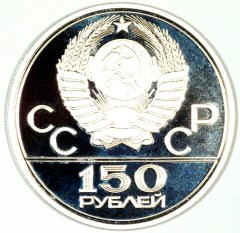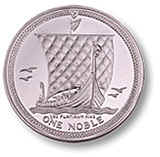 Platinum has many more industrial uses than either Gold or Silver. Platinum plays a crucial role in the modern
technological society. It is estimated that 20% of all the goods manufactured today either contains Platinum or is
produced using Platinum containing equipment. Because of Platinum's catalytic qualities, it is used in catalytic
converters by the automotive industry. Catalytic converters are used to take toxic gasses produced using unleaded
gasoline and turn them into carbon dioxide and water. Demand for Platinum from the automotive industry accounts
for roughly 80% of the use of Platinum each year. The automotive industry is the fastest growing user of Platinum.
This trend is expected to increase as Platinum is an integral part of the emissions system of an automobile and
stricter pollution controls are being put on auto manufacturers every year. Platinum faces some competition from
Palladium in the automobile industry, but Palladium based catalytic converters is only more effective on diesel fuel
engines. Because the demand for diesel fuel automobiles is growing in Europe, the demand for Platinum from European
automobile manufacturers has been slowly decreasing in recent years. Talk of the automobile industry would not be
complete without mentioning that almost every year rumors circulate of a new Palladium based catalytic converter to
be introduced. The second largest consumer of Platinum is the chemical industry. Platinum is used in the manufacturing
of paints, acids, fertilizers as well as explosives. Large Platinum vats are constructed for the manufacturing of acids, as
no other metal has Platinum's resistance to corrosion. Platinum is also used in the oil refining processing since it is
able to reduce levels of aromatics and sulfur in heavy oil products like diesel and Heating Oil.

Platinum became known as "white gold" when Platinum began being used in jewelry fabrication in the 19th century.
Because of Platinum strength and luster it makes the ideal setting for diamonds because the rich white color of Platinum
tends to increase the sparkle and the appeal of precious stones. Because Platinum is stronger than Silver, Platinum
settings can be smaller and thinner allowing more light to refract off of the stone. Platinum based jewelry is still more
popular in Japan than Gold.
http://www.commodityseasonals.com/platinum_futures_6.htm