How The Stock Market Reacted
To News of The Earthquake

The stock market had been in a bull market before the Earthquake The DJI was in a consolidation and
pull-back phase. It had ranged between 93 and 103 from December 11, 1905 to the day of the quake,
April 18. 1906. The day before the DJI closed at 96.84. It then fell steadily to 86.45 over the next two
weeks as full reports of the damge came in. After that, it repeatedly tried to rally over the next 8
months but could not take get past 96.75. We can imagine that insurance companies were heavy sellers
of stocks on sttrength, raising cash for the claims that were starting to come in. See these studies
for more details.
Odell, Kerry A.; Weidenmier, Marc D. (2004), "Real Shock, Monetary Aftershock:
The 1906 San Francisco Earthquake and the Panic of 1907", The Journal of Economic History 64 (4): 1002–1027,
doi:10.1017/S0022050704043062

"San Francisco's $200,000,000 "ash heap" involves complications which will be felt
on all financial markets for many months to come [and] the payment of losses sustained
… represents a financial undertaking of far-reaching magnitude….
(Source: The Financial Times, London July 6, 1906.)

"In April 1906 the San Francisco earthquake and fire caused damage equal to more
than 1 percent of GNP. Although the real effect of this shock was localized, it had an
international financial impact: large amounts of gold flowed into the country in autumn
1906 as foreign insurers paid claims on their San Francisco policies out of home funds.
This outflow prompted the Bank of England to discriminate against American finance bills
and, along with other European central banks, to raise interest rates. These policies
pushed the United States into recession and set the stage for the Panic of 1907."
(Source.)

Eleven months after the Crash, on March 13, 1907, the DJI broke below the low closing of
July 13, 1906 at 85.18. This startred the financial panic of 1907, which took the DJI down to
50 8... The
Panic of 1907




JP Morgan - Rescuer of the Stock Market in November 1907

In late 1906, the Bank of England raised its interest rates to protect the Pound and keep more funds
in London. Tightening up interest rates brought more selling.

Another factor was the Hepburn Act, which gave the Interstate Commerce Commission (ICC) the power
to set maximum railroad rates. This became law in July 1906. Railroad stocks were sold off. Union Pacific
—among the most common stocks used as collateral—fell 50 points.

June 1907 - an offering of New York City bonds failed. This forced the city to consider bankruptcy.

July 1907 - the copper market collapsed.

August 1907 - the Standard Oil Company was fined $29 million for antitrust violations.[10]

In the first nine months of 1907, stocks were lower by 24.4%.[11]

These factor led to the start a new trading range from 77 to 85, which lasted until Aug 7, 1907, when
the market began a speedier decline to 53 on Nov 14th. There it double-bottomed on Nov 22, 1907 and
began a steady rally back to 105.53 on Nov 29, 1909. It then lost about 1/2 of what it had gained from
1907 to 1909.

The details of the 1907 panic are well known. See. http://en.wikipedia.org/wiki/Panic_of_1907
There was no national bank to step in and save Wall Street in 1907. This was done by a consortium
of bankers led by JP Morgan and by the richest man in America, John D. Rockefeller.

Will The Gulf Coast Oil Spill
Lead To A New Bear Market in 2010 or 2011?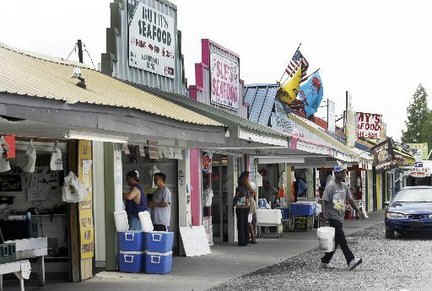 ( http://www.nola.com/news/gulf-oil-spill/index.ssf/2010/05/gulf_oil_spill_could_result_in.html )

Law suits and insurance claims related to the BP Oil Spil will surely keep rising.
http://www.nola.com/news/gulf-oil-spill/index.ssf/2010/05/gulf_oil_spill_could_result_in.html

Who will pay for all the damges?
Gulf Oil Spill Disaster: The Trigger of American Economic Collapse

Ten-mile oil plume found beneath surface of Gulf of Mexico
http://www.guardian.co.uk/environment/2010/may/16/gulf-oil-spill-bp

Only two insurance stocks show bearish head and shoulders patterns now.
TRV shows bearish head and shoulders.
The Travelers Companies, Inc., through its subsidiaries, provides various commercial and personal property
and casualty insurance products and services to businesses, government units, associations, and individuals
primarily in the United States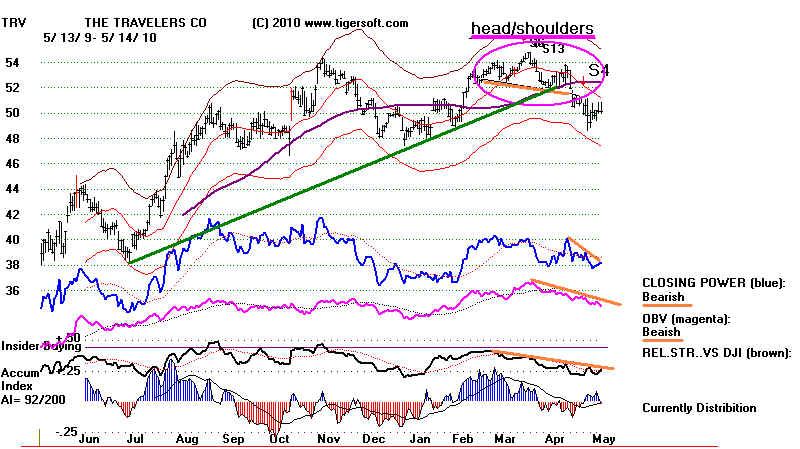 ORI shows emerging bearish head and shoulders.
Old Republic International Corporation, through its subsidiaries, engages in insurance underwriting business.
It operates in three segments: General Insurance, Mortgage Guaranty, and Title Insurance. The General Insurance
segment provides liability insurance coverages to businesses, government, and other institutions in transportation,
commercial construction, forest products, energy, general manufacturing, and financial services sectors in North America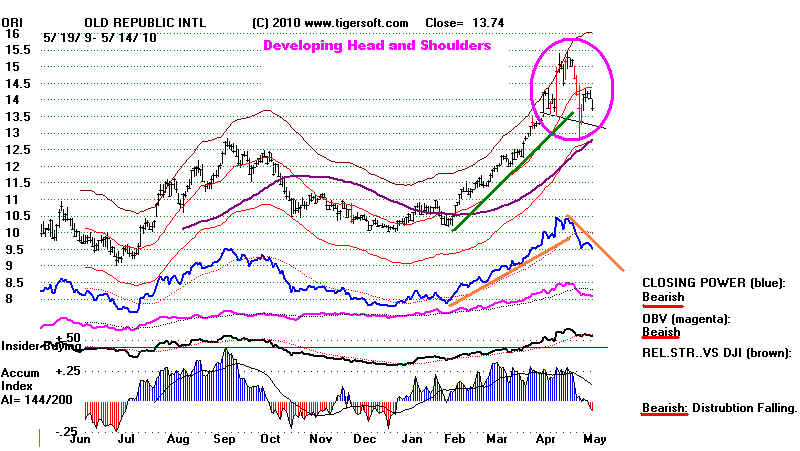 UNM reversed diwbward very sgarply after BP Destruction of Gulf