US SUPREME COURT GIVES EXXON $2 BILLION MORE.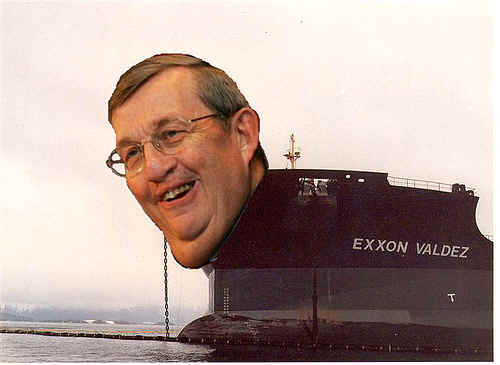 http://farm1.static.flickr.com/51/130818710_c820a4fc32.jpg
Supreme Court Sides with Exxon. Big Surprise!
Supreme Court Slashes Exxon Valdez Oil Spill
Fine to One-Tenth of Original $5 Billion Ruling

The Supreme Court ruled on June 26, 2008 that in maritime cases
punitive damages should be no more than the actual damages.
32,000 Alaskan plaintiffs have been waiting for their compensation
since 1994. The Supreme Court's action will reduce the average
award from $75,000 to about $15,000. Bush's appointees to the
court all voted for this reduction. Once again, it's clear that corporate
campaign contributions run the country, to the dismay of most
of its citizens. Last year Exxon made $40 billion.
( http://www.democracynow.org/2008/6/26/supreme_court_slashes_exxon_valdez_oil )

Study The Exxon Valdex Case by Seeing What Alaskans Have Said

"Exxon showed reckless disregard for the environment by knowingly placing a captain with
a serious drinking problem at the helm of an oil tanker traveling through dangerous waters.
Exxon has admitted to knowing of Captain Joseph Hazelwood's drinking problem."

"Exxon was negligent in utilizing the ship board radar systems..., (in) deploying the proper
spill remediation measures in the area (essentially a giant rubber mat which would have contained
the spill before it spread) and having a spill recovery/rescue vessel available that night in the event
of the a spill (the vessel in question was in dry dock). And they actually made a profit on the disaster
because oil prices rose as a result (not a production, but a speculation premium). This was a
company which decided in advance to operate unsafely with inadequate spill prevention measures."

"If you lived in the Northwest you watched as the fishing industry was devastated and
overtaken by large corporations and foreign interests. Exxon was negligent and should be held
accountable. They have managed to keep this in court far too long and the original judgement should
be paid with an adjustment for inflation and interest."

"I was on duty in the Coast Guard the night this happened. We rode out to the oilspill to
investigate and report the damages...it was bad. When we arrived...animals (fish,birds,otters)
were already dying and there was barely a boom out in the water to contain it...oil was still
bubbling out of the holds and the Exxon Valdez lacked the equipment and plans to contain its
own spill. To me...that spells company negligence. on top of the fact that the Cpt was drunk...
and passed out...and some poor dude who wasn't really familiar with the sound at night was at
the helm when this happened."

"Lawyers, lawyers, and more lawyers! Stalling, stalling and more stalling! Oil companies
and lawyers getting richer and the local inhabitants that are affected by the spill and the
environment suffer. 19 years? Why?"

"I wish they wouldn't let Exxon operate in Alaska until they pay the original damages. I came
to Alaska a year after it happened and I know it is still affecting people financially, medically,
land wise, and heritage wise. It's time we stopped kissing up to the oil companies who are
making record money off of all Americans, not just Alaskans."

"Bush loading the Supreme Court with corporate flunkies is beginning to pay off. That one
move should earn the corporations trillions over time. You bet the Court will reduce the
punitive award! You don't have to be psychic to see that one coming. They've even taken the
story of the top of MSN home page and put it in the business section."

"I can't even believe that this case was taken to the supreme court. Exxon should really ask
the question is 2.5 billion even enough? They have not only destroyed lives and livelihoods
but now add insult to injury by trying to evade responsibility. I mean not as if they haven't already
tried to get out of this anyway it has only been 19yrs since one of the biggest cases of negligence
ensued. Free ride should be over the 3.4 billion in clean-up, fees etc...were just that fines that anyone
would have to pay if they did something like this, please don't let Exxon bully these people they
deserve better."
(Source: http://dailynightly.msnbc.msn.com/archive/2008/02/26/703900.aspx )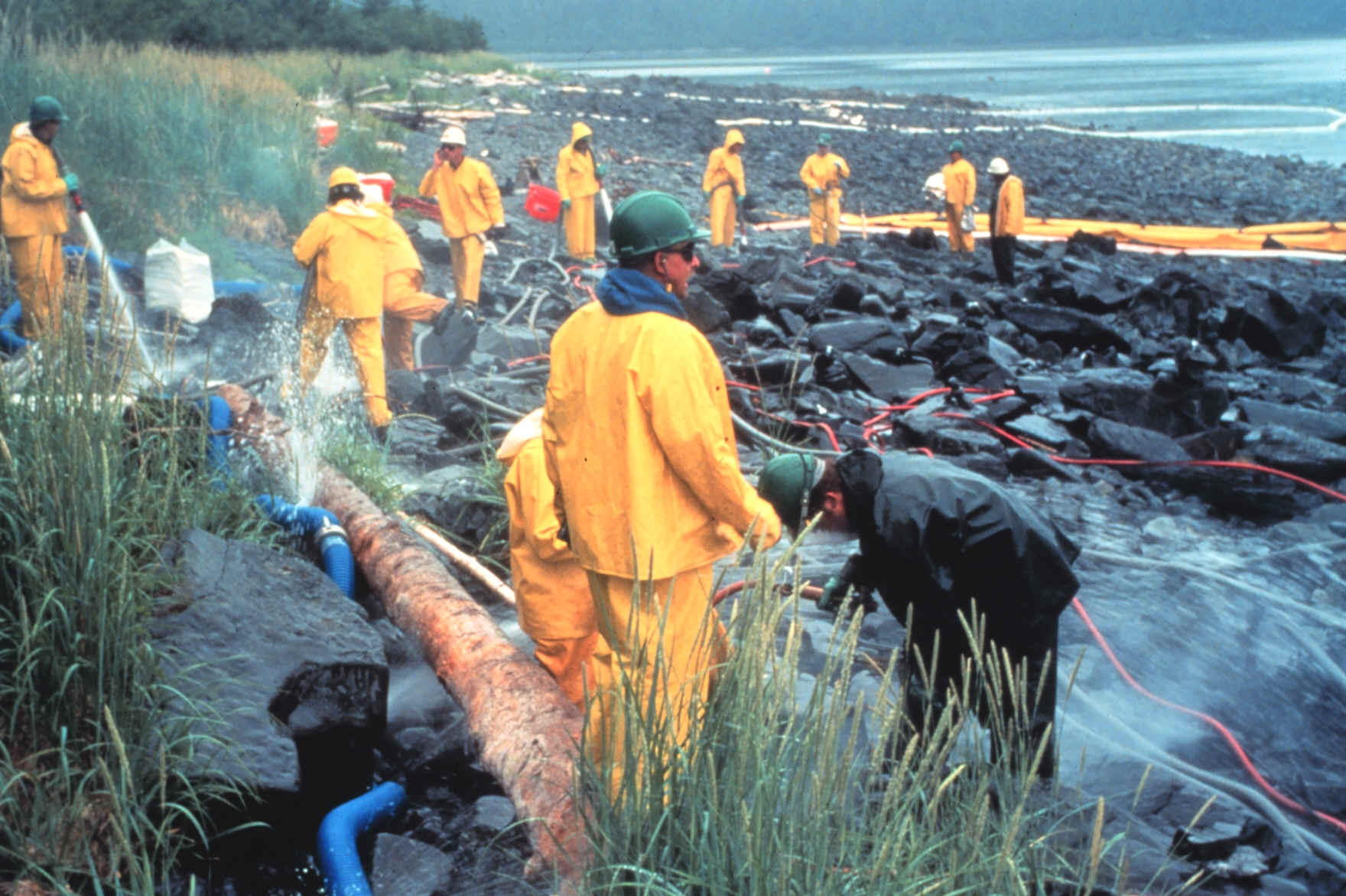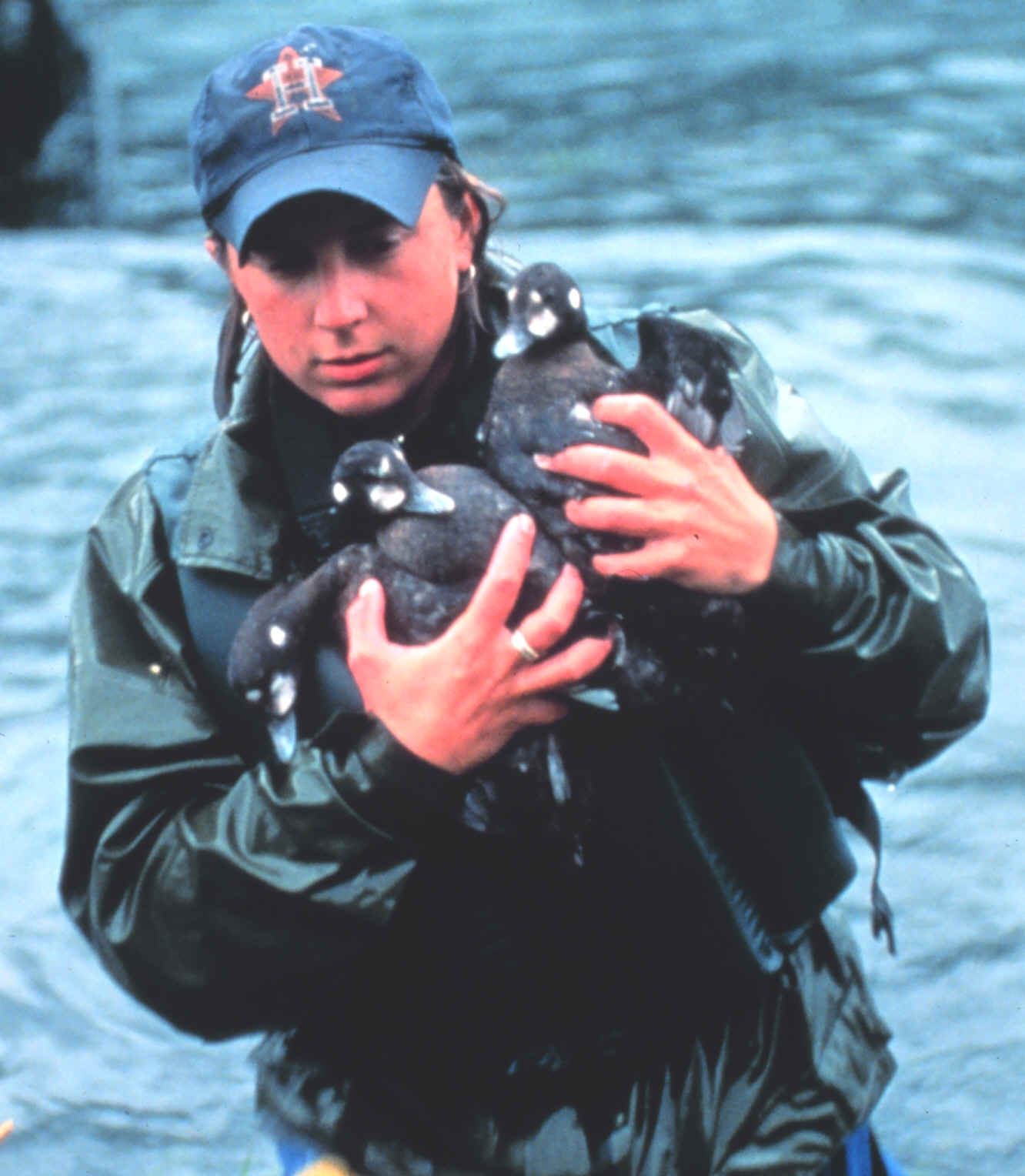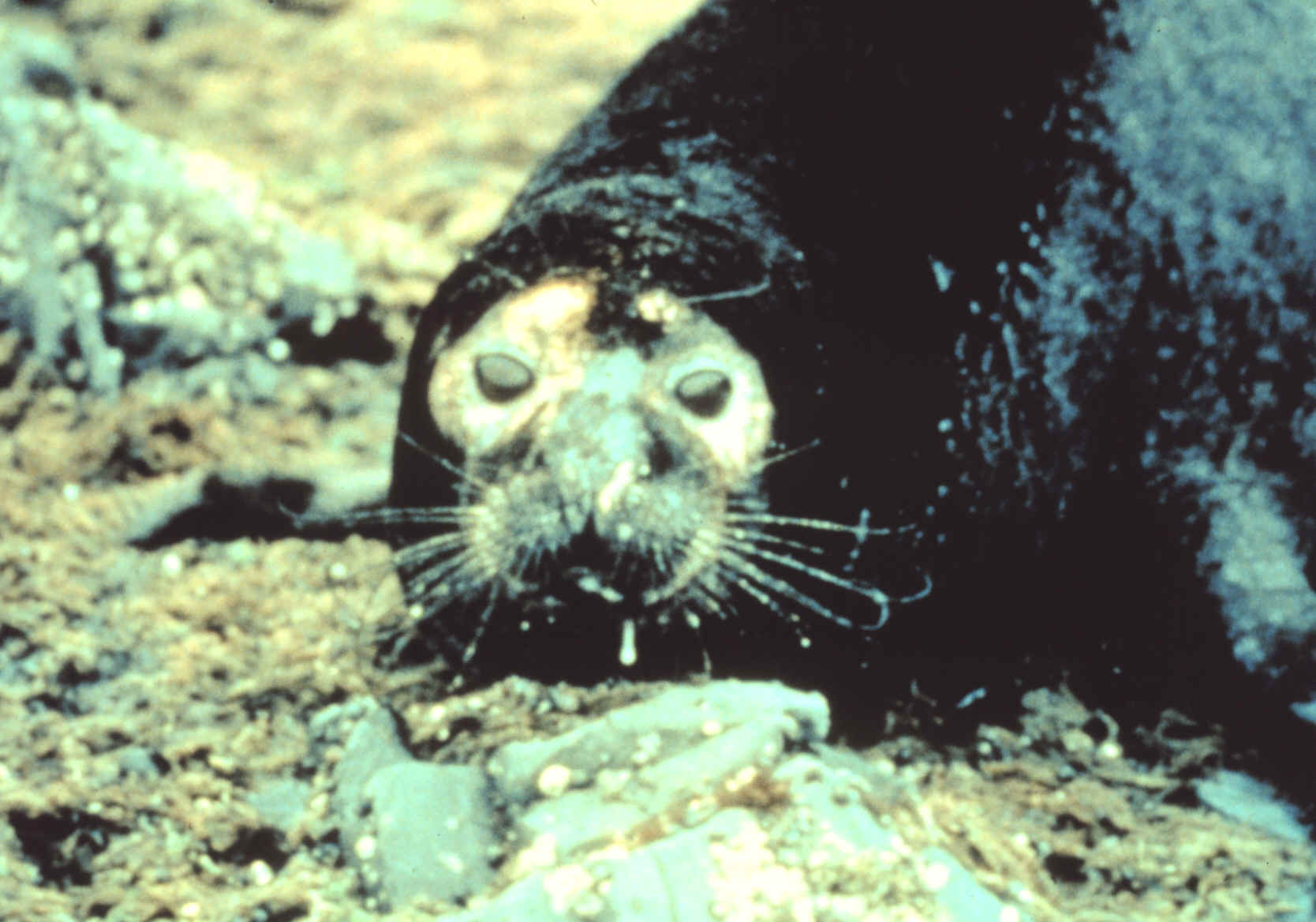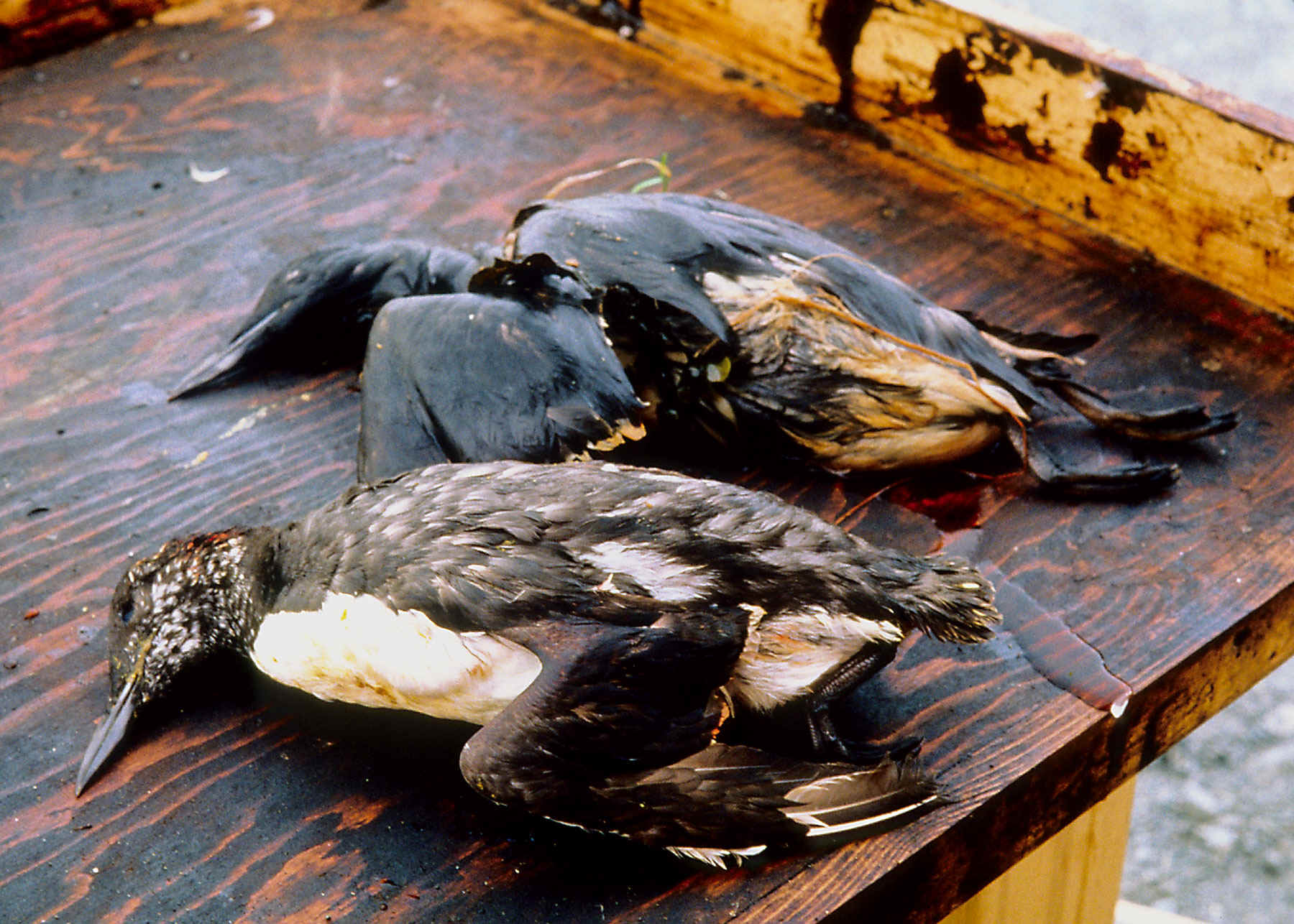 Source for pictures: www.conservationreport.com/tag/fuel-spill/
====================================================================================


EXXON'S OBSCENELY HIGH PROFITS ARE
AT THE EXPENSE OF REAL AMERICANS

by William Schmidt, Creator of Tiger Software


American patriotism is not only about fighting foreign wars to protect America. It is
also about caring for all the people who live in the United States. Patriotism extends the
loyalty from the family to the village, to the city, to the state and to the country.
How can anyone claim to be a patriot if they turn their back on the suffering of people in
their own country, especially when they directly cause the suffering. On this basis, Exxon
shows very little patriotism. It is entirely selfish. It only pretends to be an American
company. It is a country in its own right, by size, power and independence. There should
be very heavy wind-fall profits taxation on Exxon windfall profits. It should get no more subsidies.
Given all its misconduct, Exxon should be broken up, prosecuted for its misdeeds and not
allowed to have its campaign contributions, legal and public relations expenses be deducted
from its revenue to reduce its tax liability. It should be closely regulated. Environmentalists
should be placed by law on its Board of Directors, to monitor its behavior. Its obscenely
high executive high salaries should be taxed at much higher, even confiscatory rates. Before
it gets any more leases, it should diligently develop those it already has.

Today, July 31st, Exxon reported profits of $11.68 billion in one quarter. This was
the most ever recorded by any corporation anywhere, ever. In 2007 it made $40.6 billion.
In 2005, its earnings were $36.1 billion. In 2006, its earrings were $39 billion. With oil
prices rising so sharply, how do they ever manage to spend all these windfall profits?
It gives them incredible power and leverage, much more than most countries. And if they
are regulated or taxed too much, they will threaten to, or do (a sin case of Halliburton) flee
overseas. Only in a nominal way, are they subject to the law of the land. Bill Clinton's
biggest mistake in 1999 as President in 1999, was not not named "Monica", it was going
along with the Republican Congress and allowing Exxon and Mobil to merge to become
the world's biggest corporation. Exxon's revenue are bigger than most countries. It produces
10% of the world's oil.

It is a menace as now constituted. It is apparently run by sociopaths, whose only
concern is making as much money as possible, no matter the consequences to their country.
They treat their customers with contempt. They show little respect for truth. They have
apparently been born without genes that allow even minimal levels of compassion. The
much respected Union of Concerned Scientists says that Exxon treats the science of global
warming with exactly the same contempt that Philip Morris showed medical science for
50 years regarding the deadly effects of cigarette smoking.

A company this big is like the guerilla at a tea party. It can do whatever it wants. It
can collude with other oil behemoths to fix prices, squash competition and alternative energy
technologies, destroy unions, buy votes in Congress and place in the White House its own people.
Bush and Cheney. Small wonder since 2001 there has been no national energy policy, no
conservation programs, no environmental protection, no national push towards alternative energies
like other countries have pursued and no national help for public transportation in the US.
Of course, oil men Bush and Cheney kept denying the science behind Global Warming. ExxonMobil
worked intimately to craft the Bush administration's global warming policies from the beginning.
In 2001, ExxonMobil was the only oil company to meet with the State Department to discuss
the Kyoto Protocol, the same year the U.S. withdrew from that international treaty. Source.
(It is estimated that ExxonMobil is responsible annually for an estimated 20.3 billion tons of
carbon dioxide - about five percent of the world's total carbon dioxide emissions. Source )

Will Exxon flee the US and go to Dubai as Halliburton has? Odds are it will happen.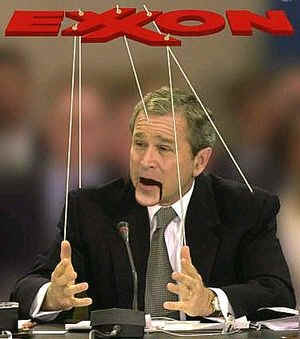 http://www.doomedamerica.com/exonownsbush.jpg

Of course, Bush and Cheney commanded the US Energy Department to keep on building up the
Strategic Oil reserves at a time when oil prices were at record highs. Are you surprised that speculators
were given a free hand to drive up oil prices? The Enron Amendment that permits such unregulated
speculation was sponsored in Congress by McCain's closest economic advisor, Lindsay Graham.
Viewed as agents for Big Oil, is it any surprise that Bush and Cheney started an unnecessary war
with Iraq and are doing all they can to instigate another now with Iran. And don't forget that the
biggest buyer of oil, the US military, was sent by Bush and Cheney to fight an unnecessary war
half way around the globe, in an effort to capture Iraqi oil for multinational oil companies like
Exxon-Mobil. Oil was about $25 per barrel when Bush took office. It is now five times higher.
This is exactly what Exxon wanted, and paid for, when they put Bush and Cheney in the White
House.


WHATEVER DOES EXXON DO WITH ALL ITS MONEY?

BUY ITS OWN STOCK TO SUPPORT IT.

In 2006, Exxon spent $30 billion buying back its own stock. This was
$10 billion more than it spent on "capital expenditures" (some of which
was search for and development of new oil production.) Source. In the
first quarter of 2008, it spent $8 billion buying its own stock back and
only $5.5 billion on exploration. As a result, its oil production has apparently
peaked. Its production slipped back from $2.75 million barrels per day
a year ago, to $2.5 million barrels this year. (Wall Street Journal - July 31, 2008.)


PAY OBSCENELY HIGH PROFITS TO ITS HIGH EXECUTIVES.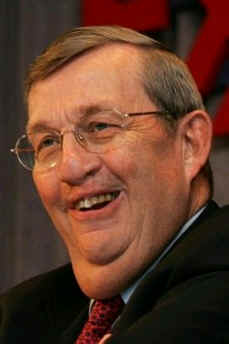 Is he related to Jabba the Hutt?

Exxon Mobil Corp's last chief executive, Lee R. Raymond, took home $400 million
when he retired.. This included a fabulous pension, stock options and other perks,
such as a $1 million consulting deal, two years of home security, personal security,
a car and driver, and use of a corporate jet for professional purposes. (Source.).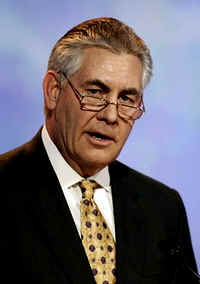 New Exxon CEO and Chairman, Rex Tillerson

PAY MILLIONS TO LOBBYISTS TO GET SPECIAL TREATMENT.
Biggest Lobbyists: 1998-2005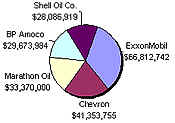 Exxon and Mobil reported that they spent $10.5 million on lobbying in 1998.
Source.

--- "ExxonMobil hired 13 lobby firms and employed 105 lobbyists, many of
whom formerly worked for the federal government, to push its agenda on
Capitol Hill from 1998-2004/". Source


--- "In June 2005, ExxonMobil hired Philip Cooney, and a former lobbyist for the
American Petroleum Institute, one week following his resignation as Chief of Staff
of the White House Council on Environmental Quality after it was revealed that he
had erroneously edited government reports on global warming to reflect the oil
industry's position." Source.

PAY MILLIONS TO ITS PUBLIC RELATIONS PEOPLE TO MISLEAD AMERICANS..
- "Using the playbook of the tobacco industry, ExxonMobil has waged a
multi-million dollar misinformation campaign since the 1990s to deceive the
public and the media about global warming. Despite overwhelming evidence
and agreement of 2,500 scientists with the world's foremost authority, the U.N.
International Panel on Climate Change (IPCC)... ExxonMobil has spent $17-$23
million since 1998 to fund over 40 organizations a year that seek to undermine
the science on global warming." Its CEO, Rex (as in Tyrannosaurus Rex)
Tillerson repeatedly denies the terrible evidence that hydrocarbons are
destroying the planet. He also denies that energy independence would help
America. , Source. In the words of the U.K.'s Royal Society, one of the most
prestigious scientific academies in the world, EXXON-sponsored groups
"misrepresent the science of climate change by outright denial of the evidence."
Exxon is the only major oil company that still questions the link between
burning of fossil fuels and global warming.
See - http://www.exxposeexxon.com/facts/ExxonMobilGreenTechnology.pdf

BRIBE "SCIENTISTS" TO DENY GLOBAL WARNING.
Exxon is a big sponsor of the American Enterprise Institute. The latter
solicited articles for $10,000 which would argue against the reality
of Global Warming.
http://money.cnn.com/2007/02/02/news/companies/exxon_science/index.htm
http://abcnews.go.com/Technology/print?id=2767979
http://www.washingtonpost.com/wp-dyn/content/article/2006/07/27/AR2006072700383.html

PAY LAWYERS MILLIONS TO HANDLE ITS MANY LAWSUITS.

"Eleven million gallons or more of North Slope crude oil began pouring out
of the Exxon Valdez oil tanker into the pristine waters of Alaska's Prince William Sound.
Hundreds of thousands of fish, seabirds, bald eagles, otters, seals and whales were maimed
and killed. The native communities whose lives depended on those waters for commercial
and subsistence fishing were, and still are, disrupted if not devastated. In 1994, ExxonMobil
was found "reckless" by judge and jury and ordered to pay $5 billion in punitive damages
to the 33,000 victims of the spill. The amount was later lowered to $4.5 billion plus interest.
ExxonMobil argues it should pay only $25 million. The company has appealed every verdict
since, dragging the plaintiffs and their families through thirteen years of litigation. Some 6,000
plaintiffs have died awaiting compensation. In 2006, the damages were lowered to $2.5 billion
based on a milder interpretation of "reprehensible". ExxonMobil appealed for the court to
reconsider and was denied. In August 2007, Exxon petitioned the U.S. Supreme Court to
hear the case." (Source. Please see http://www.exxposeexxon.com/facts/Valdez.html
to see how Exxon has lied about its responsibility and the consequences. )

"ExxonMobil continues to fight the $4.5 billion court-ordered punitive damages
awarded in 1994 to 33,000 commercial fishermen, Alaskan Natives, and others
injured by the 1989 Exxon Valdez oil spill. So far 6,000 plaintiffs have died
awaiting compensation." Source

MILLIONS IN BRIBES (AKA CAMPAIGN CONTRIBUTIONS) TO ITS
POLITICAL PROTECTORS.
"ExxonMobil is an industry leader when it comes to making exorbitant political
campaign contributions. In the 2004 election cycle, ExxonMobil spent $935,016 -
more than any other company in the oil and gas industry. In the 2000 election,
ExxonMobil spent almost $1.4 million in political contributions, second only
to the Enron Corporation." Source

FIGHT ARCTIC ENVIRONMENTALISTS.
"ExxonMobil is the only oil giant remaining in Arctic Power, the single-issue lobby
group dedicated to opening the Arctic National Wildlife Refuge to oil drilling. All the
other major oil companies pulled out under pressure from the public and shareholders."
Source

. WHAT IT DOES NOT DO, DESPITE THE BILLIONS MORE IN WINDFALL PROFITS?

EXXON SPEND ONLY A TOKEN AMOUNT ON ALTERNATIVE ENERGIES.

Clean energy is a low priority at Exxon. Wind and solar energy are widely available.
Rich profits would be much harder to gain from these technologies.

"Unlike the other major oil companies, ExxonMobil refuses to help reduce
America's oil dependence by investing in clean, renewable energy like wind or
solar power. ExxonMobil's CEO says that we "need to accept the reality" of our
oil dependence rather than undertake steps to solve it."

RECENTLY EXXON HAS INCREASED THE PERCENTAGE OF
ITS REVENUE TO EXPLORE.

The percentage of revenues used for exploration rose in the last quarter by 38% from
a year ago. Of course, the incentive is now. A year ago, crude oil is up more than 50%...

.