TigerSoft Freedom News Service -- 9/16/2010

THE PEOPLE SPEAK.
THEY REJECT FOX/CORPORATE MEDIA BIAS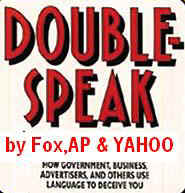 THEY SEE RIGHT THROUGH THE "DOUBLE-SPEAK"
This morning Yahoo led its Financial News with the following headline:

Immediately, it makes you think that Obama is out of step with the wishes of the American people
when he talks about doing away with the Bush tax cuts for those families making more than $250,000
a year. The article's headline is very misleading, deliberately. If you read down to its bottom,
it turns out that 54% of Americans support Obama's plan to tax the wealthy more and only 44%
are against it. If this were election results, it would be a landslide. (I say "deliberately" because
its author went to the Bronx High School of Science, where an IQ of 140 is needed for
entrance.)

So, the headline is completely misleading. Yahoo, Associate Press and Fox are engaging
in Orwellian doublespeak. In truth, they are simply paid propagandists for the Republican
Party and the very wealthy. As a regular reader of Yahoo, this merely confirms my worst
suspicions. You just have to read between the lines and look for the facts, always considering
the corporate biased source of the news.

Doublespeak (sometimes called double-talk) is language that deliberately disguises, distorts, or
reverses the meaning of words. Doublespeak may take the form of euphemisms (e.g., "downsizing" for
layoffs), making the truth less unpleasant, without denying its nature. It may also be deployed as
intentional ambiguity, or reversal of meaning (for example, naming a state of war "peace"). In such
cases, doublespeak disguises the nature of the truth, producing a communication bypass.
( http://en.wikipedia.org/wiki/Doublespeak )


MOST READERS SAW RIGHT THROUGH THE BIASED HEADLINE

What was so "neat" ('50s slang for "cool" in the 1960's and "righteous" in the 1970s, etc)
was readers immediately detected that this article was pure propaganda. Most of the
the many comments from readers of this articles showed very few people were fooled
by the headline. Most had real insights into why the rich need to be taxed more. There was
almost no "class warfare" rhetoric. Most argued logically that it made better economic sense
to tax the very rich. This gave me a renewed sense of hope.that America has not been
"dumbed down". Americans can see through the propaganda. They know a lot more
than Congress seems to understand as they jostle and shove each other in a quicksand
rife with cynical sell-outs, fat-cat lobbyists and fat-cat campaign contributions.

Further below are many of their comments:

TAX THE RICH AGAIN AS THEY WERE
TAXED IN 1999.

9/16/2010 News? - Census: 14.3 percent Americans live in poverty
Census Bureau reports new spike in poverty

MISLEADING HEADLINES REFLECTS
RIGHT-WING CORPORATE BIAS

Once you see how the media twists its headlines to try to fool the masses,
you will see the bias more and more often. It makes you wonder if Yahoo can be
trusted when they run stories like:
Government has destroyed business confidence: Former FDIC boss-

or Bailout anger may hamper U.S. in future crisis: pan- Reuters
Note the biased use of the word "Anger. They want the "OUTRAGE"
to seem irrational. "Outrage" seems an appropriate and more apt a word choice.

STORIES THE CORPORATE MEDIA DOES
NOT COVER.

9/15/2010 - NY Congressional District - Wealthy upper East Side of Manhattan.
Reshma Saujani, a former hedge funder, darling of New York City Mayor Michael
Bloomberg and backed by lots of Wall Street money, lost by a shocking 81 percent to 19 percent
vote to Rep. Carolyn Maloney in the Democratic primary for Congress yesterday. Suajani's signature
line was that we all should "extend a hand, not a fist" to the financial industry

(C) William Schmidt, Ph.D. www.tigersoft.com

See also: Sept. 6, 2010 The Rich Must Be Taxed More. They Are The Only Ones With Much Money.

SOME READERS' COMMENTS:

"It should read "most oppose Tax Cut for riches."
"At least half the country has some sense, which is more than I can say for Congress."
"Another misleading and corporate driven headline from AP"
"Typical Yahoo pro-corporation propaganda. Glad to see so many see the deception here."
"Taking this headline into account, you would think this means that the majority of Americans are against allowing the tax cuts to expire on the top 2%. Not so. The survey showed that by 54 percent to 44 percent, most people support raising taxes on the highest earners," Mainstream liberal media bias? "
"This poll was conducted by the associated press.... What did you expect it to say. I'm surprised
it didn't say 90% of the people want greater tax cuts for the rich.".
------------------------------------------------------------------------------------------------------------------------------------------------

"The US is approaching self-destruction when 44% believe a CEO who earns $10
million per year because he moved 50,000 American middle class jobs to China -
deserves a tax cut"

"CNBC and others say US large and small businesses currently have $1.8 trillion
cash on their books now to expand and create new jobs - and they are not doing
so. Anyone who thinks extending tax cuts and providing an extra $700 billion
cash to the wealthy will any create jobs in this country - is a fool."

""The rich no longer require the use of American workers. They are doing just fine outside the States. You will all regret not taxing the rich this time.

"We leaked 600,000 jobs a month in 2008 for 6 months. The Tax cuts were in full swing and the Dems had no part in it."

"Over the past 10 years the Bush Tax cuts have saved those making more than
$250,000 $700 Billion dollars a year. That comes to $7 Trillion dollars. According to Moody's.
the wealthy just put that money into savings and spent little or none of it. Moody's noted
that when president Clinton raised the rates the wealthy just reduced their savings rate,
spending stayed the same...Reducing taxes will not cause the wealthy to spend more.
Since we have a 1.3 Trillion dollar deficit I think the Federal Government needs the $700 Billion Dollars more than the wealthy need it."

"Stop giving huge tax breaks to the insanely rich. Until Reagan's trickle down economics,
the rich paid much more in taxes. Those taxes built our America into the giant it is. Now look at us
going backwards."

"Americans should learn more about Andrew Jackson

"Obama says he won't rest until everyone who wants a job has one. Was this
before or after he went golfing on Sunday--again?"

"Corporations and, the rich and business now have $1.8 trillion cash on hand...
from the Bush tax cuts and are doing the same thing with it that they did during the
Bush years, holding onto it or putting it in Wall Street. The top 1% now has 23.3% of the
nations' wealth, the highest that number has been since 1929."

"Tax cuts for the rich to create jobs? ...(This h)as not worked for 10 years but, Republicans
and the rich want you to believe that it will work now."

"Why do Tea Partiers vote against their best interests?"

"The author of this article has a very vivid imagination by writing "almost half the country
oppose tax increases for the richest Americans. This author should be sent for drug screening.""

"Warren Buffet - he'll tell you he doesn't pay enough taxes"

"The same people (who write articles like this) claim we are heading to socialism under
Obama and yet they claim that it is the RICH that employ people and run the economy."
(Good observation.)

"The trickle down effect (has) worked great, we taxpayers were left with the bill bailing out the financial industry. That was not so much a trickle...as a landslide."

"Lower taxes for the the top wealthiest people do not equate to more jobs. The last 4 years prove that...We leaked 600,000 jobs a month in 2008 for 6 months. The Tax cuts were in full swing
and the Dems had no part in it. " American middle class jobs to China -
deserves a tax cut..

"Home foreclosures reach record highs and poverty in the US is at 15%. But the wealthy who's
tax levels in the last decade have been the lowest in US history (since 1931 actually) want to
keep their tax cuts. (This is after a) decade in which the job creation has been the lowest in history. So don't keep making the claim lower taxes creates jobs because the data doesn't support that claim."

"Funny how the Republicans don't mind being taxed to death for Pentagon spending."

"Most rich people in the US inherited their money and don't do anything all year except travel. The rest are paid millions by large corporations who create very few jobs, almost all outsource."

"If history is a good lesson, learn from it: Over the past 60 years, there was only one Republican president who was able to reduce the national debt -
Eisenhower:
.
U.S. president Increased debt in %GDP
Roosevelt/Truman (D) -24.3%
Truman Harry Truman (D) -21.9%
Eisenhower1 Dwight Eisenhower (R) -10.8%
Eisenhower2 Dwight Eisenhower (R) -5.4%
Kennedy/Johnson (D) -8.2%
Johnson Lyndon Johnson (D) -8.3%
Nixon1 Richard Nixon (R) -2.9%
Nixon2 Nixon/Ford (R) +0.1%
Carter Jimmy Carter (D) -3.2%
Reagan1 Ronald Reagan (R) +11.3%
Reagan2 Ronald Reagan (R) +9.2%
Bush GHW George H. W. Bush (R) +13.1%
Clinton1 Bill Clinton (D) -0.6%
Clinton2 Bill Clinton (D) -8.2%
Bush GW1 George W. Bush (R) +6.9%
Bush GW2 George W. Bush (R) +11.7%"

"BEING MADE TO PAY 4% MORE TAXES is not going to destroy a single rich greedy Republican/"

"I laugh at the GOP, 95% of them are NOT rich but they fight for the rich to have a tax cuts."

"Most conservatives are nothing more then REDNECKS who can't stand the fact that a black man is in the White House"

"Americans have lost their minds. They want a strong army, great roads, a great education system, safe meals and safe pipelines -- but they don't want to pay for any of them. They're spoiled."

"Republicans (have) simply calculated it was in their best interest to see the country fail to solve its problems while the Democrats are in office."

"Jobs have been leaving this country for years. The tea party did not address this problem when Bush was in office. Cheney became filthy rich during his government run . He has been a government employee his whole life and help setup Haliburton (his only private sector job ) for the fleecing of the American taxpayer. The wars Bush and Cheney manufactured should be a world
shame ! Made God is trying to tell all of you something !"

"The income gap has been growing steadily. The average CEO now makes approximately 300 times what the average worker makes. Historically that ratio was much lower, especially in the 50's and 60's when the nation was at its most prosperous."


"Obama says he won't rest until everyone who wants a job has one. Was this
before or after he went golfing on Sunday--again?"

"THIS PRESIDENT WILL DESTROY THE DEMOCRAT PARTY, WHAT KIND OF PERSON
WANTS TO PROMOTE CLASS WARFARE (Someone who wants to redress the balance. Actually Obama's problem is that he is a pacifist unilateralist and does not declare a little class war to stop the trend toward plutocracy.).................THOSE LEANING FAR TO THE RIGHT OR DAR TO
THE LEFT !! I'M SORRY BUT OUR PRESIDENT IS A SOCIALIST AND HE LEANS TOO FAR TO
THE LEFT."

"Class envy. It is the liberal way of turning Americans against each other."

It's just more of trying to create class warfare. Obama is trying to re-distribute the wealth in the country'. (Class warfare is apparently only OK only when waged by the rich.)"