TigerSoft New Service 10/18/2010
Make Money. Use TigerSoft To Track Key Insider Buying and Selling in All Your Stocks

www.tigersoft.com PO Box 9491 - San Diego, CA 92169 - 858-273-5900 - william_schmidt @hotmail.com

JULY 1999

NEWMONT's BIG PAYOFF PAYS OFF BIG!

NEWMONT BRIBES and CIA
PROMISES of SUPPORT TO PERU against BOLIVIA
BRING BILLIONS MORE TO NEWMONT MINING

In April 1999, the stock of gold mining company NEM suddenly ran upwards from 17 to 25.
The Accumulation Index on a TigerSoft chart even back then registered INSIDER BUYING.
See in the chart below how TigerSoft's invention, the Accumulation Index, rose past the key
Insider Buying threshold. The outside world took little notice of this. Gold was steadily falling, from $295
in March to $255 in September. Internet and biotech stocks were all the rage.

Quietly and secretly, in Lima Peru, NEM was taking care of business. With bribes and promises of CIA
support aginst neighboring Ecuador, NEM was setting the stage for a favorable key vote by the Peruvian
Supreme Court in its fight with the French government for control of one of the world's richest deposits
of gold. The details of this case of corporate bribery and control of the CIA are spelled out below.

Of special trading interest to us now - is how TigerSoft would have picked up on NEM's successful
campaign to get control of this massive new supply of gold. See in the chart below how the blue line
representing Professional Buying and Closing Power turned up and stayed near its highs from April to
July despite the decline in prices then from 26 back to 17. Wall Street professionals were getting wind
of NEM's campaign in Peru to win a favorable vote from the Peruvian Supreme Court. This occurred
in late July. Our software spots exactly this type of divergence with major Buy B7s. TigerSoft users
will appreciate that the CP%-PR% was .67 on July 14th, a very bullish CLosing Power divergence
indeed. Stocks with such divergences are now flagged each night for TigerSoft users.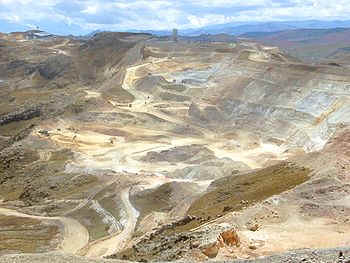 From http://en.wikipedia.org/wiki/Newmont_Mining_Corporation

"Before 1994 the mine was co-owned by Newmont, Buenaventura (a Peruvian mining company), and Bureau de Recherches Géologiques et Minières (BRGM), a French government-owned company. This partnership collapsed in 1994 after BRGM tried to sell part of its shares in the company to an Australian company which was a rival of Newmont. Newmont and Buenaventura would both go to court to challenge the trade.

"Larry Kurlander, then a senior executive at Newmont, claimed the French President Jacques Chirac had sent a letter to then Peruvian President Alberto Fujimori asking him to intervene in the court case in favor of the French owned company. Kurlander had been sent by Newmont to Peru in order to try and get a favorable outcome for Newmont in the dispute. The legal battle would eventually make it all the way up to the Peruvian Supreme Court.

"During this period Kurlander acknowledges having met with Vladimiro Montesinos, the Peruvian intelligence chief who has since been found guilty of embezzlement, illegally assuming his post as intelligence chief, abuse of power, influence peddling and bribing TV stations. [1] [2] However, Kurlander claims that he did nothing illegal and that the French government were taking similar steps in trying to contact Montesinos. The French ambassador to Peru Antoine Blanca denies this, pointing to the fact that Montesinos was on the CIA payroll and thus would naturally side with the U.S-based company.

"After the fall of Fujimori in 2000 a number of videos Montesinos had taped of himself meeting with several domestic and foreign leaders and offering bribes and accepting them had emerged. In October 2005 Frontline in co-production with The New York Times found a February 1998 recording of a telephone conversation between Montesinos and Kurlander. The following is an excerpt from the tape:
Kurlander:...we have a very serious problem in Peru with our company (Newmont) and Minera Buenaventura so I have enlisted the support of some of my friends from a variety of intelligence communities. I need it especially because the other side (the French government) has been acting quite strangely.
Montesinos (to interpreter): Tell him that I am perfectly aware of the problem he has and the people he represents have with the French, as well as the problem he has with the judiciary.
Kurlander: So now you have a friend for life. I want a friend for life.
Montesinos (to interpreter): I thank you very much for what you have just told me and well you already have a friend. Tell him I'm going to help him with the voting. I would like to know the tricky practices of the French. The French Connection!
Kurlander: The French Connection!
(laughter) [3]
"Along with this telephone conversation, Frontline and The New York Times also re-broadcast three other videos. One was filmed in April 1998 and shows Montesinos talking to "Don Arabian", the CIA station chief in Peru, in an attempt to get CIA to pressure the U.S. to back Newmont in the case. In the video Montesinos claims to have found e-mails from Paris to Peru of French officials trying to influence the court to get a decision favorable to France.
"Another video recorded in May 1998 shows Montesinos meeting with Peruvian Supreme Court Justice, and former classmate, Jaime Beltran Quiroga. In it Montesinos states that state interests are at stake in the case between Newmont and BRGM. He tells Quiroga that if the decision goes to Newmont that the United States will back Peru in its boarder dispute with Ecuador which had a few years ago exploded into the Cenepa War. He also tells Quiroga to deny any connection with him to the press. Quiroga would later play a crucial role in the case, his vote would be the deciding vote in the Newmont victory. After the video was first broadcast in Peru in 2001, on a Peruvian local television station the French Ambassador Antoine Blanca was quoted as saying "Now I know why Newmont won".
"In the final July 1999 video, Montesinos is again seen with the now departing CIA station chief "Don Arabian" giving him a gift and thanking him for the help he has given Peru stating "[W]e hope that when you're back their (sic) [in Washington] you'll remember your friends".