Trading SPY with Tiger Software and Nightly Hotline

Our Peerless gives Buy and Sell signals at the end of the day based on the DJIA.
A Buy signal can be in place a long time. So, traders use Closing Power's trend changes
in conjunction with Peerless. Closing Power was invented by us and can be seen either
using TigerSoft or by getting our nightly (on-line) Hotline.

The Nightly (on-line) Hotline is available four hours before the Opening. It always
gives the current Peerless signal and the direction of the Closing Power trend-changes.
It always shows the chart of SPY. Please see Trading SPY with TigerSoft
www.tigersoftware.com/SPY/index.htm

I would suggest the Hotline. You get both Peerless and CLosing Power signals.
Closing Power paper losses are usually very small, 2.2% was the highest this past year.




William Schmidt, Ph.D. (Columbia University), Tiger Software, PO Box 9491, San Diego, CA 92169
william_schmidt@hotmail.com www.tigersoft.com 858-273-5900

1) Superimpose Peerless signals on SPY.
The gains since 1993 are shown at
http://tigersoftware.com/TigerBlogs/april29-2011/index.html
US ETF- SPY (SP-500) - $1000 becomes $15,170 in 17 yrs.
Software >Peerless Stock Market Timing:
Major Buys and Sells on DJIA, but widely applicable.
Back-tested to 1915. Amazingly accurate.
25%+ On DJIA per Year since 1965.
Included 3 months of data from us.
.... $398. Peerless ===> Order here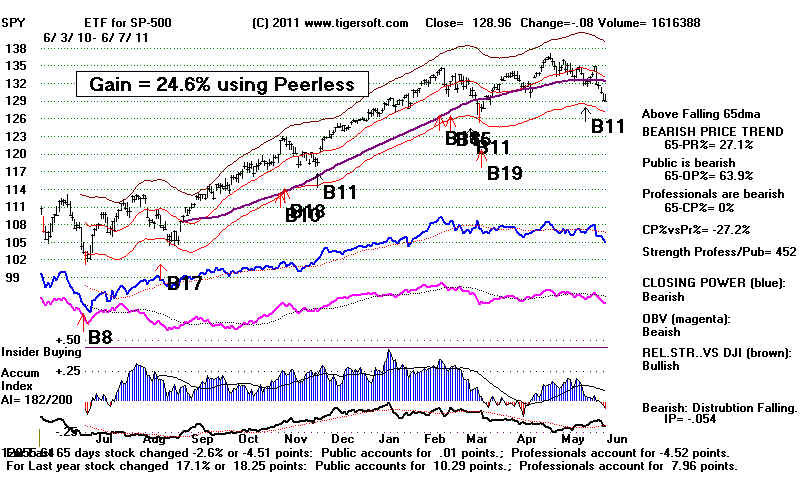 2) TigerSoft's Closing Power Trend Changes,
interpreted by Tiger's Hotline

.... $498 Peerless and TigerSoft (See below) ===> Order here
Nightly On-Line Hotline $350
The Peerless track record: 1915-2011 has helped thousands
time the stock market correctly and shown the details of how we do it...
Dr. Schmidt's comments on the market appear every night with key charts
of DJIA, SP-500 and NASDAQ and their Closing Power signals on ETFs.

The most bullish and bearish stocks, commodities, foreign markets,
metals and currencies are discussed and their charts shown with Peerless
====> Order Here