TIGERSOFT AUTOMATIC STOCK S9 SELL
SIGNALS ON NEM: 1987-2010
(C) 2010 www.tigersoft.com

TigerSoft Sell S9 signals use TigerSoft's invention, the Accumulation Index
in relation to price highs and lows. Our software explains the relationship.
The formula for the Accumulation Index is available to software purchasers
who sign a non-disclosure statement. It was invented by William Schmidt
in 1981, It has never been accurately copied or properly used by
its plagiarizers.

39 were good or OK signals, 7 bad signals

84.8% of the automatic "Sell S9" signals on NEM brought either a 2 month
hesitation or a decline of as much as 50%. Trade NEM's calls and puts or
buy and sell the stock outright.

If you look closely, you will see that the Accumulation Index often
turns negative before a big decline and positive before a big rally.
It represents insider and professional buying and selling.
"Insiders always know" ahead of the rest of us. Why trade by
emotion which professionals can manipulate, when you can trade
as they do.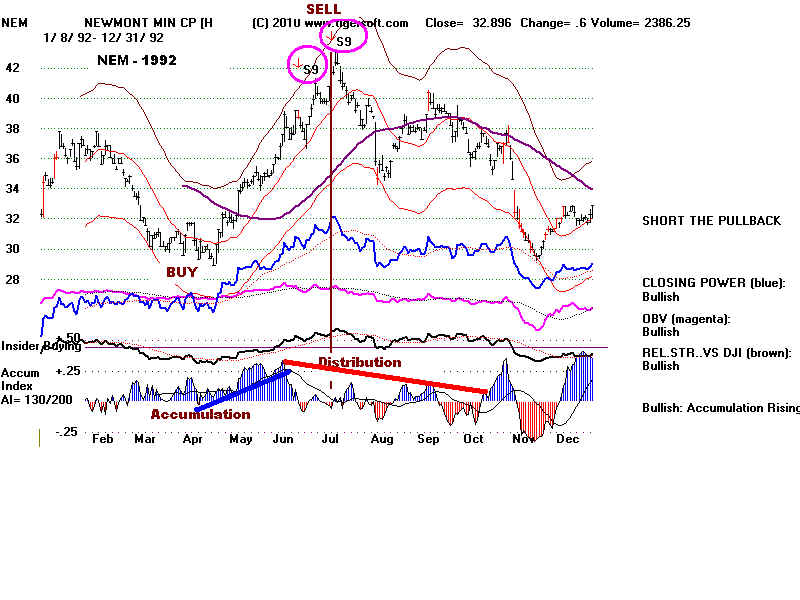 This is only one of a number of reliable automatic Buys and Sells
which TigerSoft uses. Also watch the direction of the TigerSoft
Closing Power.

The charts, year-by-year are shown below

1987 3 OK, one brought decline from 50 to 24 (50-24)
1988 1 OK - 2 month hesitation predicted.
1989 2 OK
1990 none - (but Peerless worked well here).
1991 1 OK (31-27)

1992 2 OK (38-30)
1993 1 bad 1 OK (46-36)
1994 none - but one valid head and shoulders pattern.
1995 1 OK (44-39)
1996 1 OK (52-46)
1997 2 OK (39-36) and (44-28)

1998 1 bad
1999 2 bad 2 OK (20-17) (29-21)
2000 3 OK (25-18) (19-13)
2001 1 bad 2 OK (23-19)
2002 2 OK (26-23)

2003 1 OK (sidewise for 2 months)
2004 5 OK (10% declines)
2005 1 bad 4 OK
2006 4 OK (56-40)
2007 none

2008 1 bad 1 OK (53-22)
2009 4 OK (46-38). (44-38), (47-42), (51-47)
2010 1 OK (54-52)