TigerSoft - www.tigersoft.com 12/28/2007 --- by William Schmidt, Ph.D.
Insider Trading: News and Reviews: Articles Found on the Net
See www.tigersoft.com Use TigerSoft Scans ...for spotting insider trading and seeing how
to trade profitably in an age of rampant insider trading.

TigerSoft Offers:
Peerless Stock Market Timing: 1928-1966
Track Record of Major Peerless Signals
Earlier Peerless-DJIA charts
7 Paths To Making 25+%/Yr. Using TigerSoft
Index Options
FOREX trading
Investing Longer-Term
Mutual Funds
Speculative Stocks
Swing Trading
Day Trading
Stock Options
Commodity Trading
====================================================================================


MATTEL (MAT) HIDES TOY RECALLS
UNTIL INSIDERS CAN SELL.

Santa's Toy Makers May Go To Jail?

It is alleged that "three current members and one former member of Mattel's board of directors of
engaging in illegal insider trading by dumping more than $33 million in stock before the company's massive
toy recalls this summer." The lawsuit points out that Mattel was slow in getting the news about recalls out.
It thereupon also exposed the company to increased litigation and fines, which have and will hurt the company's
stock. . ( Source: Douglas A. McIntyre http://www.247wallst.com/2007/10/insider-trading.html )

Since August, Mattel has announced three separate recalls of some 21-million toys because of dangers
to children from lead paint or from tiny magnets that can be harmful if swallowed. Attorneys representing the
Sterling Heights, Mich., police and fire pension fund allege that Mattel knew about the defects for months but
failed to report them to the Consumer Product Safety Commission, as required by federal law.
( http://www.sptimes.com/2007/10/11/Business/Pension_fund_sues_Mat.shtml )

Yahoo reports that insider buying and selling. Starting in April, the most prominent among the sellers were
Eugene P Beard - Director, Tully M Friedman, John Voglstein and Neil Friedman, the President of Mattel.
Yahoo lists his salary as 2.2 million. Apparently, that is not enough. On February 23rd, he sold 100,000 at
26.84 for $2,684,000 and on February 22nd, he sold 100,000 at 26.77 for $2,677,000.
(Source: http://finance.yahoo.com/q/it?s=MAT )

Additional sellers are identified below from
http://stocks.us.reuters.com/stocks/insiderTrading.asp?symbol=MAT&first=51




Beard's biography describes him as a "benefactor" to Duquesne and Harvard.
One has to wonder how much of his money was gotten by trading like this on insider information?
Why would someone buy stock in Mattel with these men head of the company?

05/02/07
BEARD EUGENE P
Director
Sell
5,000
$28.75
04/30/07
BEARD EUGENE P
Director
Sell
500
$28.69
04/30/07

4/30/07
BEARD EUGENE P
Director
Sell
500
$28.71
04/30/07
BEARD EUGENE P
Director
Sell
100
$28.65
04/30/07
BEARD EUGENE P
Director
Sell
1,500
$28.66
04/30/07
BEARD EUGENE P
Director
Sell
1,700
$28.67
04/27/07
BEARD EUGENE P
Director
Sell
1,000
$28.60
04/27/07
BEARD EUGENE P
Director
Sell
1,000
$28.70
04/27/07
BEARD EUGENE P
Director
Sell
1,000
$28.61
04/27/07
BEARD EUGENE P
Director
Sell
1,000
$28.70
04/27/07
BEARD EUGENE P
Director
Sell
1,000
$28.65
04/27/07
BEARD EUGENE P
Director
Sell
2,800
$28.43
04/27/07
BEARD EUGENE P
Director
Sell
2,200
$28.42
04/17/07
VOGELSTEIN JOHN L
Director
Sell
91,172
$28.00
04/17/07
VOGELSTEIN JOHN L
Director
Sell
25,800
$28.01
04/17/07
VOGELSTEIN JOHN L
Director
Sell
14,500
$28.02
04/17/07
VOGELSTEIN JOHN L
Director
Sell
25,100
$28.03
04/17/07
VOGELSTEIN JOHN L
Director
Sell
36,100
$28.04
04/17/07
VOGELSTEIN JOHN L
Director
Sell
34,000
$28.05
04/17/07
VOGELSTEIN JOHN L
Director
Sell
1,300
$28.06
04/17/07
VOGELSTEIN JOHN L
Director
Sell
3,000
$28.06
04/17/07
VOGELSTEIN JOHN L
Director
Sell
13,700
$28.07
04/17/07
VOGELSTEIN JOHN L
Director
Sell
12,100
$28.08
04/17/07
VOGELSTEIN JOHN L
Director
Sell
2,900
$28.09
04/17/07
VOGELSTEIN JOHN L
Director
Sell
4,000

BEARD EUGENE P
Director
Sell
700
$28.68

MATTEL TigerSoft Chart: 2007
TigerSoft Users Would Have Sold Out (and Sold Short)

TigerSoft spots insider selling mainly by watching the Tiger Accumulation Index. Its dropping below -.25
when the stock is under-performing the DJI (representing the general market) is the primary way we do this.
The redish-purple lines show these points in this chart.

When the Black TISI line (6/6/2007) drops into negative territory and the stock has closed below its now
falling 50-day ma, TigerSoft users know to consider the stock bearish, especially if it over-extended on the
upside. Additional Tiger Sell signals give more points to sell the stock short. Note how the cumulative
On-Balance-Volume (OBV) Line makes confirming new lows. This is a stock whose trust is now lacking.
It takes a long time and new management to rebuild it. Thus, the stock is still being dumped as 2007 ends.

============================= MATTEL 2007 =========================================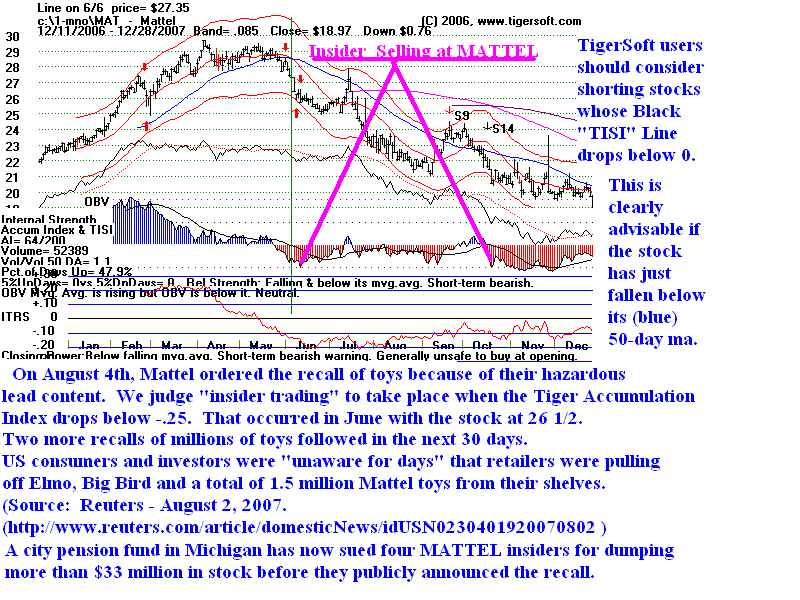 =================== MOVI - 2007 ====================================
The MOVI chart below shows the same behavior in a stock that is now trading at 2.5 cents in the pink
sheets. Do you see how the Tiger Accumulation Index gave one fair warning by dropping
below -.25? How the black TISI Line dropped into negative territory on 4/12 with the stock
having recently fallen below its blue 50-day ma.

----------------------------------------------------------------------------------------------------------------------
Read the company's inspired hype and PR (just below) that came out just as TigerSoft was giving its
thumbs-down, sell short readings on the stock because insiders were dumping the stock! The hype made
the stock seem like a reasonable turn around play, with the bad news all out.

"Movie Gallery Is on the Move"

March 20, 2007



"It took Movie Gallery (Nasdaq: MOVI) some time to realize it, but now it knows its customers no longer
want to be tethered exclusively to bricks-and-mortar stores. The chain of 4,600 DVD rental stores will be
widening its automated rental kiosk initiative while also launching a Web-based store solution in the coming months.

"Movie Gallery already has roughly 75 kiosks under its Hollywood Video brand, located in unconventional
locations like Cub Foods grocery stores. The Hollywood Video Express kiosks accept credit cards and
dispense movies and games. The credit cards are then charged for the amount of time the rental is out
(or up to a limit of $19.99 for movies or $49.99 for games). Renters don't have to be card-carrying members
of Movie Gallery or Hollywood Video to use the kiosks. Movie Gallery plans to deploy 200 more units
between now and the end of the year... On the Web-based front, the company plans to roll out an online
video store to its existing customers later this year. Limiting its initial offering to existing chain-store users seems
to follow in the Total Access footsteps of Blockbuster
-------------------------------------------------------------------------------------------------------------------------------------------

July 24th News http://www.fool.com/investing/general/2007/07/24/movie-gallery-mayhem.aspx