OIL SPILL CALAMITY
(from Tiger's Hotline - April 29, 2010)
OIL'S ENVIRONMENTAL COST - NOW HARDER TO DENY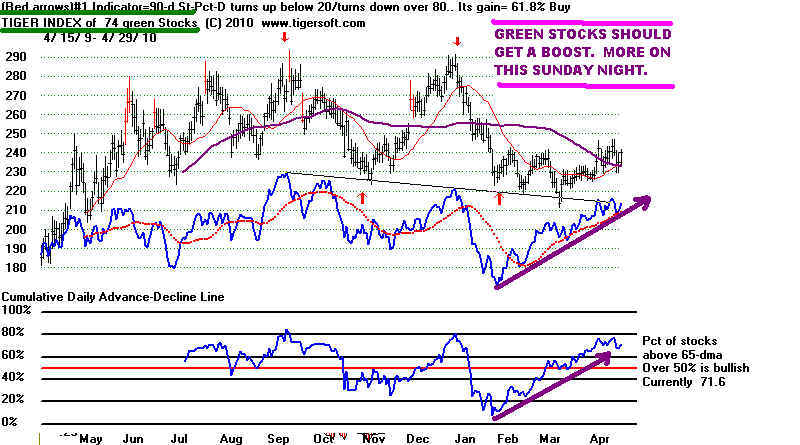 Green stocks should get a boost from oil spill
in Gulf. Would Buy PUW - 25.53

PUW (bwlow) seeks results that correspond to the price and yield performance, before fees and expenses, of the WilderHill Progressive Energy index. The fund invest at least 80% of total assets in common stocks of companies principally engaged in the progressive energy business. It normally invest at least 90% of total assets in common stocks that comprise the Progressive Energy index .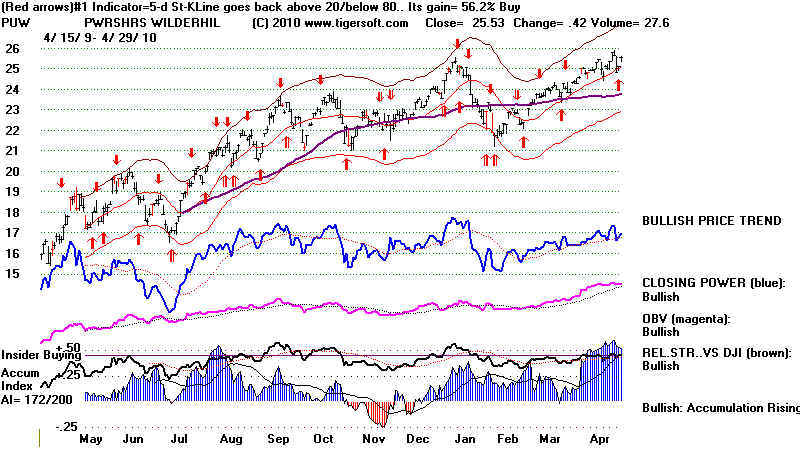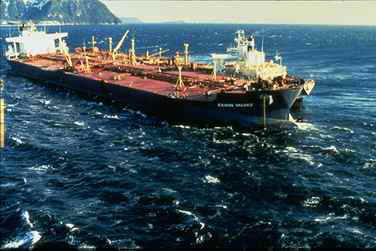 Exxon Valdez spill in Alaska...

"Spill Baby Spill": BP and RIG will have to pay for an oil spill that "eclipses"
the Exxon Valdez spill in Alaska... First, look at the chart of Exxon back in
1989. The spill occurred in a strong bull market. Litigation lasted more than 20 years.
XOM has paid only a fraction of the damages its drunken captain caused. BP will
probably escape in the same way. RIG's reputation as a drilling contractor has
been badly shaken. I would think its stock is a better short. Note the weakness it
showed internally in the months before this disaster. Sadly, although remote shut-off
valves are required in Europe, Congress has not got around to requiring them in the
US. Watch to see if a movement for this occurs.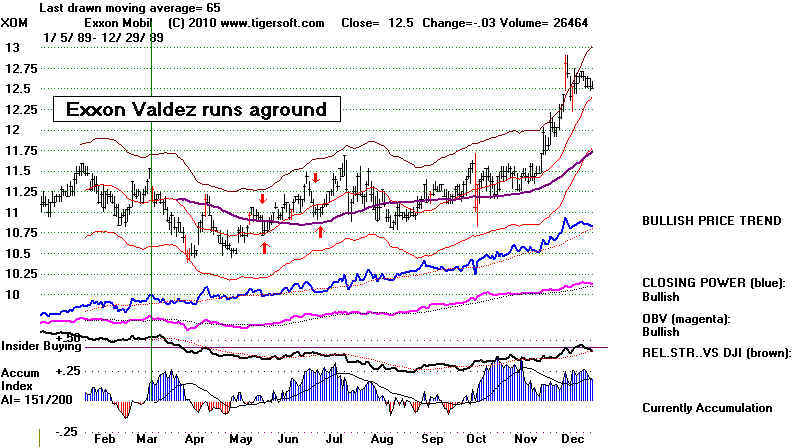 And watch Obama. He has backed Goldman Sachs and its CEO in the past, calling him
a fine fellow and good businessman while taking $1 million from them early in the 2008
Presidential campaign. Also of interest, Obama caved in to pressures from Congressmen
beholden to oil interests and recently has taken the position that offshore drilling is safe
enough to be expanded. March 31, 2010 Obama: To Expand Offshore Oil Drilling
Will he back-peddle? Of course. I predict you will see him make a speech soon about
the oil spill, which he will start with him saying, "I have always stood for protecting the ocean beach
environment, that is why I am today...." More interesting, will be whether any of his
liberal supporters dare to criticize him for having too little backbone to stand up to the
country's three most powerful lobbyists, the Health Insurance, Wall Street and
Big Oil lobbies...

British Petroleum 52.15 on 4/29/2010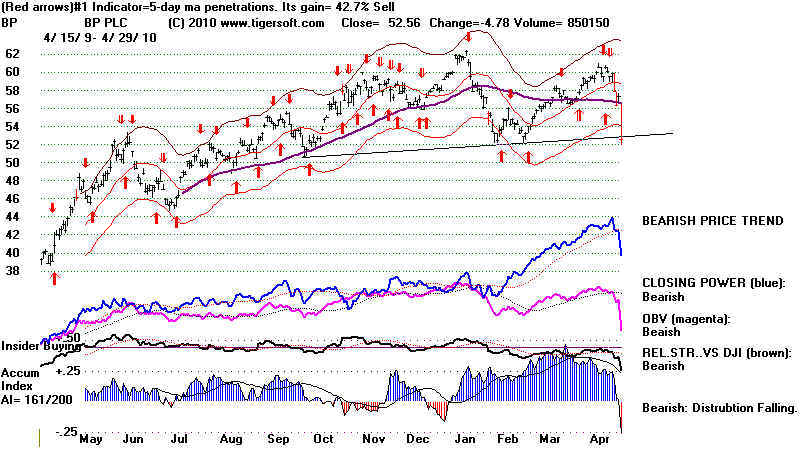 TransOcean - RIG 72.32 on 4/30/2010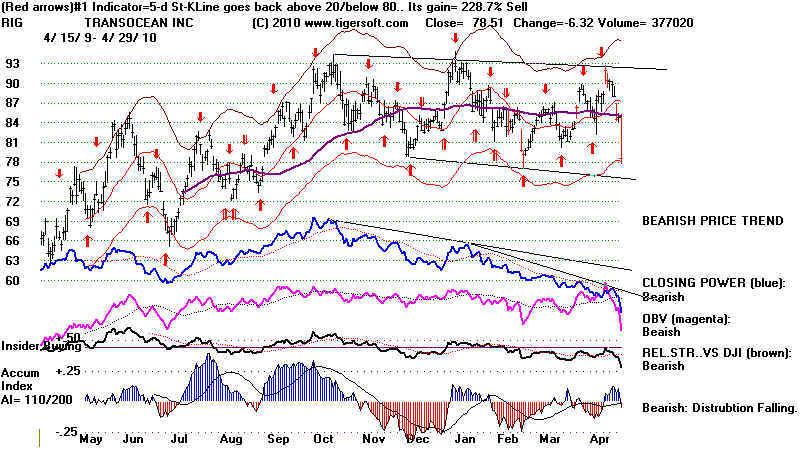 TigerSoft's Power Ranker Shows The Following Oil Stocks
To Be Up the Most in The 3 Days
OMNI +46%
DNR +8%
TGA + 8%
WLL +8%
OMNI +46%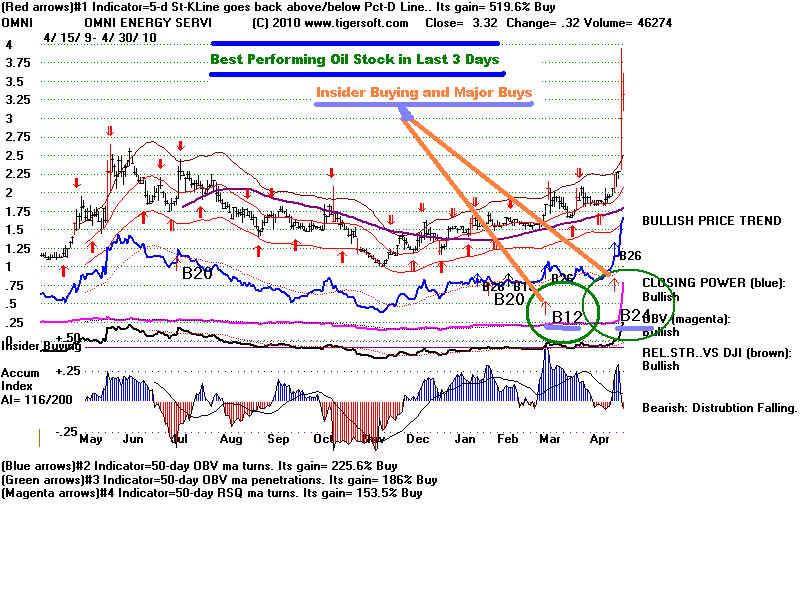 DNR +8%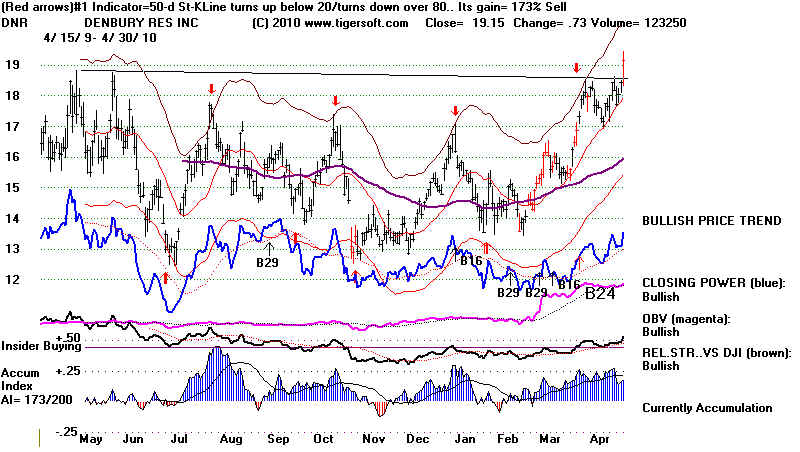 TGA + 8%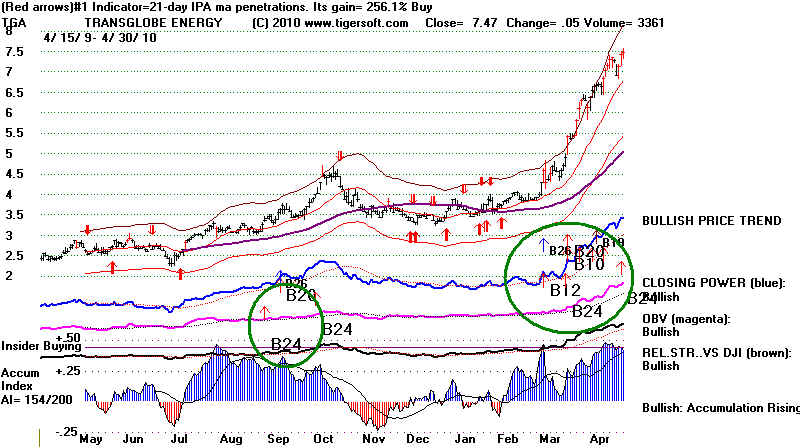 WLL +8%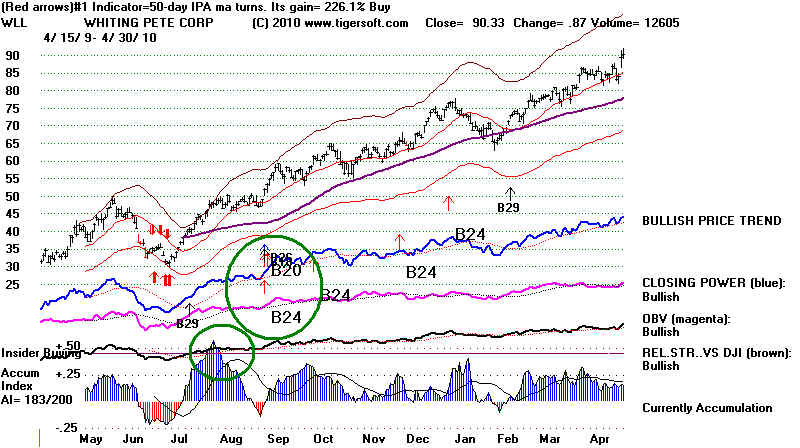 TigerSoft's Power Ranker Shows The Following Oil Stocks
To Be Down the Most in The Last Week.
RIG - 20%
ATPG - 20%
DRQ - 18%
CAM - 17%
APC - 17%